No Clubhouse Saturday on Feb. 18, 1017
The Clubhouse Saturday scheduled for February 18 has been canceled. Our host, Cedar Lane Universal Unitarian Church, is using the facility for church activities, and we were unable to secure an alternate location.
The February 25, 2017, will be about the intersection of computers and transportation, with a presentation by the senior transportation editor of Recode. You thought CarPlay was just about iTunes? Hah! There may also be a pop quiz about some subject or other. There will also be a slight change of venue: we will be meeting in Enterprise 276, one floor up from our usual spot at George Mason University. Did we mention a pop quiz?

In case of inclement weather or other emergencies, the Pi follows the same schedule for closures as the Montgomery County school system or, in the case of General Meetings, George Mason University.
Stay secure with Pi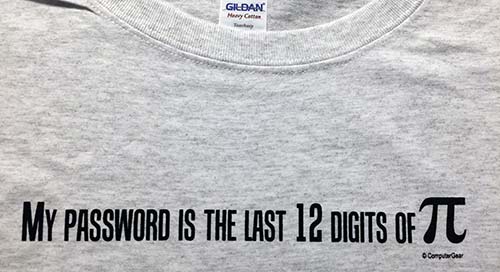 This was sent to the Pi webmaster, by Pi members, as a Christmas present. Click on the image for a larger view (if you look closely at the weave, you can make out those last 12 digits).