Brood X Mac OS X SIG
The Brood X Mac OS X SIG returning soon! There is not a moment to be lost!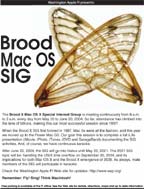 So far, attendance has climbed into the tens of billions, making this our most successful session since 1987!
Grab a SIG poster, in either Adobe Acrobat (PDF) format or in Web-friendly JPEG format. Miss this meeting and you'll have to wait until 2021!
Remember: Fly! Sing! Think Macintosh!
---