October 27, 2018 General Meeting: Routers - Selection, care and feeding
For October, Washington Apple Pi will have an appropriately scary topic just before Halloween: the Selection, Care and Feeding of Routers. Since the very beginning of the Internet, routers have been the key ingredient to bringing the world together, and now that they are in our homes, it is past time to learn more about them than "is the second from the top light solid or blinking?"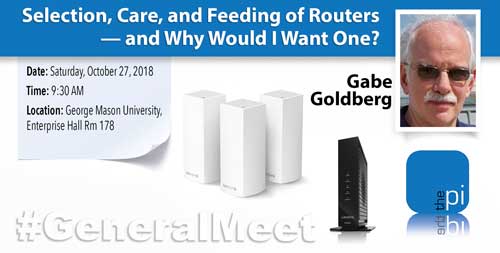 Also, check out another scary subject, electronic mail, with our Email Compendium, Volume 1. This contains lots of snippets from the General Meeting podcasts, focusing on the subject that brought the most fear and horror to the Q&A session moderators.
Coming in November
In November, Amanda Lazar of the College of Information Studies at the University of Maryland will talk about "The Role of Technology in Understanding Perspectives on Aging and Health." This will be on November 17, one week earlier than our usual time to accommodate turkey and pumpkin pie.
Be sure and update your devices to tvOS 12, watchOS 5, iOS 12, and macOS 10.14 Mojave.
Older devices which can't update to the current operating should, at a minimum, update to Safari 12, available for macOS 10.12.6 and later.
The August Clubhouse Saturday event has been canceled.
The Washington Apple Pi Board of Directors has certified the 2018 election. 
The 2018-2019 Board:
Jonathan Bernstein

Bruce Brown

Jay Castillo

Mary Dodd

Neil Ferguson

Gabe Goldberg

Ken Goldman

Larry Kerschberg

Diana King

Richard Orlin

Brent Malcolm

Jed Sorokin-Altman

Raju Tonapi

Roy Wagner
Returning Pi Officers:
President:  Jonathan Bernstein