We came. We demoed. We have slides.
Slides from the November meeting are now available. We talkked about the slick new Panorama X database, the Kardia Mobile portable iPhone-enabled EKG device, and Radio Silence, an easy to use, highly visible firewall for the Mac. We also had a highly personal overview of microcomputer user groups from 1977-2017. The presenter was rewarded with a 1.2 gigabyte video file of questions and answers on email covering just 13 months in 2011-12, with additional volumes threatened. If we post it, turn the sound off and just watch the expressions of the Q&A moderators.
---
Scam alert
Apple users have seen a sharp spike in email scams aimed at stealing the user's Apple ID. The Apple ID is used to log into your iCloud account, and also your account on iTunes, the Mac App Store, the Apple online store, and several other services, including your Apple Message service.
Look at this recent example, which attempts to entice you to click on a link taking you to a non-Apple site to "correct" a problem: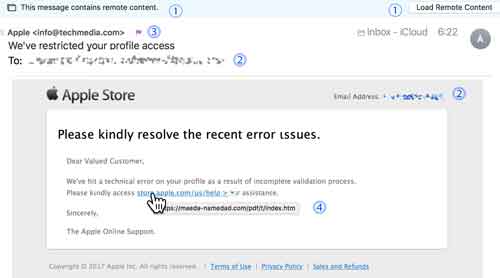 Things to note:
① Apple mail tells you in two places that there is additional content, and leaves it up to you to load it -- or, in this case, not.
⓶ User's email address is shown in two places (obscured in this example)
⓷ The return address is definitely not Apple's.
⓸ If you hover over the embedded link, it definitely does not go to Apple.
While Apple Mail, Safari, Chrome, macOS, iOS, etc., all have extensive protections against malware, computers are operated by humans, and humans can choose to ignore or override the protections. Please don't be one of those kind of humans.
---
Upcoming Calendar
⌘ Note: in case of inclement weather, Pi activities follow the closure schedule of local school districts.
Washington Apple Pi Journal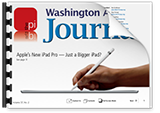 Learn About the Find My iPhone App Before You Need It
Apple's New iPad Pro - Just a Bigger iPad? …A Different Perspective
Zagg Folio Review Revisited
Take A Spin, and Discover Great Local Food with Spotluck
Zombies at Clubhouse Saturday!
Comparing U.S. iPhone Plan Costs in a Contract-Free World
11 Stupid Backup Strategies
Event Highlights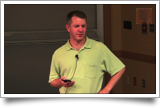 Recent podcast video
How To: Tips from the Journal
---