Our speaker will be Roopesh Ojha, an astronomer working on the Fermi gamma-ray space telescope at Goddard Space Flight Center. The meeting will be held at George Mason University, beginning at 9:30 p.m., room 178. Note: page has been updated with more information.
Meanwhile, a photo of a mug: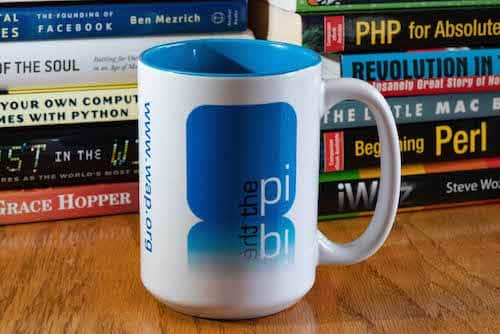 Ceramic version of Washington Apple Pi mug. A MUG (Macintosh User Group) is not normally cast in ceramic, and normally avoids water due to unfortunate side effects involving liquids, electronics, and electricity, but this mug is hydrophilic. Click on image for a larger view.
Wanted: missing issues ⇐⇐⇐
The Pi has posted a massive library of Washington Apple Pi Journal issues from 1979 to 2016, with thousands of pages of information on everything from Apple II interrupts to adding ringtones to an iPhone. If you have any of these issues and wouldn't mind giving them to us so that we could scan and post them, please write to webmaster@wap.org.
May 1981, Volume 3, number 5
June 1981, Volume 3, number 6
July 1981, Volume 3, number 7
August 1981, Volume 3, number 8
September 1981, Volume 3, number 9
October 1981, Volume 3, number 10
November 1981, Volume 3, number 11
December 1981, Volume 3, number 12
July 1983, Volume 5, number 7
A video review of the 2018 General Meeting presentations in (slightly more than) 20 minutes.
Also, check out this terrifying video on electronic mail, with our Email Compendium, Volume 1. This contains lots of snippets from the General Meeting podcasts, focusing on the subject that brought the most fear and horror to the Q&A session moderators.