How to set up a Washington Apple Pi Member Web Site
Instructions provided by Abe Brody
To set up a Washington Apple Pi member Web site, you first need to visit http://mail.wap.org/ and then enter your mail account name and password. After logging in, your browser window should look something like this:

If it doesn't, you'll need to enter Settings, and change layout to default (Pi preferred settings), then log out and log back in again.
Once you are using Pi preferred settings, you'll notice the word Manage is underlined in the settings window (I've circled it in red so you can see where it is), and that's where you need to click to enter the Web site manager:

Once in the Web site manager, you can see that you can upload files, after choosing them, create new folders, and view your Web site on the Pi server. The file name of your opening page should be named default.html if you want it to automatically load in a visitor's browser. Your Web address will be http://members.wap.org/membername where membername is your Pi membership username.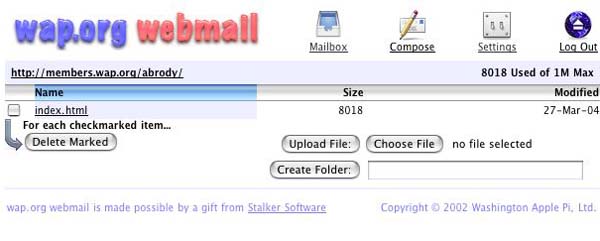 If you have any questions about how to set up your Web site, please feel free to post questions on the Pi's electronic forum, the TCS.
---