April General Meeting Sidebar:
The "Jump!" clip
[See also April 2004 General Meeting summary]
At the April General Meeting, an iMovie clip by Bob Mulligan called "Jump!" was shown. The clip showed how, starting with little more than a still picture, imagination and iMovie, you can create something amazing. The finished clip is on the Pi Web site at:
http://www.wap.org/imovie/
Frame 1
The opening scene of the movie "Jump!" pans upward while showing an embankment and a body of water. This clip ends looking up to a bridge. The titles helped to distract attention from the scruffy view of rocks and weeds.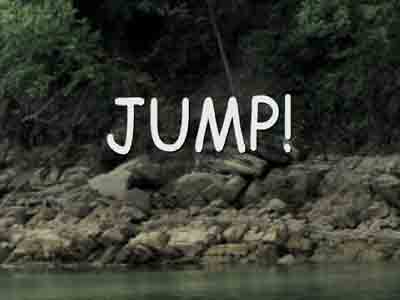 Frame 2
This image pans across the bridge and ends showing a boy who looks like he is ready to jump (he was!). An extra "still" clip was made of the boy and that dissolved to another boy in the water looking up. This action was repeated a second time. As yet the movie does not show what they are looking at.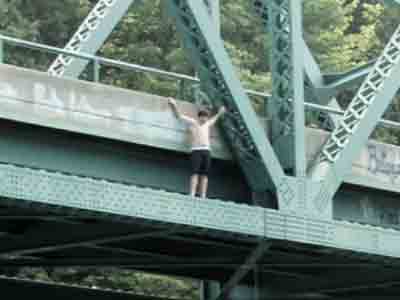 Frame 3
This image of the second boy in the water is also a "still" clip. It was shown twice to make a visual dialog with the boy on the bridge. The viewer still does not know what they are saying or looking at.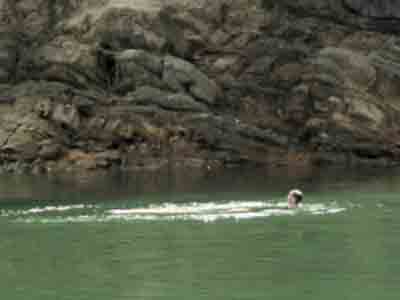 Frame 4
Here is the third boy of the movie, in mid-jump. Other images showed two other boys, one on the bridge, one already in the water, watching the jumper. This image is the finish of a pan movement downward from the boy on the bridge. The animations stop for a half second "still" clip and then this same image shows again for the start of a long zoom out to show the (one) still photograph in its entirety from which all this was created.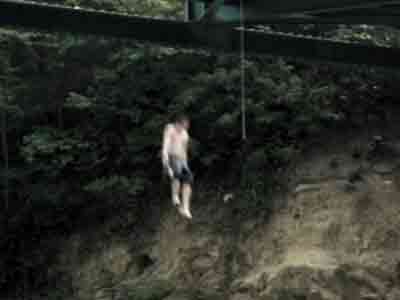 Frame 5
The end of the one-minute movie. Now the eye can see what was happening. The final long outward zoom shows the entire still photograph and three boys having (daring!) fun on a summer afternoon. The music was a selection from a free play disk distributed by Apple and fit the animated "action" just fine. A little tweaking of the duration of some of the clips was done here and there to make the sound timing exact. The closing title placed here faded out with the image to end the movie.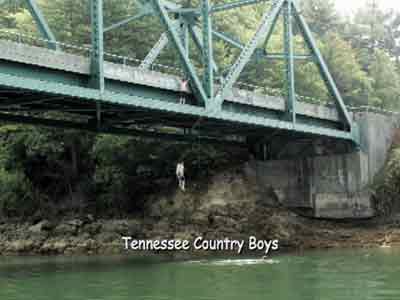 ---