April 2006 General Meeting Report
Circus Ponies Software
By Bob Jarecke VP Membership
How To's and Circus Ponies
A modest crowd attended April's general meeting, held at the Microsoft Innovation & Technology Center in Reston. The meeting was a two-part event with the first half consisting of three separate instructional sessions. At the conclusion of the training, the dividers were drawn back and the featured presentation took place. Jayson Adams, of Circus Ponies Software, gave us a thorough demonstration of the newest version of Circus Ponies Notebook 2.0.
Training Sessions
Pat Fauquet and John Barnes each led a training session while Dick Rucker and Bob Jarecke teamed up to cover the third. Dick and Bob's topic was the TCS. Pat's subject was backing up data, while John conducted a more detailed look at how to handle camera raw data.
The Pi has a unique TeleCommunication System (TCS) and it is underutilized. It has long been argued that we need to encourage member participation on the TCS; as a group, TCS users are the most active Pi members, the best informed, and consistently give the highest ratings to their Pi membership. We've heard that some members found logging on to the TCS, at least for the first time, too complicated, so they stay away. A concerted effort to demonstrate how to log on and set up TCS user preferences would benefit each member, as they could then have unlimited access to online assistance and guidance from the many experienced members who frequent the online forums.
Dick and Bob took up the challenge. With the aid of a live Internet connection, they showed everyone where to find the simple yet detailed instructions on logging in and setting up preferences. Located on the opening pages of the Pi's Web site, they demonstrated where to find and download a PDF guide to the TCS, as well as separate, topical pages that guide the user through log on and setting preferences. Then, Dick and Bob demonstrated an actual log-on to the TCS and proceeded to navigate through some of the main topics available. The presentation generated several questions and much discussion. Due to the level of interest and desire to learn more about the TCS, it was suggested we offer the same presentation again, which we will do.
One of the hard and fast rules that Pat and others teach is that everyone will at some point lose their data. For some, the occurrence will be a major setback and a problem of great proportion; for others, it will be a minor inconvenience because these folks chose to back up their data. As Pat says, it is not a matter of if, but when!
Methods for backing up data are many and with that theme in mind, Pat gave a short presentation on backing up data. With several members in attendance, she covered why to back up, what to back up, how to make a back up plan, the different types of back up and effective storage of back up data. She also discussed the various types of programs that can be used to back up data.
John led a more technical training session emphasizing handling camera images. As he points out, organizing digital images and finding them, when one needs to, is becoming increasingly challenging as collections swell to thousands of images. A little-known fact is that digital cameras attach data to image files that describes the conditions under which each image is collected. Attaching additional data that describes its content and ownership is an important factor in bringing order out of chaos for every Mom, Pop, and Grandparent using digital imagery. Such annotation is invaluable when it comes time to share images with friends and family.
John demonstrated what this metadata looks like and how it is accessed and updated. He used several applications including Graphic Converter, Adobe Bridge and Photoshop Elements to access the data attached to photos and add annotations to that data. He pointed out that Spotlight can access this data and is a huge benefit when it comes time to locate images for assembly into a collection.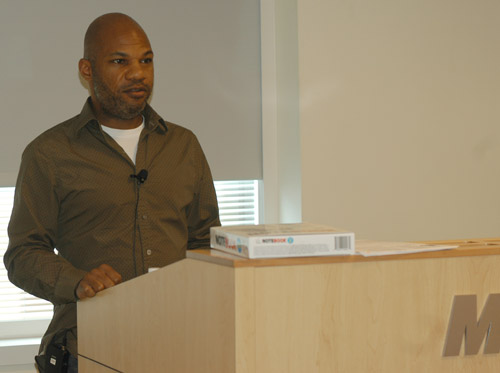 Jayson Adams, Vice President for Technology at Circus Ponies, Inc., demonstrated Notebook 2.0. Notebook is famed for not only being a great application for storing odd bits of this and that but also for its excellent use of Mac OS X technologies and interface standards. (Photo by Richard Sanderson, taken with a Nikon D-70 digital camera)
Circus Ponies Notebook, Version 2.0
Jayson Adams, VP for Technology at Circus Ponies, traveled all the way from San Diego to be with us, and he gave a demonstration of the newest version of Circus Ponies Notebook. This program is a great tool for collecting all sorts of information, snippets of data, images, text documents, sound files and even folders. The newest version of Notebook appears to be highly adaptive and flexible - an impressive program.
Many features incorporated in Notebook look quite promising. For example, having a place to store most anything is great, but even better is being able to find what you need when you need it. Notebook 2.0, with the aid a Spotlight plug-in, can search and find anything you may have hidden away in Notebook. Another cool feature was the built-in recording capability that allows you to record a presentation or lecture. Then while taking notes on the event, you can insert the recording so you can return to it and hear what was actually said at that point in your note taking. Finally, Notebook integrates completely with Apple's iLife applications, another huge feature that can save a Mac user time.
Jayson did a great job of demonstrating the richness of Notebook. He took several questions, one of which was how does Notebook compare to other, similar programs. His fair and honest appraisals left me convinced that Notebook has more features and capability than the others. A full review of the program is available on the Circus Ponies web site (http://www.circusponies.com/). And to add some frosting on the cake, Jayson brought a copy of Notebook for one of our door prize drawings.
Oh, yeah, to set the record straight, Jayson did travel from the West Coast but he was actually visiting relatives in the area. Pat managed to lure him over our way for a couple of hours for the presentation and lunch at Panera.
... and the winner is?
We had a full copy of Notebook to give away as the premier door prize. Bud Uyeda was the lucky winner and after wrestling it out of my hands, we continued on to award the other prizes. Allen Kent, Gary Nooger, John Barnes and Gordon Nord were called in succession and each came forward and claimed their winnings.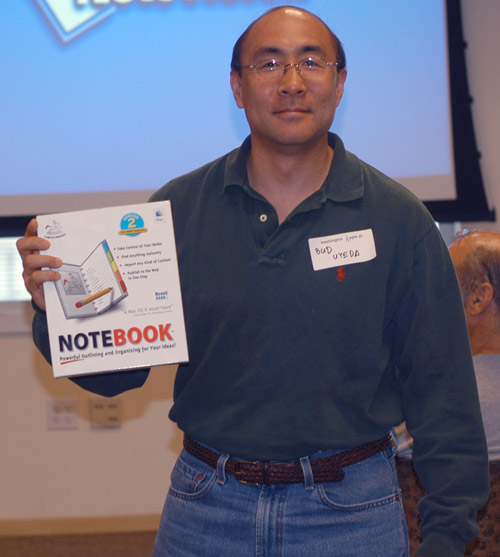 Bud Uyeda walked away with the grand prize at the April General Meeting, a copy of Circus Ponies Notebook 2.0. (Photo by Richard Sanderson, taken with a Minolta D-70 digital camera)
This meeting was the first with the training sessions leading off the event. Our initial reaction was that it turned out pretty well despite the smaller-than-normal crowd. We received positive feedback from the attendees and this led us to conclude we had meet one of our meeting objective of helping the Pi's Mac users. We rewarded ourselves with lunch at the Panera Bread Company in Reston Town Center. Several of the regulars were there as well as a few new faces. It was nice to see added interest by some members. It is just this new or renewed involvement by the membership that will make the Pi a better MUG and assure its longevity. Thanks for participating.
---