April 28, 2007 General Meeting:
Graphics Wizard Lesa Snider King
and Mac Guru Shawn King
New Location - 9:30 a.m. to 12:30 p.m.
Meeting photos by Richard Sanderson
Washington Apple Pi's February 2007 General Meeting will be in a new location: Luther Jackson Middle School, 3030 Gallows Road, Falls Church, Virginia. Directions below.
Though the U.S. is a long-standing democracy, April's meeting will feature two kings. Our first guest will be Lesa Snider King. As a regular on the Your Mac Life broadcast doing a graphics segment each week, a presenter at both Macworld and Photoshop World, the editor of GraphicReporter.com, the host of her own podcast, Graphic Secrets for Businesses, and the spokeswoman for iStockPhoto.com, Lesa knows her way around graphics, photography and the Mac. Join us for her fact-filled and entertaining session focused on getting the best out of your digital photos. Lesa will be bringing a copy of Adobe Photoshop Elements and gift certificates for iStock Photo credits for lucky door prize winners.
Also making a presentation will be Shawn King of Your Mac Life. Shawn will talk about his Mac life, a humorous look at being a Mac user. The host of Your Mac Life, Shawn, has been a Mac user for 15 years and a computer user for 20. He has been the host of the first and preeminent Macintosh focused Audio Broadcast on the Internet for the past eight years. Shawn is not a journalist -- he is a Mac user just like you. He brings a refreshing style and conversational tone to the thousands of interviews he has done over the years. Shawn will be bringing prizes from SmileOnMyMac, one of the sponsors of his show.
The schedule for the meeting on Saturday, April 28, 2007 is:
9:00 -- Doors open
9:30 - 10:00 -- Mac questions and answers
10:00 - 11:00 -- Shawn King of Your Mac Life
11:00 - 12:00 Lesa Snider King of GraphicReporter.com and iStock Photo
12:00 - 12:30 - General meeting, introduction of election candidates and final door prizes
Meeting poster in JPEG or PDF.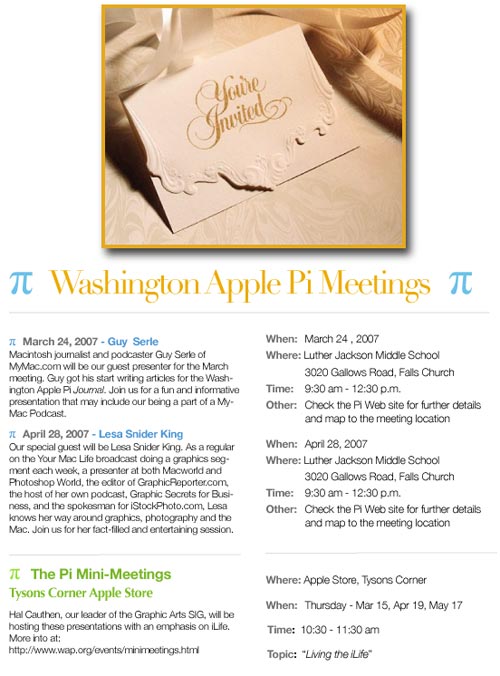 Directions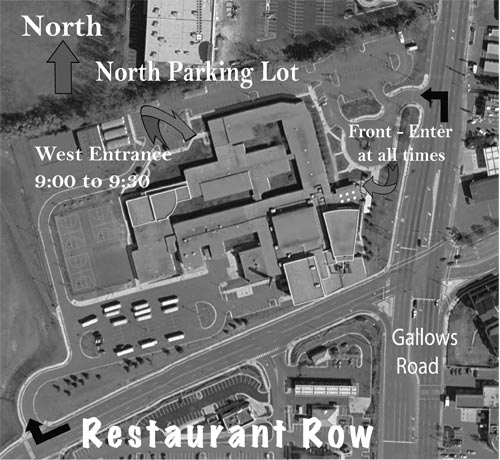 Notes:
Questions: Contact the WAP office at (301) 984-0300.
The meeting, open to the public, starts at 9:30 a.m.
---