April 26, 2008 General Meeting:
Lesa Snider King and Adobe Photoshop Elements 6
By Richard Allen
Luther Jackson Middle School, Falls Church, VA
9:30 a.m. to 12:30 p.m.; (New!) SIG meetings 1 p.m. to 2:30 p.m.
The April General Meeting kicked off at 9:30 AM, right on time, with a call to order by Pi President Bob Jarecke. His shrill whistle quieted the large gathering and with little fanfare, the Question and Answer session began.
Pat Fauquet did the honors of hosting the Q&A and the questions came fast and furious. Some of the questions from the floor:
Q: Is it a good idea to put a pad under a laptop to keep it from becoming uncomfortable on your legs?
A: Avoid putting things under the laptop, which will increase the heat in the laptop that can lead to hard drive failure. It would be helpful to elevate the laptop and increase air circulation underneath to dissipate the heat.
Comment: The April Pi Fillings CD focuses on freeware and shareware, a return to the past focus. Items of interest include Desktop clean up. One application of interest, Scribbles, was demonstrated via a movie clip.
Comment: It was recommended that portable external hard drives be used to record and transport presentations. Generally speaking, the more interfaces on the external hard drive the better, e.g. FireWire 800 and 400 as well as USB 2.0 and SATA. Pat noted that Other World Computing's "on the go" section is a good place to start looking.
Q: I am having trouble recording sound from the Internet.
A: Look at the sound control settings in System Preferences/Sound. Other aids to audio recording from the Internet include: Sound Source 2.0, Radio Ship, Audio Hijack 2.0, Vision Trim, and Airfoil.
Q: I am having trouble viewing and copying HTML documents on the Internet.
A: Notebook by Circus Ponies does an excellent job of dealing with HTML files.
Comment: update all Web browsers ASAP. All Web browsers have been updated in the last month (May) to patch a security vulnerability common to all of them.
Q: How do I get more color choices for my Stickies?
A: While the font color can be easily selected under the Font menu, no one at the meeting knew of a way to change the color of the Sticky Note itself. It was pointed out that Mac OS X 10.5 Leopard has a new feature in the Mail application that integrates Notes with email.
Q: My family has two identical HP 6900 printers attached to two different Macs but with the same settings. One printer prints far more slowly than the other. How can I get the slower printer to print as fast as the faster one?
A: Different versions of Mac OS X may have different printing rates or the HP printer drivers on one Mac may differ from the other. Possibly some corruption has crept into the printer preferences and the printer needs to be deleted and then reinstalled using the System Preferences > Print & Fax menu. Another possibility might be to reset the print queue and eliminate stalled print jobs.
Q: How can I locate my pointer (cursor) more easily?
A: Use Mouseposé, which will allow tracking the pointer and modifying its color. Also, the cursor can be increased in size by going to System Preferences > Universal Access > Mouse and adjust the Cursor Size.
Q: A question arose about sometimes having an application freeze or at least appear to freeze (the spinning beach ball).
A: Force Quit only when absolutely necessary. Frequently the application is simply taking some time to accomplish its task. (A good way to see if things are frozen is to use iStatPro, which is a free widget. A further benefit of iStatPro is that it reports the operating temperature of devices like the hard drives and can be very valuable to laptop owners.) Use the Activity Monitor utility (Applications > Utilities > Activity Monitor) to determine if a specific application is frozen. Check to see if (a) the application is listed as Not Responding and (b) see if the numbers are changing. If the numbers are changing, then the application is still active. If absolutely necessary, select Force Quit.
Q: I have old files from ClarisWorks and I want to use them in Pages but Pages will not read the files. It appears that I can read them into AppleWorks and possibly then into Pages. Can I automate the process?
A: It might be possible to automate the process using AppleScript.
Comment: File formats change often and it is best to store important documents in file formats which are likely to be around several years from now. For example, Microsoft Vista will not read files from Windows 95 Word, Excel and so forth. Some formats like PDF, RTF, and SimpleText are likely to be around many years from now. Work with copies of your documents and see if they come into the new format unaltered before making a final conversion. As a last resort, TextEdit might be useful.
Q: I have notice that my MacBook Pro is noisy. Is this a widespread observation and is it possibly noise due to fans required to cool the processors?
A: Other MacBook Pro owners had not noticed that they were especially loud. In general, it was noted that heat is always a problem for electronics and that some fans could be louder than normal.
Pi Business
President Bob Jarecke took the floor and announced that this would be the first meeting in which we would have SIG meetings following the main meeting and pizza Pi for lunch. More than half the members stayed on for the SIG meetings: Beginners SIG, iLife SIG, and a SIG discussion were conducted. Bob reiterated that the Pi sponsored Mac Master Seminar with presenter "Dr. Mac" (Bob LeVitus) would be held Friday and Saturday, May 30 and 31, at the Spectrum in Rosslyn, VA. Bob reminded all that the May General Meeting would be held in Rosslyn immediately following the Saturday Mac Master program on Saturday May 31.
Bob reminded us that elections for the Board of Directors would be held in May and encouraged everyone to vote. After that announcement, we were introduced to the three candidates: Joseph B. Castillo, Jr., Larry Kerschberg and Richard Orlin. Bob noted that, after being snowed out in January, Mac expert Walt Mossberg of the Wall Street Journal will be the featured speaker at the Pi's June 28 General Meeting. Bob also noted that the Pi needs someone who is good at promoting things to step up and help the Pi and its program and events become better known in organizations and especially to those switching platforms.
Coffee Break 101 and the Main Event
A short refreshment break was held at 11:00 during which many members talked together in small groups and enjoyed each other's fellowship. Good feelings and smiles abounded and "a great time was had by all." The good times increased when we reconvened for our featured speaker Lesa Snyder-King, who is a world-class expert on Adobe Photoshop.
Pat Fauquet, VP for Programs, introduced Lesa Snyder-King when the meeting reconvened. Lesa is a true expert on all things relating to Adobe Photoshop and she focused her presentation on the newly released Photoshop Elements 6.0. She also acquainted us with iStockphoto.com and Lynda.com as adjuncts to our life with images.
Lesa focused on both getting the best quality images first and then using Photoshop Elements 6 to enhance the images. She gave us many tips and tricks to help us in our quest for beautiful images such as the following tips:
Learn the settings for your camera and how they help you. For example, the Portrait setting has a shallow depth of field while the Landscape setting has a greater depth of field. The Macro setting has a very shallow depth of field and is for very close work. The action setting has very fast shutter speeds to stop the action and prevent blurry images.
Use the Rule of Thirds for better picture composition. Imagine a tic-tac-toe grid of nine squares superimposed over your viewing area. Locate the main subject of your image at one of the intersection points for the image. Which point you choose will be determined by what other aspects of the scene you wish to emphasize. When taking portraits, use the subject's eye closest to the camera to locate at one of the intersection points.
Experiment with vertical as well as horizontal orientations. Try different positions of the horizon line, using the rule of thirds. Whenever possible, you should lean against a stationary object to steady the camera. Take three shots in burst mode to improve your chances of getting the image you really want. For some unknown reason, an odd number of objects is more interesting.
Crop with your feet; i.e., move your position to get the best picture before you release the shutter.
Shoot from different perspectives or locations. If you are photographing children or animals, get down on their level before taking the picture. Shoot up from the base of buildings, sculptures, monuments and hot air balloons.
Look behind you. The best picture may be somewhere else in the environment.
Add depth to your images with objects in the foreground or background.
Use image-editing software to achieve special effects such as antique appearances, sepia images, black and white images, and for saturation effects.
Whole photo editors do not modify your original image. Pixel editing software actually modifies the image file with which you are working. Always work with a copy of your image file when using software that edits pixels in your image.
Photoshop Express is now in public Beta testing phase. It is online and free and offers up to 10MB of free space for images. You can browse, upload, share and create a photobook online.
Q: If I upload an image into Photoshop Express, can I get it back and use it in a publication such as a newsletter?
A: I do not know for certain.
Comment: High speed Internet is very desirable when transferring images either way.
Q: Who owns the image?
A: You do. However, if you make it public, Adobe can use it as is or make changes and use it. Be aware of that possibility before putting your photos into the system.
Lesa's presentation moved into the basics of nondestructive photo editing. She provided a couple of great tips such as use a card reader to transfer your images to your Mac. Using a cable from the camera to the Mac is slow and images can get corrupted in the process.
Also, let the camera delete the images from your card. Do not let the software delete images from your card as the software can delete original images before they are transferred to your Mac. From time to time reformat your cards in your camera. Use 2GB or smaller cards to avoid losing large numbers of images in case of a malfunction or accident.
Finally, be careful naming your photos and use key words to aid the use of Spotlight to find and group images. Such identifying information can be added while importing groups of images.
Q: When shooting with the camera in the vertical orientation, how does the memory card account for the orientation?
A: The metadata stored with the image indicates the orientation of the camera when the image was made and allows the image to be displayed properly when viewed.
Q: What about shooting a picture at, say, 26 degrees?
A: One can take pictures at any angle for visual interest. It is a personal preference.
Q: What principles govern the zoom features?
A: Optical zoom and camera placement are better than digital zoom features. The digital zoom feature is a simulation and loses information while introducing noise and graininess in the image.
Lesa then shifted her attention to Photoshop Elements 6. This latest version contains a Guided Edit Mode. This version has a new interface, too. The Edit menu has Full, Quick, and Guided Edit modes. The Guided Edit mode includes a Before and After Preview feature. Many modes can be used on a single picture.
The Photomerge group shot can merge ten images into one really good image. The effect is somewhat akin to creating a panoramic view using photo stitching. One uses the Pencil tool to select from the initial image and copy to the final image. Another feature is the Photo Merge Faces. Lesa noted that the faces need to be of similar size and that there is no automatic alignment of features. One must use the alignment tool to match up eyes, lips, noses, ears and so forth. Again, the pencil tool is used to copy regions from the source image to the destination image. The images can be further enhanced with features such as elliptical marquee frames and edge feathering.
A Black and White converter is included as well as Partial Color Effects with hue, saturation, opacity and other layers. If using RAW format, you must add the RAW plugin. There are many other tools like the Cookie Cutter tool. As her presentation ended, Lesa was loudly applauded and thanked for her presentation.
Pi Lunch and SIGs
After Lesa's presentation, a variety pizzas and soft drinks were served. The Pi covered the cost; however, it didn't stop members from kicking in a couple of bucks each to defray the costs; a nice gesture by everyone.
After lunch, the group split up into the three SIG groups. This was the first occasion for conducting SIGs after the main portion of the General Meeting and as such they had not yet been organized enough to have someone take notes to write up what happened. In the future, we hope some volunteers will take note of the good information that comes out of these smaller group meetings.
Overall, the April meeting was full of buzz and excitement. The event was well attended and it provided much in the way of information, refreshment and camaraderie. Hope you can join us soon to partake in one of the better benefits of being a Pi member!
Original meeting announcement
Graphics wizard Lesa Snider King returns to the Pi to give us her take on the newest version of Adobe's Photoshop Elements. Lesa is a world-class graphic artist, but with a difference: she is also very good at teaching. Photoshop Elements 6 (due for release in March 2008) is much less expensive than the full Photoshop, but under Lesa's tutelage you may find it much more approachable and useful. Lesa's visit is sponsored by iStockphoto.
Our meeting will open with a Question & Answer session, and at some point we will have a break for refreshments. We will also meet the candidates for this year's Board of Director's election. This promises to be a great meeting. You don't want to miss it!
The meeting will begin at 9:30 and will wrap up between 12 and 12:30. The address is 3020 Gallows Road, Falls Church, VA. Check out the directions and location map at link below.
Agenda
09:30 -- Q & A
10:00 – WAP business and meet the Board candidates
10:15 – Refreshment Break
10:30 – Main Presentation: Lesa Snider King
12:15 – Photoshop Elements 6 Raffle
12:30 to 1:00 p.m. – Lunch Break
1:00 p.m. – 2:30 p.m. Special Interest Group Meetings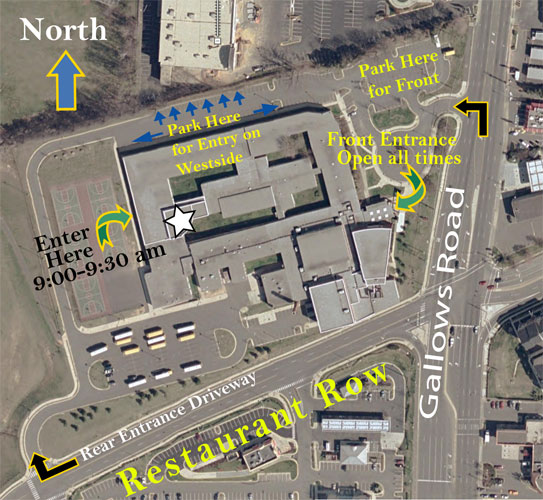 Notes:
Questions: Contact the WAP office at (301) 984-0300.
The meeting, open to the public, starts at 9:30 a.m.
---