April 2013 General Meeting
Planning your next vacation - the Internet way
April 27, 2013, 9:30 a.m., George Mason University
When was the last time you hired a travel agent to book your vacation? Perhaps via AAA? Perhaps for a cruise? They are good for specialized services.
However, travel agents are being replaced by the Internet with its vast collection of travel services! Who better than you to take all the complex factors and preferences into account when planning a vacation?
In this presentation we show how to use the Internet and the World Wide Web to plan your next vacation. We will present the phases of your Internet based vacation: planning, reservations, purchasing, and traveling.
For each phase of your vacation, we present tools and services to help you in that phase. Some of the services we will cover include: AAA, Google Maps, Google Earth, TripAdvisor, YouTube, Skype and others.
These will allow you to find interesting places to visit, map them, share insights, and collaborate with friends and family members in planning your next vacation. To look for deals for flights and hotels, we will visit aggregator sites such as Kayak, Orbitz, Expedia, Travelocity, and Airline Web sites.
The afternoon Mobile LifeStyle SIG will continue the conversation by exploring travel apps for mobile devices. These include AAA, Flight Tracker, Tripit, Kayak, Field Trip, TomTom, Google Maps, Apple Maps, Airbnb, etc.
We will also review AT&T and Verizon data policies and data plans for travel outside the USA.
Once again, we will attempt to stream it over the Internet: http://www.ustream.tv/channel/wap-general-meeting.
George Mason University Essential Information
The meeting will be held in Enterprise Hall, Room 178.
Address: 4400 University Dr., Fairfax, VA (near Rte 123 and Braddock Road). Directions and Map: http://www.gmu.edu/welcome/Directions-to-GMU.html
Here is a campus map with annotations (PDF, 2.8 MB). Interactive map of campus: http://eagle.gmu.edu/map/fairfax.php
Important Parking Information: Two Options, Paid and Free
The Sandy Creek Parking Garage is fee-based facility. It is more convenient and closer to the meeting location. The Pi will subsidize the facility's parking fee by providing vouchers for donation request of $4.00.
If using the parking garage, park in Visitor's area; i.e., the lowest level. Take the elevator to the third floor (Campus Level), and exit along the sky bridge.
After the meeting, exit the garage using the exits marked for Validated Tickets. Your parking ticket goes in first. Then the validation ticket goes in next. If you have any problems, there is a speaker box for calling the parking lot attendant at the checkout point.
Free parking in Lot A (see map below)
Park as close to Mattaponi River Lane as possible, then walk north along that road toward the main campus buildings. The sidewalk route takes you directly to the side of Enterprise Hall, on your left. The meeting room is located on the second floor, accessible via outside stairs or via an elevator on your right as soon as you enter the building through the doors behind the outside stairs. We will endeavor to have signs posted to help guide you to the right location. It is at least a five-minute walk from Lot A and up a slight incline. We will be using a golf cart along the route, to offer rides to those who want or need a lift.
Handicapped Parking: There are three handicap parking spaces next to Enterprise Hall that can be used by members, on a first come first served basis. Have your Handicap Sticker showing on the dashboard or on the rear-view mirror.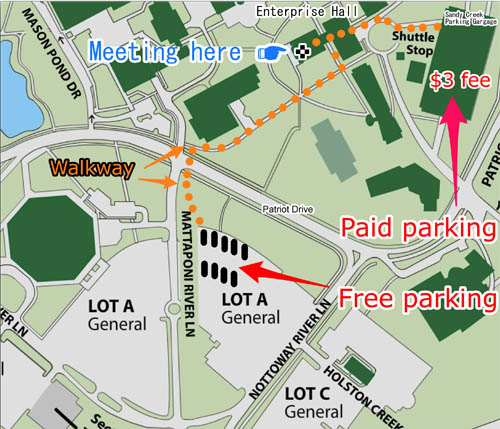 ---