General Meeting:
Web Browsers, Plug-Ins, and Extensions - Oh, My!
August 28, 2010, 9:30 a.m., George Mason University
Ten years ago, the most commonly used computer applications were word processors and E-mail. Today that has changed: the most commonly used application -- and in some cases the only application -- used is a Web browser. The Web has become so pervasive that even knowledgeable people sometimes use the term "Internet" and "Web" interchangeably.
Apple recently introduced a new version of their Safari Web browser with expanded capabilities. At this month's meeting, we will investigate some of the latest improvements and the more useful extensions that are becoming available. Other Web browsers - chiefly Firefox and Chrome - have some neat features as well, and we will take a look at these, too.
The main presenters will be Larry Kerschberg and Lawrence Charters, with a cameo appearance by Jonathan Bernstein. Come hear and watch as they demonstrate some of the coolest incorporated into the latest Web browsers. Even if you think you know your way around a Web browser, you will learn something new.
This meeting will be held on the George Mason University campus in Fairfax, VA, Enterprise Hall, Room 178. Check back closer to the meeting date for any updates or changes.
Agenda:
9:30-10:15 - Questions and Answers (watch for the snap quiz)
10:15-10:30 - Coffee break
10:30-Noon - Web Browsers, Plug-Ins and Extensions
Check back closer to the meeting date for any updates or changes to the meeting.
George Mason University Essential Information
The meeting will be held in Enterprise Hall, Room 178.
Address: 4400 University Dr., Fairfax, VA (near Rte 123 and Braddock Road)
Directions and Map: http://www.gmu.edu/welcome/Directions-to-GMU.html
Interactive map of campus: http://eagle.gmu.edu/map/fairfax.php
Important Parking Information:
Free parking is available in Lot A, while the parking in Sandy Creek Parking Garage is a pay-for-parking facility. Sandy Creek parking is more convenient and closer, and the Pi will continue to subsidizing that facility's parking fee by providing validation tickets for $3.00.
Directions to the meeting location from Lot A
Park as close to Mattaponi River Lane as possible, then walk north along that road toward the main campus buildings. The sidewalk route takes you directly to the side of Enterprise Hall.
It is a good five to seven minute walk from Lot A and up a slight incline. We will be using a golf cart along the route, to offer rides to those who want or need a lift.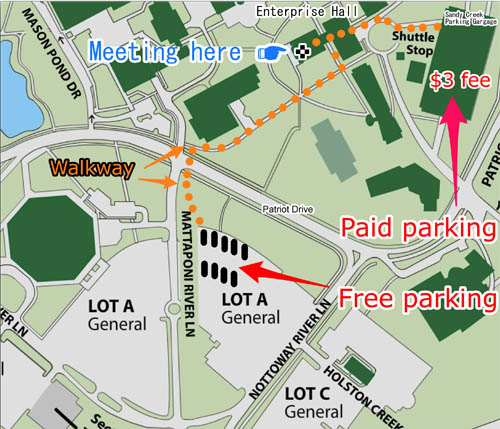 ---