December 6, 2008 Holiday Party:
Andy Ihnatko and his Internet Pants
Photos by Donald Fortnum | Photos by Richard Sanderson | Photos by Lawrence I. Charters | Video by Donald Fortnum
By Lawrence I. Charters
What do around 120 Mac enthusiasts do early on a December morning, with snow swirling in the air? On December 6, Washington Apple Pi invited its members, plus members of other local Mac User Groups, to a combined General Meeting and Holiday Party. A large crowd braved the raging flakes to have a shockingly good time with Chicago Sun-Times technology columnist Andy Ihnatko, followed by the justifiably famed Steve Roberson's Top Ten Mac Gifts. First, there were questions -- lots of questions.
Questions and Answers
The first things were, oddly enough, about the things the moderator, Lawrence Charters, was carrying.
Q: What is that thing?
A: "That" is a Samson Zoom H2 Handy Recorder, a battery-powered two or four channel microphone that records to SD media cards, such as those used in digital cameras. With luck, it will record the Q&A session so I have some vague idea what people asked. (It worked, though it ran out of space at 48 minutes. Need to get a bigger SD card; 512 MB is not enough.) It saves in WAV format as a native format, which imports nicely into GarageBand.
Q: What is that other thing?
A: This is a Skooba Design Roadwired Advanced Protection System (R.A.P.S.), essentially a padded blanket for electronics, with Velcro fasteners and an anti-static lining. It is great for protecting, in this case, a digital camera, or a GPS unit, mobile phone or other electronic gizmo you want to put in a backpack or a coat pocket.
Q: What camera is that?
A: It is a Canon PowerShot G10, a 14.7 megapixel pocket camera with image stabilization and a 5X optical zoom, that can save photos in RAW format for use with Apple's Aperture or Adobe's Photoshop Lightroom.
Q: Why do you need a 14.7 megapixel camera? That's too large for a Web page, or to E-mail.
A: In the case of the G10, 14.7 megapixels comes to 4416 x 3312 pixels, or 5 by 4 feet, which is admittedly large. But having so much detail allows you to crop out just a small portion of the image and still have a great photo. You can also use the extra information to create a smaller, sharper image. You can always throw away information you don't need, but you can never add back what the camera failed to capture in the first place.
Q: I'm thinking of recycling a Power Mac and using it as a Time Capsule instead of a Time Capsule. Will that work?
A: If the Power Mac can run Mac OS X 10.5, yes, you can use it as a Time Machine file store. Time Machine can save to a Mac running Leopard, a Mac running Leopard Server, a Time Capsule, or a hard drive plugged into a Time Capsule or some Airport Extremes.
Q: How do you delete old stuff in Time Machine?
A: Don't worry about it. Assuming the drive you are using for storing backups is reasonably large, Time Machine takes care of removing old information automatically. Virtually everyone who has Time Machine has no problems with space issues, and no problem running Time Machine in general -- unless the user over-thinks the process and starts meddling.
Q: Should I upgrade the drive I'm using with Time Machine from 500 GB to one terabyte?
A: If you aren't in any danger of running out of room, why bother? Time Machine is intended to restore your computer to working order after a problem, and does an excellent job of removing unnecessary files. You want to have a storage drive at least twice the size of what you have on your computer, but if your laptop, for example, has only 60 GB of data, you don't need a terabyte drive to back it up.
Q: But what if I want to retrieve something I did six months ago?
A: Time Machine is not a replacement for burning archival information on CD-ROMs. Just because Apple likes to promote Time Machine by showing it reaching back in time to retrieve things doesn't mean you are absolved from any need to archive files offline. Burning documents, photos and such that you don't need to CD-ROM, and cataloging them with a good CD cataloger, such as CDFinder, is still required.
Q: But Time Machine backs up your entire iPhoto library if you add just one photo. It is just one big file.
A: That's not correct. Apple makes it look like one file, because they don't want you to play with it. But if you modify just one photo in iPhoto, it backs up just that one file, not the entire library. Similarly, messages in Leopard Mail are saved as separate files (unlike Mail in 10.2, for example), and only new or changed messages are backed up as needed. This also applies to Aperture and Lightroom photo libraries.
Q: Every once in a while, Time Machine fails, but later on it seems to be working.
A: Time Machine is very paranoid; it checks to make sure things are properly backed up. If a file was busy or there was some other interference, it will notify you of the problem. But if the problem is transient, it will cheerfully carry on without comment during the next backup. Don't worry, be happy.
Q: In Parallels, how do you set the F1, F2, etc., keys so they work as on a PC?
A: Most F-keys in Windows are set for whatever program is running, and the system-wide F-keys are set by the manufacturer's BIOS. Since the Mac doesn't have a BIOS, you can press the Fn key first (if you have a keyboard with an Fn key) or you can change things with System Preferences > Keyboard and Mouse > Keyboard Shortcuts.
Q: I have a corrupted Address Book; things in Address Book aren't displaying properly.
A: Address Book is a database. If things aren't displaying properly, or you think something is corrupted, quit out of everything, fire up Disk Utility, click the First Aid tab, and Verify Disk (forget Verify Permissions). This should be the first thing you check when any kind of file fails to open as expected, or when a program crashes.
If Disk Utility says everything is fine, there are numerous utilities on Version Tracker for importing, editing and exporting Address Book entries. Leopard users can also use Bento, the new lightweight database program from FileMaker, to edit and verify Address Book entries.
Q: I have an E-mail account that uses IMAP. I use several different computers to read my mail, but only the inbox is shown on all the machines; the sent mail and other folders don't appear.
A: IMAP (Internet Message Access Protocol) is supported on many different mail systems, including .mac (or MobileMe, as Apple now calls it), and the Pi's own mail server. The mail client determines which folders are stored on the server. If you go into Apple Mail's preferences and, under Accounts, check the box to store sent mail on the server, it will be saved on the server. The IMAP server will do whatever the client says.
Andy Ihnatko
Chicago Sun-Times technology reporter Andy Ihnatko is one of those curious products of the Internet: he reports on computer technology for a major national newspaper, but his fame is just as great, or greater, on the Internet where his columns are republished, and his blog, "Andy Ihnatko's Celestrial Waste of Bandwidth," has its own large following. And he is a Twitter user, the absolute antithesis of everything a newsprint-based newspaper represents:
http://www.suntimes.com/technology/ihnatko/
http://twitter.com/Ihnatko
http://ihnatko.com/
While Ihnatko has a number of Mac books to his credit, including the just-released iPhone Fully Loaded (which he briefly plugged, using his best somber and dramatic motion picture preview voice), and is a regular panelist at Macworld Expo, it is safe to say most in the audience had no clue what to expect. What they got: a large, fedora-wearing hyper-frenetic technology elf. Whimsical, self-mocking, literate, Andy is one of the fastest speakers ever to visit the Pi. In his first ten minutes, he said more than most speakers do in an hour, and he talked for another 80 minutes. Here is a brief video sample from when he started taking questions:
(Video by Seth Mize; editing by Lawrence I. Charters, software by Apple iMovie '09)
Ihnatko (the name is Czechoslovakian, he thinks, or possibly Ukrainian) got his start with computers, and user groups, through the Mac SIG of the late, lamented Boston Computer Society. Like-minded crazies got together to talk about these amazing machines, and he found he had a knack for both doing useful things with Macs and also writing about them. This experience led directly to his position as a technology columnist.
In the midst of Ihnatko's explaining how he got his start, a member of the audience asked if he was wearing his "Internet pants," and he confessed that he was. What are Internet pants? Ihnatko admits that, in typical guy fashion, he hates to shop for clothes. So, while he needed some new pants, he didn't want to go shopping, and wrote as much in a Twitter tweet, echoed to his blog. Suggestions came in, including one that he shop online, and "The 2008 Internet Pants of the Year Pageant" was born. The winning pants were 5.11 Tactical Series pants, designed for law enforcement, with plenty of pockets.
How many is plenty? Ihnatko then demonstrated by removing from various pockets: an iPhone, a Kindle, a Panasonic HDC-SD1 HD camcorder, a Flip Mino HD camcorder, a Kodak Zi6 HD camcorder, an Aiptek HD camcorder (sold only by WalMart), a Nikon P6000 digital still camera, and probably some other items. When someone mockingly said, "no wallet?," he even pulled out an "old, analog" wallet, the only non-electronic item apparently lurking in the many pockets.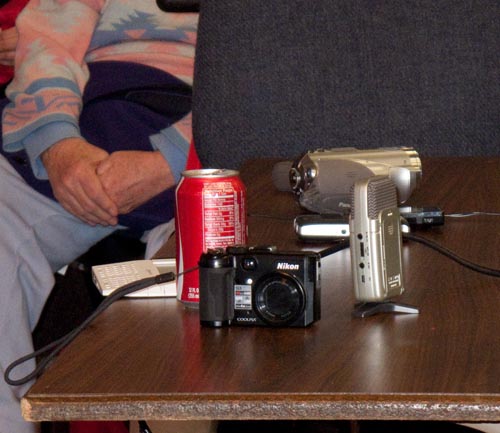 Everything on the table except the microphone came out of Andy Ihnatko's "Internet pants." Yes, that includes the can of Coke. Photo by Lawrence I. Charters
With a table full of high-def cameras at his disposal, he then talked about high definition cameras, iMovie, Final Cut Express, and many other things, in rapid sequence. He explained that he's the kind of guy who gets lots of nice toys for free -- for thirty days -- because he is a technology journalist. The Panasonic camera, however, was his. After getting one on loan, he thought it was simply too cool to not get one for himself, so he bought one after it had been discontinued in favor of a new model.
While he didn't directly say so, the Panasonic became the benchmark against which he measured the three "casual" HD cameras from Flip, Kodak and Aiptek. He found the Flip Mino HD to be ideal for the YouTube generation, as it offers casual video -- but in HD 720p format -- from a flat box smaller than many iPods. But the Flip has internal, non-replaceable or expandable memory, and an internal, sealed battery. While waving his iPhone, he loudly commented: "Now what idiot would develop something with sealed-in memory and sealed-in battery?" The audience, predictably, cracked up.
The Kodak Zi6, in contrast, has removable, replaceable SD media cards for storing video, and removable, rechargeable AA batteries, making it much more flexible. It is also less expensive than the Flip. The sound on the Kodak is definitely better, but the video is a toss-up: neither can compare with the Panasonic, but neither is intended as competition, either: they are simple, fixed-focus, casual video cameras for those who have no pretensions.
The Aiptek GO-HD is aimed at WalMart customers: it is exclusive, and it is cheap. It uses SD cards, and has far more buttons than the Flip or Kodak cameras, plus a flip-out LCD display. You can also use it as a 5 megapixel digital camera. It doesn't excel at anything, but it is: cheap.
Ihnatko then demonstrated his technique for testing the cameras, holding both arms straight out, with a camera in each hand, and marching along smartly and capturing video literally side-by-side. If this sounds silly, it looks silly, too, and he admitted to getting quite a few strange looks as he prowls his neighborhood in search of good subject matter.
The many cameras evolved into a discussion of video editing, and Ihnatko admitted he is a fan of Final Cut Express rather than iMovie. In iMovie, Apple was seeking to create a simple-to-use video capture and editing package, and they succeeded. But once you master those skills, there is nowhere to go: it can't ever do anything more exotic. Final Cut Express adds a wealth of tools for doing such things as picture-in-picture sequences, and Ihnatko has been chronicling his adventures with the package on his blog.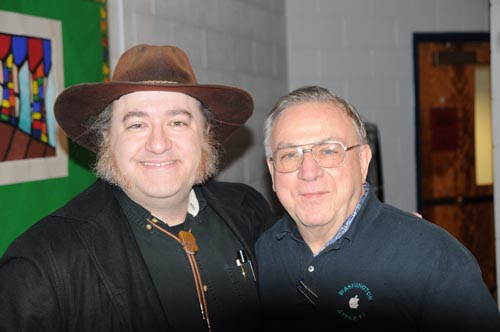 Andy Ihnatko (in fedora) and Pi photographer Richard Sanderson. This photo was taken with Richard Sanderson's camera, but we aren't sure who was holding it.
When asked what he thought of his iPhone, his response was eloquent and succinct: "It is the closest thing to a tricorder I've ever seen." On Star Trek, the tricorder did whatever the plot required. "And the iPhone does that, too."
Since he pulled out a Kindle, people asked about it, and he said the Kindle, and Sony's competing Reader Digital Book, work quite well. But even if the Kindle is particularly well done, he isn't sure it fills a need: regular books are less expensive, and most human beings don't have a need to carry around an entire library at once.
He also talked about Apple's design philosophy in iMovie and iPhoto, about Apple's policies on releasing applications on the iPhone Apps Store, about his love of the Slingbox, and many, many other things. You should have been there.
Steve Roberson's Top Ten Mac Gifts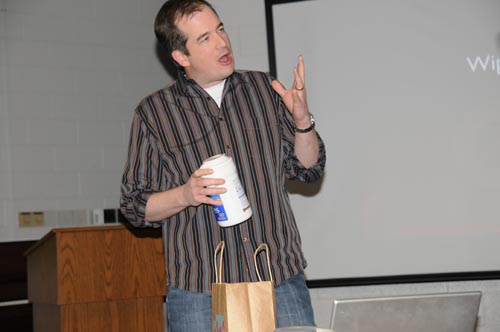 Steve Roberson waxes poetic about "finger magnets" and the need for monitor wipes, which he buys in bulk. Photo by Richard Sanderson.
Steve's annual Top Ten Mac Gifts is an annual event that is somewhat hard to explain, since it is a combination of tutorial, performance art, and what might be termed "practical nerdiness." Roberson, a Washington-area Internet designer, compiles a list of gifts that are, depending on your point of view: (a) for you, for use with your Mac; (b) for a Mac-loving friend or loved one; or (c) for your Mac. Roberson gently guides the audience through an exploration of wonderful gift possibilities, seasoned with whimsy, irony, and, at times, outright lunacy. You shoulda been there. This year's Top 10, with a bonus item, are:
Bonus: Virgin Galactic, the ultimate way to experience WiFi
10. More storage (featuring a Drobo drive robot)
9. Monitor Wipes for "fingerprint magnets" (iPods, iPhones, iMacs)
8. Bigger display (either an Apple Cinema or an iMac)
7. DVD Ripping Software (Mac the Ripper, RipIt, HandBrake)
6. USB Flash Drive (carry it with you, whatever "it" might be)
5. iPhoto Calendar (an instant family tradition)
4. More memory (always)
3. iPhone or iPod touch ("funnest iPod ever")
2. Podcasts (free entertainment and education from your iPod)
1. Washington Apple Pi membership. Of course.
Roberson's slideshow is available as a PDF download" Mac-Centric Gifts 2008".
Food and Presents
Forty-five people stayed for lunch (pizza), along with cookies and other festive fare. While munching away, drawings were held for various prizes. Francis Manion won a copy of Andy's brand-new book, iPhone Fully Loaded, and Paul Silverman won a new 8 GB iPod touch. Then it was on to the iLife, Mac neophytes and Genealogy SIGs.
It was a great end to another successful year for the Pi. If you feel left out, be sure and attend the General Meetings in 2009. Much like the Mac itself, reading about the experience is never quite the same as experiencing it in person.
Resources
Samson Zoom H2 Handy Recorder,
http://www.samsontech.com/products/productpage.cfm?prodID=1916&brandID=4
R.A.P.S. Roadwired Advanced Protection System,
http://www.skoobadesign.com/product/advanced-protection-system-wrap-small-22/
Canon PowerShot G10 camera,
http://www.usa.canon.com/
CDFinder,
http://www.cdfinder.de/
Version Tracker:
http://www.versiontracker.com/
Bento,
http://www.filemaker.com/products/bento/
Andy Ihnatko, iPhone Fully Loaded, Wiley, 2008. 272 pp., $19.99,
http://www.wiley.com/
5.11 Tactical Series pants,
http://www.511tactical.com/
Flip MinoHD,
http://www.theflip.com/
Kodak Zi6,
http://www.kodak.com/
Aiptek HD,
http://www.aiptek.com/
Final Cut Express,
http://www.apple.com/finalcutexpress/
iMovie,
http://www.apple.com/ilife/imovie/
iPhone,
http://www.apple.com/iphone/
Kindle,
http://www.amazon.com/Kindle
Sony Reader Digital Book,
http://www.sonystyle.com/
Slingbox,
http://www.slingmedia.com/
Virgin Galactic,
http://www.virgingalactic.com/
Drobo data robot,
http://www.drobo.com/
MacTheRipper,
http://www.mactheripper.org/
RipIt,
http://ripitapp.com/
HandBrake,
http://handbrake.fr/
iPhoto calendar,
http://www.apple.com/ilife/iphoto/#prints

Original meeting announcement
December 6, 2008 General Meeting:
Andy Ihnatko and Pi Holiday Party
Luther Jackson Middle School, Falls Church, VA
9:30 a.m. to 12:30 p.m., in the Auditorium
This meeting is going to blend the usual Mac information with a holiday fun. Come and enjoy!
Hang onto your hats, we have a genuine Mac celebrity lined-up for December 6th meeting! Andy Ihnatko will be our guest speaker and he is a great catch. His presentation should prove to be very informative.
Andy has strong credentials as a tech journalist for the Chicago Sun-Times, author of many Mac books, and frequently heard voice in the Apple community. Among his books are The Mini Mac Book, iPhone Fully Loaded, The Mac OS X Book, and iPod Fully Loaded. Also, he can be heard regularly on a variety of podcasts including MacBreak Weekly, TWiT, and The Apple Phone Show. Finally, Andy is a frequent speaker at MacWorld and he addresses numerous seminars as well as MUGs nationwide. The man knows his Apple products and he's generous in sharing his ideas and insights.
Oh, and did I mention that's he's entertaining? He is. You'll have a blast.
Finally, to swing the meeting mood to the holiday theme of gift giving, Steve Roberson will present his Top Ten Mac Gifts list. Steve is bound to amuse and surprise with this crowd-pleasing rundown of some great Mac gifts for the holiday season. We will tack onto the gift theme by having a raffle for a couple of nice "presents" that are bound to please those with the winning tickets. Rumor has it Santa has an extra iPod touch in his bag!
Our usual lunch period will feature holiday goodies; after which, the Beginners, iLife, and Genealogy SIGs will hold their respective sessions.
This should be an entertaining, enlightening and overall fun event. Come and enjoy the last Pi General Meeting for the year!
Check the Web site again closer to the meeting for any last-minute details. See you there!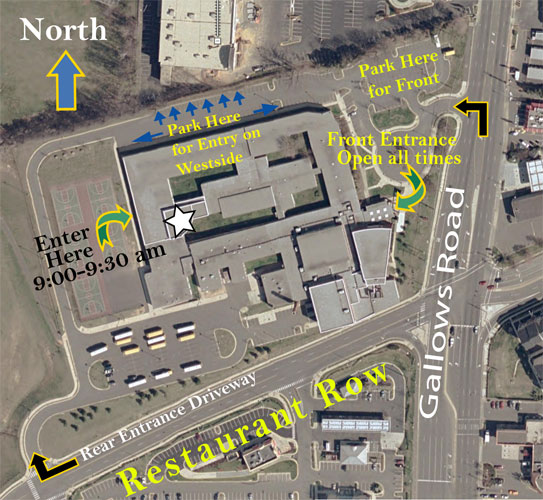 Notes:
Questions: Contact the WAP office at (301) 984-0300.
The meeting, open to the public, starts at 9:30 a.m.
---