"Dr. Mac" Bob LeVitus coming November 7
Bob "Dr. Mac" LeVitus has been making his "East Coast Mac User Group Tour" for many years, but this year, he's coming to DC for the first time!
Come to his presentation in the auditorium of the Kenmore Middle School in Arlington, VA, and hear his lively discussion of the latest Mac and iOS gadgets that he's reviewed in 2016!
The presentation starts at 6:00 PM on Monday, November 7th, and will conclude at 8:00 PM. Invite all your friends who have any interest in the products that Apple has created since 1984 and how many third parties have based their business model supporting products created by a single tech company.
Kenmore Middle School (https://kenmore.apsva.us)
200 S. Carlin Springs Road
Arlington, VA 22204
Monday, November 7, 2016 (6:00 – 8:00 PM)
AfterAfter his presentation, join the sponsors of his visit, the Virginia Macintosh Users Group (VMUG), and other local Mac User Groups including Washington Apple Pi (WAP) and the National Capital Apple Macintosh Users Group (NCA-MUG) for drinks and food at:
Mad Fox Brewing Company (http://www.madfoxbrewing.com)
444 W Broad St (Rt 7)
Falls Church, VA 22046
(703) 942-6840

DIRECTIONS: http://madfoxbrewing.com/content/directions-falls-church
If you're planning on joining us at the Mad Fox, please make your reservation by emailing Craig Hirai, President of VMUG, at craig.macupgrades@gmail.com no later than noon on Monday, November 7th. (It's Dutch treat...)
Click image to download a brochure.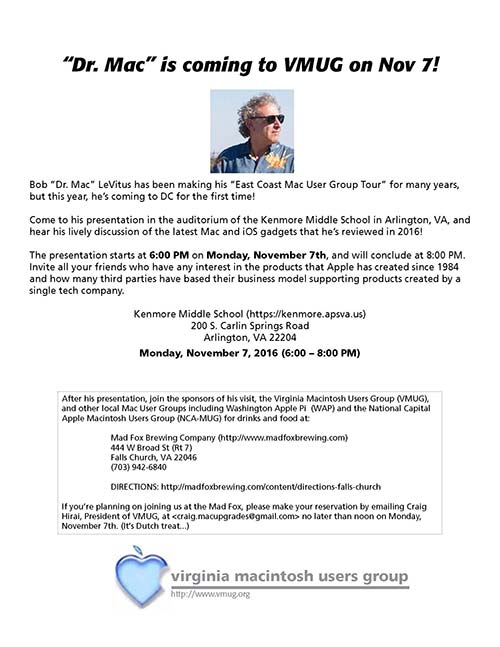 ---