Shareware - Freeware - Donationware
Saturday, February 25, 2006 General Meeting
Time: 9 a.m. - 11:30 a.m.
Location: Microsoft Innovation & Technology Center, 12012 Sunset Hills Road, Reston, VA, 20190
Join Pi members to learn about the latest shareware, freeware and donationware applications to extend your Macintosh's capabilities. There are many new and updated applications each month that allow you to do more things easily and inexpensively.
If you are a programmer with a new or improved application that you would like to share with fellow Pi members, please contact Pat Fauquet (patf@mac.com or (703) 495-8520) to join in the program.
Notes:
We usually start the meeting with a Question and Answer session, and usually also have drawings, vendor literature, and unexpected delights that we can't discuss because they are unexpected. For the larger "end of meeting" drawing prizes: you must confirm your Pi membership if you win (bring your membership card).
Questions: Contact the WAP office at (301) 984-0300.
Poster with driving directions: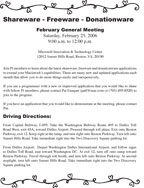 February "Mini-Meetings" at Apple Store, Tyson's Corner:
Third party hardware and software from Macworld 2006, Feb. 7
Spring Cleaning your Mac, Feb. 16
Poster with times and details: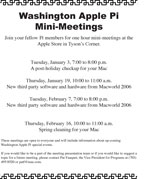 ---