February 2019 General Meeting
February 2019: Can the Spam (and) Do the Two-Factor Two Step
February 23, 2019, 9:30 a.m.-noon, George Mason University
The meeting will be at George Mason University, Enterprise Hall, Room 178.
In case of inclement weather or other emergencies, the Pi follows the same schedule for closures as the Montgomery County school system or, in the case of General Meetings, George Mason University.
We're delighted to have back Mike Wish (fka "MacTipster") for a 30 minute talk: "Can the Spam." With each new technological accomplishment, humans launch themselves forward into a world of new possibilities. Inevitably, some of these humans will use it to try and sell you an extended car warranty on your 1998 Honda Accord. And for those humans, we hire robots to fight back.
Join Mike Wish, a former Apple Employee and fellow annoyed human, as we discuss some ways to give spammers a taste of their own medicine as well as clear up mental clutter with the help of the technology you already have in your pocket and in your home. We will discuss some available tactics for reducing the number of robocalls and unwanted email and postal mail.
Next, we'll have our own Bruce Brown, "Doing the Two-Factor Two-Step," or "What are two-factor authentication and two-step verification (and why should you care)?" With all the news of data breaches and stolen passwords these days, it seems like there ought to be something that the average user could do to better protect himself/herself.
Good news: There is! It goes by various names, such as two-factor authentication and two-step verification. At the February Pi General Meeting, Bruce Brown will
explain what these terms mean, why you should become proactive and use some form of two-step authentication, and how to turn it on.
And don't forget the raffle prizes!
The meeting begins at 9:30 am with our Q&A Panel, where Bruce Brown will make up lots of iOS answers, while Roy Wagner is globe trotting and may tune in remotely from not as far away as Vietnam!
If there is adequate bandwidth, and it isn't entirely used up by the attendees and their iPhones, iPads, iPods, etc., we will stream the meeting over the Pi's YouTube Channel: https://www.youtube.com/channel/UCeX9TuhjBL7n1HGlHOaNCmQ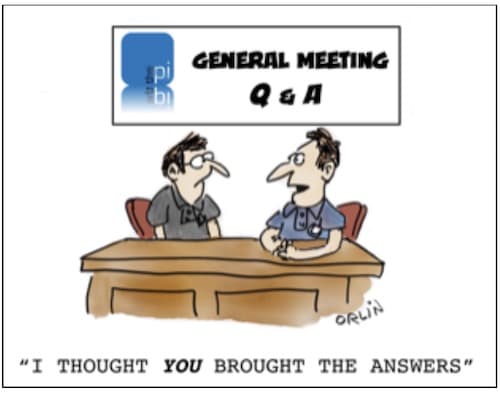 From Bytes of Pi
After Pi Business, we'll enjoy Kitty's Coffee Break, and then the potent split program with Mike Wish and Bruce Brown.
No lunch or Mobile SIG for this meeting, so we should wrap up soon after 12 noon.
We will Raffle off another couple App Store & iTunes Gift Cards - thanks Diana for championing this, and Jay for picking up the gift cards.
Special Note for Remote Pi members: If you watch the meeting on YouTube and check in via our online Pi attendance tool (choosing "YouTube Live for General Meeting"), we'll include you in the raffle! Join us for this power packed Pi General Meeting!
If there is adequate bandwidth, and it isn't entirely used up by the attendees and their iPhones, iPads, iPods, etc., we will stream the meeting over the Pi's YouTube Channel: https://www.youtube.com/channel/UCeX9TuhjBL7n1HGlHOaNCmQ
The General Meeting will be in our usual location, Enterprise Hall, Room 178 on the George Mason University campus (#16 on the map below), in Fairfax VA. Check back closer to the meeting date for any updates or changes.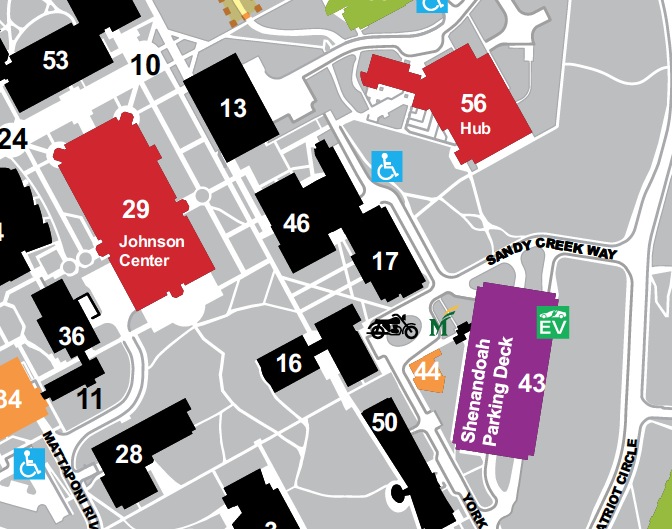 Click on the map for a much larger version of the George Mason University campus map.
George Mason University Essential Information
Address: 4400 University Dr., Fairfax, VA (near Rte 123 and Braddock Road). Directions and Map: http://www.gmu.edu/welcome/Directions-to-GMU.html
A whole bunch of George Mason maps: http://eagle.gmu.edu/map/fairfax.php
Important Parking Information: Two Options, Paid and Free
The Shenandoah Parking Garage (formerly the Sandy Creek Parking Garage because it is located on Sandy Creek) is fee-based facility. It is more convenient and closer to the meeting location. The Pi will subsidize the facility's parking fee by providing vouchers for donation request of $4.00.
If using the parking garage, park in Visitor's area; i.e., the lowest level. Take the elevator to the third floor (Campus Level), and exit along the sky bridge.
After the meeting, exit the garage using the exits marked for Validated Tickets. Your parking ticket goes in first. Then the validation ticket goes in next. If you have any problems, there is a speaker box for calling the parking lot attendant at the checkout point.
Free parking in Lot A
Park as close to Mattaponi River Lane as possible, then walk north along that road toward the main campus buildings. The sidewalk route takes you directly to the side of Enterprise Hall, on your left. The meeting room is located on the second floor, accessible via outside stairs or via an elevator on your right as soon as you enter the building through the doors behind the outside stairs. We will endeavor to have signs posted to help guide you to the right location. It is at least a five-minute walk from Lot A and up a slight incline. We will be using a golf cart along the route, to offer rides to those who want or need a lift.
Handicapped Parking: There are three handicap parking spaces next to Enterprise Hall that can be used by members, on a first come first served basis. Have your Handicap Sticker showing on the dashboard or on the rear-view mirror.
---