February 2022
Avenza Maps and Virginia State Parks — John Krout
February 26, 2022, 10 a.m Eastern Time
Note: this will be a virtual meeting via Zoom.
The Virginia State Parks (VSP) feature many wonderful scenic vistas, wonderful hiking trails, and recreational access to water, including swimming pools, boat ramps on lakes and rivers, and more. Three are nearby on I-95, even if you live in DC or Maryland. A couple of years ago, VSP teamed up with the Avenza Map app to publish state park trails maps in digital form. When trails are added, extended or closed, VSP updates the digital maps for use in the app long before VSP can print and deliver updated physical map brochures. In this presentation, you will learn where the parks are located, and how to use the free iOS Avenza Map app to obtain and use free VSP digital maps. You will also learn how to save money on admission fees for the state parks.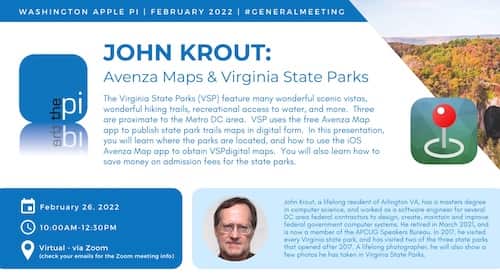 Click on image for a larger view.
John Krout is a lifelong resident of Arlington VA. He has a masters degree in computer science, and worked as a software engineer for several DC area federal contractors to design, create, maintain and improve federal government computer systems. He has been writing and speaking about creative uses of personal computers since the early 1980s, and now also covers the latest personal computers in our hands, which we know as smart phones. He retired in March 2021, and is now a member of the Speakers Bureau service offered by the Association of Personal Computer User Groups (APCUG). In 2017, he visited every one of the Virginia state parks, and has visited two of the three state parks opened after 2017. A lifelong photographer, he will also show you a few of the photos he has taken in Virginia State Parks.
The Zoom meeting invitation will be posted on the Pi's conferencing system, the TCS, and sent out to members via Email. Please check your Zoom profile online to be sure it contains your full name, because for security reasons, we can't let anyone in without their full name.
Pro tip: if you use the Zoom app (instead of a web browser), check in advance that you have version 5.9.3 or better.
You can also watch the presentation without touching Zoom via www.wap.org/live.

We'll start with a Q&A, so please send us any questions for us to queue up for the panel.


Please remember to use the Attendance Check-in link, https://wap.org/attend
---