Macworld San Francisco 2006 Review
January 2006 General Meeting
By Bob Jarecke, VP for Membership
January's general meeting was held on the customary fourth Saturday of the month, and for the second time, we used the spacious, fully equipped facilities of the Microsoft Innovation & Technology Center in Reston, VA. We had a good showing of more than eighty attendees. Pat Fauquet, VP for Programs, introduced the event with her impressions and photos of the annual gathering in San Francisco. John Barnes added his take on the experience. Finally, John McDonnell, from the Tyson's Corner Apple Store, gave us a thorough presentation on some of the more important offerings from Apple introduced at this year's Macworld SF. We closed the event with our first raffle that spanned two meetings with a much sought after main prize of a 1GB iPod shuffle with accompanying shuffle accessories.
MW '06 - two perspectives
Before Pat introduced the main speaker, she commented on myriad photos from the San Francisco event. The digital pictures helped me, and probably others, gain a better perspective of this legendary confab. Pat thanked Kevin Adler, Len Adler's son, who works for Microsoft, as he is directly responsible for our gaining access to the excellent facilities in Reston. Pat also pointed out that Apple and Microsoft have a good relationship, and that Microsoft has just recommitted to supporting MS Office for the Mac for five more years.
Pat then sparingly covered some of the new software and hardware offerings by Apple. Her demonstration highlighted some of the stronger aspects of the iLife '06 applications. I was particularly interested in the new iWeb application and she presented just enough to whet my appetite.
Overall Pat had many good things to say about Macworld. Although she had to leave Macworld early due to a family situation, she did have a chance to shake Steve Job's hand, and in so doing, she confided, it is one of the few times she has been left speechless.
Pat then took a moment to explain what was on this month's Pi Fillings CD, and she even included the Macworld slideshow she had just finished showing us. She also promoted the new Mac "mini meetings" the Pi is presenting at the Tyson's Apple Store;  check the Pi calendar for future meetings.
John Barnes, as Pi president, took a few moments to cover his Macworld experience. After three successive years of attending, this time he chose to concentrate on the educational offerings involved with the event. He maximized his participation by attending some interesting and far-reaching workshops and demonstrations, and he recommended these opportunities to all.
John then spoke about the next most important event for the Pi, the upcoming annual election held in May. We will be electing five new members of the Board of Directors who will serve three-year terms. He emphasized the importance of this election and the genuine need for members to come forward and offer their time and talent. John will be an outgoing member of the Board of Directors and as such, will be free to serve as the head of the Election Committee.
And, as a final item, John pointed out the newly opened electronic Pi Store that is offering a promotional saving on all memberships purchased on the electronic store until April 15th. He encouraged everyone to check it out by going to the Pi Web site (http://www.wap.org) and clicking on the "Join us." link. There is money to be saved!
MW '06 - Apple's Announcements
Our main speaker, John McDonnell, from the Tyson's Apple Store, gave us a Keynote presentation that provided deeper insights into Apple's new offerings at Macworld. John took up where Pat left off and expounded on the new and clever features of iLife '06 applications. He also covered in fine detail the new features of the upgraded applications in iWork '06. Apple's Pages application, for example, is becoming a powerhouse word processor with the addition of many features such as the ability to add fully capable spreadsheet tables to documents.
The briefing consisted of the usual Apple promotional slides, but it was John's commentary that put the meat on the bones of the visuals. He took many questions throughout the talk. Where he lacked answers (or felt compelled not to answer), others in the audience frequently filled in.
Many attendees were eager to hear in greater detail about the Intel Core Duo Macs that were officially announced just two weeks prior. John did his best to feed the interest and we all came away with a better sense of what to expect from these new machines and what Apple will be doing to the rest of the product line before the year is over. There are a lot of changes in the works and probably a few surprises too.
Grand Raffle and Door Prize Winners
We closed out the meeting with the door prizes and a Grand Raffle for a 1GB iPod shuffle that included several iPod accessories. A set of iPod speakers comprised a second part of the raffle, so there were going to be two lucky winners. The latter set of prizes were donated to the Pi by Doc Mac (Bob Livitus) when he made his presentation last September and the value of the Grand Raffle was estimated to be well over $200. Subsequently, a lot of people bought tickets and held them close to the chest.
But before we could end the suspense, we drew the door prize winners. There were prizes ranging from T-shirts to books to Ben and Jerry coupons. The member winners were Georgia Sadler, David Granite, Clifton Bailey, Nancy Seferian, Lew Norman, Pat Fauquet, Jim Diamond, Jim Hartneady, Charles Poor, Ron Green, and Richard Allen. Three prizes went to nonmembers and a word of encouragement was voiced about having them join the Pi.
At long last, we drew two names "from the hat" for the Grand Raffle prizes. The first name selected was member Jon Bernstein; on his way up to claim the 1GB iPod shuffle and accessories, he picked the name of Jamie MacDonald, who joined him at the prize table for pictures. This raffle proved to be popular and in time, we hope to offer additional raffles that will prove valuable for the membership.
Once again, mutual efforts by Pi members produced an enjoyable and enlightening meeting with plenty of good Mac camaraderie. February's meeting should be equally educational and we hope everyone can make it out to Reston again.
Meeting poster: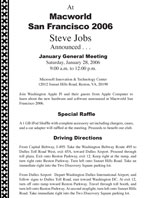 Mini meetings poster: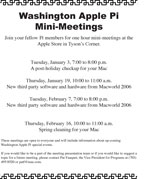 ---