January 10, 2009:
Washington Apple Pi Office Open House and Grand Opening
The Magic of Getting Together
Photos by Donald Fortnum | Photos by Richard Sanderson
By Travis Good
Members helping members is what Washington Apple Pi is all about. We do this within the Pi in many ways. The Journal brings thoughtful insight on a regular basis. The TCS Forums are there for getting and giving help online. The Web site, www.wap.org, holds deep reserves of knowledge stored away in its archives. However, my favorite Pi venues for members helping members are people gatherings: General Meetings, Special Interest Groups, etc.
There is no better place than the Pi to get together with Mac enthusiasts!
For decades, the Pi has been a place to meet with people of like minds. We all love our Apple computers, our iPods, our iPhones. We enjoy how they empower and entertain us. We take pride in being users of Apple products and we enjoy sharing our joy, our knowledge, and our enthusiasm.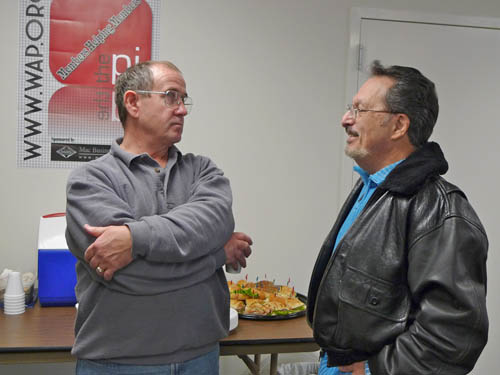 Bill Kingley took this photo at the January Open House with a spiffy new Panasonic LX3 camera. He sent the photo along with a comment, "Many thanks for all the sweat that went into creating the new digs. It's a very usable space."
Using our wonderful new clubhouse we should have more get-togethers!
What? You haven't heard? The Pi clubhouse has moved to a new space. Yes, it's new as in you can still smell the fresh paint. Yes, it's new as in we've purged the ancient inventory and scrubbed everything to the point of almost-new. Yes, it's so new we just had an Open House to celebrate. Didn't attend the Open House?! If not then check out the accompanying photo; there is also a movie clip:
Washington Apple Pi Open House, January 10, 2009. For desktop: ClubhousePromo-desktop.m4v. For iPhone or iPod: ClubhousePromo-iPhone.m4v.
The new clubhouse is in a very nice space. Unlike before, this new facility is custom-tailored for gatherings. There are rows of tables and chairs plus overhead projection and a whiteboard for presenting or training. The space is large enough for many people to mingle, talk, and socialize. In the back is a table with Macs available for use and there's a lounge, a cozy corner you won't believe. The clubhouse has become a fabulous space in which to gather.
Got a passion to start a SIG? We've got the place to meet! Have a hankerin' to teach a class? We've got a classroom! Want to get together regularly with Pi friends? We've got just the right social setting! This clubhouse is yours. One benefit of being a Pi member is use of our clubhouse. Does your bridge group need a weekly home? Is your sewing club looking for a gathering place? Does your car club need a spot to meet? We're considering expanding access to the clubhouse so long as a Pi member is present and responsible. Let us know how you'd like to use the clubhouse.
Intrigued? We hope so. The clubhouse is yours and it's just waiting to be put to good use. Come on! Let's generate more of that special getting-together magic!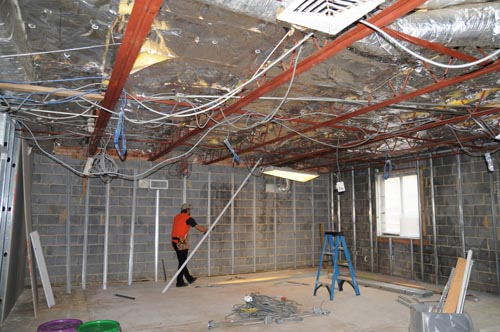 Contract workman busy installing a new wall in the soon-to-open clubhouse space for the Pi, taken in November 2008. Sure doesn't look like much yet! (Photo by Richard Sanderson, taken with a Nikon D-300 digital camera.)
Questions: Contact the WAP office at (301) 984-0300.
---