January 2023
Tech In Transportation: Whether And How
Saturday, January 28, 2023, 10 am - 12:30 pm
Virtual meeting via Zoom and YouTube
Driverless cars, EVs, micromobility solutions, hyperloops, Uber, Etc., can solve congestion, road safety, and pollution and climate change.

Shira Ovide writes The Tech Friend newsletter. She is the strategy editor for Help Desk, The Washington Post's team of journalists who focus on the impact of our digital lives and empower us to corral technology to serve our needs. Before joining The Post in October 2022, Ovide wrote the On Tech newsletter for the New York Times. She has also been a technology columnist at Bloomberg Opinion and wrote about technology, finance and the media industry for the Wall Street Journal. Ovide lives in New York.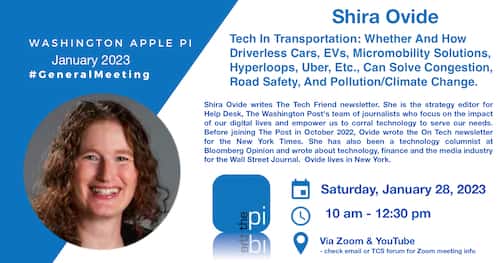 Click on the image for a much larger view.

We'll also try to stream the meeting to our YouTube page here:
https://www.youtube.com/WashingtonApplePi
This link can be freely shared.

The Zoom meeting invitation will be posted on the Pi's conferencing system, the TCS, and sent out to members via Email. Please check your Zoom profile online to be sure it contains your full name, because for security reasons, we can't let anyone in without their full name.
Important! if you use the Zoom app (instead of a web browser), check in advance that you have version 5.13.6 or better. There are significant security issues with older versions.

We'll start with a Q&A, so please send us any questions for us to queue up for the panel.
Please complete our Pi attend form on Saturday - we'll do a drawing from the remote attendees on that form. Attendance Check-in link, https://wap.org/attend
---