Mac OS X Installation Party
March 24, 2001
Mac OS X went on public sale on March 24 -- which was also the regularly scheduled General Meeting date for Washington Apple Pi. So, naturally, we decided to do something different.
With the cooperation of many Pi volunteers, a willing Apple systems engineer, local vendors, and the calendar, we arranged:
A demonstration by Canon of Canon inkjet printers and scanners (which just happen to work with Mac OS X);
A demonstration of Mac OS X, including how to install it (compliments of ace Apple engineer J.D. Mankovsky);
Birthday cakes for JD and Jon Thomason, the Pi's software architect and telecommunications wizard;
A birthday cake for Mac OS X (Mac OS X, it should be noted, ate none of the cake)
A sale of Mac OS X, complete with limited-edition T-shirts;
Dozens of installations of Mac OS X, aided by a cadre of Pi volunteers.
We have lots of pictures:
Dave Ottalini (10 pictures) | Lou Pastura (15 pictures) | Lawrence Charters (5 pictures) | Tom Witte (11 pictures)
and movies, making this one of the best-documented Pi events to date.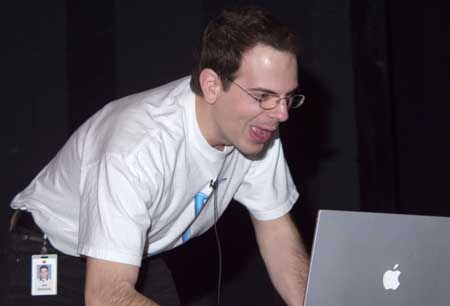 Apple senior engineer J.D. Mankovsky temporarily freaks out when his PowerBook G4 ("Ti PB") momentarily loses contact with his video projector. It was JD's birthday, but he was so caught up in preparing for the meeting that he managed only a few hours sleep before the meeting. Click on the image to get an idea of what an Olympus E-10 digital camera can do when it tries hard. (Photo by Lou Pastura)