March 24, 2007 General Meeting:
Guy Serle on Podcasting
New Location - 9:30 a.m. to 12:30 p.m.
Washington Apple Pi's February 2007 General Meeting will be in a new location: Luther Jackson Middle School, 3030 Gallows Road, Falls Church, Virginia. Directions below.
Macintosh journalist and podcaster Guy Serle of MyMac.com will be our guest presenter for the March meeting. Guy got his start writing articles for the Washington Apple Pi Journal. Join us for a fun and informative presentation that may include our being part of a MyMac podcast. Meeting poster in JPEG or PDF.
Meeting Agenda
9:30-10:00 Q & A - Lawrence Charters
10:00 Vote on Change to Pi By-Laws – Pi President
10:15 Main Presentation by Guy Serle
   Podcasting for the Masses

   Check out his article about the Pi at:

<http://www.mymac.com/showarticle.php?do=something&id=1941>
11:15 - 12:00 Mini-Training Sessions

Hal Cauthen – topic:  Living the iLife (abbreviated)
Pat Fauquet – topic:  the New Airport Extreme
Bob Jarecke – Fundamentals

12:00 -12:30 Club Business and Prize Raffle*
Prizes to be raffled
Book – Podcasting and Blogging by Robin Williams and John Tollett
2nd Generation iPod shuffle (refurbished)
My TV.PVR for watching TV on your Mac
EasyDraw – Drawing/CAD software – Download License
Airplay Boost– FM transmitter for iPod Nano
…and limited edition "the WOZ " autographed t-shirt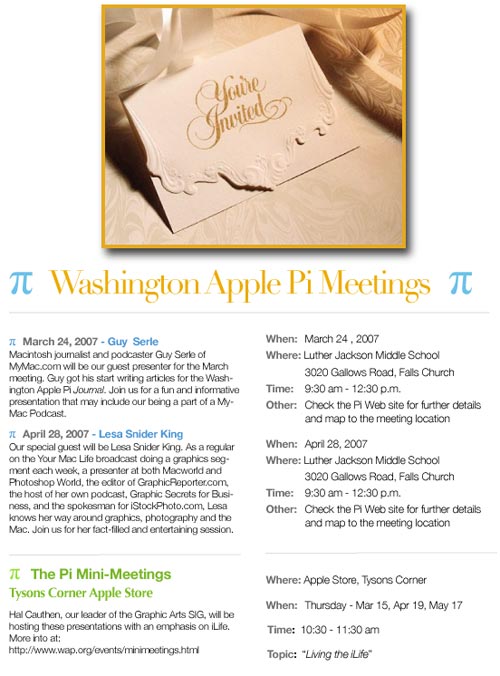 Directions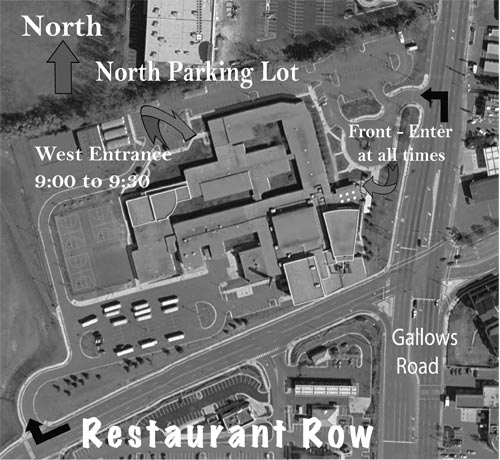 Notes:
Questions: Contact the WAP office at (301) 984-0300.
The meeting, open to the public, starts at 9:30 a.m.
---