March 2022
Maryn McKenna: Animals, Antibiotics, and the Future of Medicine
March 26, 2022, 10 a.m. - 12:30 p.m. a.m Eastern Time
Note: this will be a virtual meeting via Zoom.
On Christmas Day 1948, scientist Thomas Jukes walked into his laboratory to weigh a bunch of baby chicks. What he discovered that day changed the world: modern industrial-scale farming arose, leading to vast antibiotic abuse and the amplification of antibiotic resistance around the globe. Now, almost all the large legacy pharma companies have exited antibiotic manufacturing, thus devaluing of antibiotics. The challenge of the rest of this century will be to figure out how to appropriately price and value them again.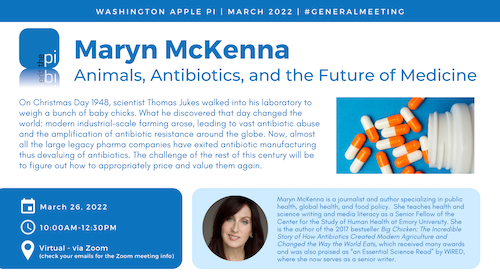 Click on image for a larger view.
Maryn McKenna is a journalist and author specializing in public health, global health, and food policy. She teaches health and science writing and media literacy as a Senior Fellow of the Center for the Study of Human Health at Emory University. She is the author of the 2017 bestseller Big Chicken: The Incredible Story of How Antibiotics Created Modern Agriculture and Changed the Way the World Eats, which received many awards and was also praised as "an Essential Science Read" by WIRED, where she now serves as a senior writer.
The Zoom meeting invitation will be posted on the Pi's conferencing system, the TCS, and sent out to members via Email. Please check your Zoom profile online to be sure it contains your full name, because for security reasons, we can't let anyone in without their full name.
Pro tip: if you use the Zoom app (instead of a web browser), check in advance that you have version 5.10.0 or better. Zoom has made a staggering number of updates that make you wonder how you dared to cross the street with previous versions. Update!
You can also watch the presentation without touching Zoom via www.wap.org/live.

We'll start with a Q&A, so please send us any questions for us to queue up for the panel.


Please remember to use the Attendance Check-in link, https://wap.org/attend
---