November 2020
Educating during a pandemic
November 21, 2020, 10:00 a.m. to 12:30 pm. ET
Note: this will be a virtual meeting via Zoom.
Shebra Evans, the President of the Montgomery County School Board, will join our Zoom meeting and speak and answer questions from 10:30 - 10:55 am on Nov 21, about how Montgomery County K-12 uses/used technology for schooling during the pandemic.
And at 11:00 am we hope to continue our educational discussion with Dr. Sunil Dasgupa, professor of political science at University of Maryland, Baltimore County, to tell us about what it is like getting a college education during the pandemic.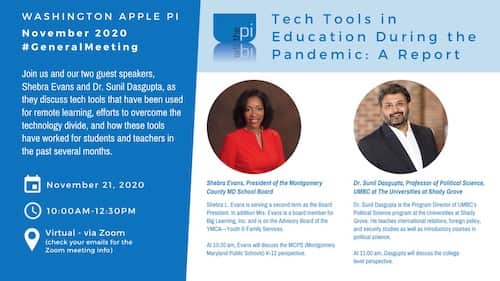 It should be no surprise that this will be a virtual meeting.
The invitation to the Zoom meeting will be posted on the Pi's conferencing system, the TCS, and sent out to members via Email. Please check your Zoom profile online to be sure it contains your full name, because for security reasons, we can't let anyone in without their full name. Important!If you've downloaded Zoom in the past, please check to see that it is version 5.0 or greater before the meeting.

We are going to try and stream the meeting through the Pi website: https://www.wap.org/live/
Please remember to use the Attendance Check-in link, https://wap.org/attend
---