October 25, 2008 General Meeting:
Retired with your Mac
By Bob Jarecke
While the main theme of the October General Meeting suggested that you should be retired in order to attend, that was simply not the case! Several members of the audience looked far too young for that, yet appeared to find the topics of Family, Travel, Health and Entertainment interesting. A post-meeting review suggested that three out of four of these topics struck a good chord with the audience.
Pi President Bob Jarecke took a few moments up front to explain the rationale for the meeting topics. The club's leadership is coming to grips with the fact that our membership is older, and efforts to recruit a younger demographic are problematic. The reality is that we need to concentrate on bringing in new "older" members, such as recently retired folks who now have time to devote to learning more about their Mac. Also, we need to get them early before their retirement years fill up with other, equally involving interests.
So what does that mean for you? Quite simply, you may see more General Meeting topics that will fall under the themes covered by the October meeting. Family, travel, and entertainment topics have much to offer, so stay tuned!
Questions and Answers -- Topics Galore
The meeting started with a little hiccup when our regular Question & Answer session leader, Lawrence Charters, emailed late regrets -- but that was okay. Stuff happens! With a minor adaptation, the opening act went on, and it took just four stand-ins to fill Lawrence's huge shoes! The new faces upfront did not deter people from asking questions, nor preclude them from getting some reasonable answers.
With the stand-in crew ready to pounce on the first Mac related question, they were thrown a curve. The first questioner was curious about the impending conversion to digital TV over the airwaves. A couple of folks chimed in with a good description of what was to occur and how you can deal with it. (Check out the article on this transition to digital TV elsewhere in this Journal.)
Next, in keeping with the TV theme, we had a question about viewing television programs on the Mac. This inquiry was much easier to answer, and a couple of product devices were mentioned as possible options. Two individuals chimed in with their first-hand knowledge of two popular devices: Elgato's EyeTV and Pinnacle TV.
The next question had to do with an Epson R300 printer failing to feed heavy stock paper. The advice ranged from downloading the latest print drivers to checking the paper feed rollers to see if they had become too worn to handle the heavier paper. The questioner mentioned she had contacted an Epson representative, and been told to bring the printer in for servicing. One of our answer gurus suggested that, given the low cost of printers, it might be simpler to purchase a new one. But what about the couple of hundred dollars of ink supplies hanging in the balance? Sell the ink on eBay.
The topic quickly switched to music, as one member asked where to find the best source of information on organizing classical music on an iPod. Although he has loaded his large collection of classical music from his CD collection, he has not been able to organize the music in a coherent manner. One member of the audience suggested he use Smart Playlists, and Steve Roberson provided a quick demonstration on how to do this in iTunes.
The next question came from a member whose Airport card, which had been working fine on his older model iBook, lost its signal. He assumed the problem was with the card, but the recommendations centered on possible software issues. The first and simplest fix suggested was to shut the card off in the main menu and then turn it back on. This restarts the card and the card should then find all WiFi networks within range. If the network doesn't reappear and connect, then the next step would be to delete and then add back the user's Preferred Networks within Network of System Preferences. All these steps help clear out possibly corrupted files and reestablish new ones with correct settings.
The final question was a request for an opinion on two different Mac operating system diagnostic applications -- TechTools and Drive Genius . Randy McMillan, who does Mac repair for a living, said both programs were quite good. He related the basics on their use and said he leans towards TechTools as his first choice. The questioner then asked about DiskWarrior. Randy explained this application's one specific objective, which is to examine the hard drive disk-directory structure and repair and rebuild it as necessary. He felt it was an essential tool for those that don't mind tinkering under the hood of their Mac.
Family
After getting double jolts from the caffeine and sugar served during the coffee break, everyone settled in for the main event. Steve Roberson led off the day with one of his enjoyable and educational presentations on the topic of Family.
Steve introduced his topic with a wealth of information on iPhoto, which, as he aptly demonstrated, can produce great recollections of family and family events. He showed the audience how to easily import and send images and print photos, and talked about the great photo-related items that you can order for yourself and your family. He also talked about some competitor services and applications that can do much of what iPhoto does and with reasonably good results.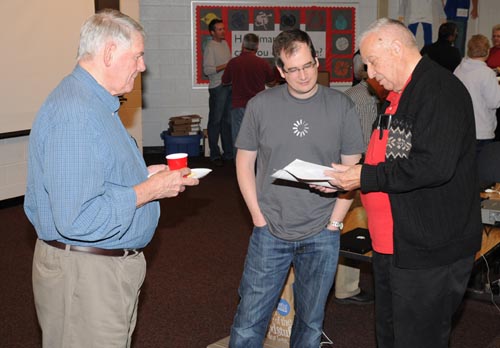 Steve Roberson discusses his presentation with Pi members. The symbol on Steve's shirt should bring a smile to any Mac OS X user. Photo by Richard Sanderson.
The Web too is a great place to share images with family, and Steve gave everyone a primer on that. As he pointed out, Apple provides a couple of great products. One is MobileMe, which, obviously, requires the MobileMe online service. The other, is iWeb. Although this is directly tied to Apple's online service, it will work with most other online Web-hosting services.
Next, Steve moved on to movies. He pointed out that there are two ways to create family movies: you can take them with a digital movie camera, or create them by using a slideshow. Of course, the methods for showing your prized family movies vary too, depending on the digital format you choose. Steve showed us how to burn a movie onto a DVD for use in any DVD player. He also demonstrated how all your digital media can be stored, accessed, played and shared online with family, using Apple TV.
Steve finished by mentioning the iCal and iChat applications and how they too can be useful for family: iCal allows for the sharing of calendars while iChat is all about sharing conversation in the form of text, audio or video. With that, Steve wrapped up his presentation and the next presenter, Travis Good, took over.
Travel
Travis proved a good choice to talk about Travel since he does his fair share. He has traversed the globe -- well, at least the northern hemisphere -- and, using his Mac, has devised some great tips and tricks for planning a trip, documenting all you see and do, and finally, sharing your travel adventures with others.
Travis published his presentation as a Web page, and this proved fortuitous, since his new MacBook Pro decided to have a catastrophic failure after he got to the meeting. Unflustered, he brought up the presentation on Bob's MacBook and the show went on -- oh, the benefits of the Web!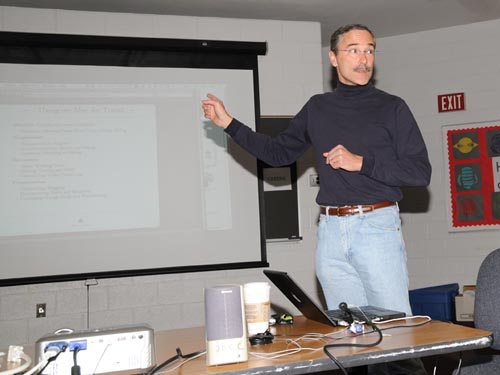 Travis Good outlines the type of pre-travel research he does in order to get the most out of the experience. Photo by Richard Sanderson.
Travis set out four main objectives for his travel: pick a destination; prepare for the journey; take the trip; and preserve the results of your travels. A pretty simple plan, right? The devil is in the details!
Step one -- someplace to go! Travis puts a somewhat romantic spin on the selection process by defining it as "finding your travel inspiration." Consider your particular interests and hobbies, and look for trips that are compatible with them. In his case, this led him to research visits to National Parks, possible road trips, hiking excursions and biking adventures. While this approach might not necessarily work for the person who travels to visit family or friends, even then it could help you plan side trips to add another dimension to the main journey.
When deciding where to go and planning the details for the trip, Travis uses the Internet extensively, and his presentation included links to several Web sites that helped illustrate the points he was making. Besides the usual questions of how to travel and where to spend the nights, Travis researched activities based on his interests that could serve as diversions along the way, something to breakup long legs of the journey.
Next came the actual trip, and here again Travis showed us how your Mac, iPhone or iPod touch could aid the traveling experience. Of course, this means having Internet access, and that is one of the first things he checks for at any place he considers spending the night. Internet -- must have. Bed -- optional!
With access to the Internet, Travis uses his favorite Web sites to map out custom walking tours and research other activities within the local area. And to share the experience, he stays in touch with family via "texting" (text messages) and MMS (multimedia message service), which is a method for sending text, graphics, and video files from your mobile phone. Of course, there is the traditional manner of phoning home, and here again the Internet helps, by letting you use a Voice over Internet Protocol (VoIP) service such as Skype.
Lastly, Travis likes to chronicle his travels using a Web-based travel log, or "blog." This can be as simple as a paragraph describing the events of the day or as ambitious as a blog page with text, pictures and videos of his latest travel exploits. He also uses Google Earth and Waymarking.com to chronicle special places he has visited. These services allow you to post pictures and descriptions using geographic positioning information. While this sounds really high tech, it only requires recording GPS information when pictures are taken.
As you can see, Travis is a well-seasoned traveler who has learned to tap many resources in planning and executing his travels. He's always sure to use his MacBook, his iPod touch and his digital camera to transform every trip into an adventure! We will hear more from Travis in the future on the topic of Travel. You can visit Travis' blog at http://www.goodpursuits.com.
Please contact president@wap.org if you have an idea for a future Travel segment.
Health and Entertainment
Bob Jarecke took on the last two topics of Health and Entertainment. His Keynote presentation was a bit ambitious, so much of the material whizzed by with limited explanation. To make up for this, his jokes had everyone rolling in the aisles -- just kidding!
Overall, the area of Health, which is important to all of us, is not directly related to computing on a Mac. Bob's presentation dealt with both physical and mental health issues, and also health issues related to pets. He presented several examples of Web sites that can help in researching health issues and sites that can connect directly to health care providers. As for health related applications, these are not as numerous, and focus primarily on tracking health conditions and expenses. There was one application that did address mental health conditions such as depression. Bob also pointed out that a recent study had found that people benefited mentally from Googling. The study, which was a little more involved than just Googling, substantiated that working at mental tasks, in this case computing tasks, helps to exercise the mind, and this in turn strengthens your mental faculties. Lastly, Bob reported on an application that dealt with organizing records and tracking critical care of one's pet.
The last theme for the day, Entertainment, in contrast to Health, is not so difficult to relate to computing on a Mac, although there is Web-based fun and Mac-based fun. Gaming Web sites abound, and they for the most part work with any computer. Bob showed off his favorite time-wasting game, Bubbleshooter. This is downloadable from the Web and installs within a Web browser so you can play it without having to be connected to the Internet. There are other forms of entertainment that are Web related also, such as the movie rental service Netflix. Bob gave a brief introduction on how this service operates. Based on the questions from the audience, this one piqued some interest.
Next, Bob covered two Mac applications that entertain but are not games. Both of them -- Skype (a VoIP service) and EyeTV -- relate also to theme of Family, with which we started the day's presentation. While Skype, on its own, might not be considered entertaining, it does connect you to family and friends, which can be an enjoyable and uplifting experience and good for mental health. The program is innovative and well designed, and a joy to use. EyeTV, while not Internet dependent, does use the Web to access TV program schedules and can set up recording instructions for any number of shows. The EyeTV application is part of a hardware package that connects to any TV signal input and allows the user to watch TV and capture programs for viewing later.
The final entertainment item was Apple TV, which Steve covered in an earlier segment. As Steve demonstrated, the device is quite capable, and when coupled with a large HD display it makes viewing video from any source a sheer joy. Look for more on this topic at later meetings.
Lunch and SIGs
Following the presentations, the crowd was ready for some grub. The pizza arrived from Papa John's ahead of schedule, so everyone who was staying for the follow-on meetings hung around and gabbed between bites.
After lunch, the audience dispersed to the assigned rooms for the iLife, Genealogy, and Beginners Special Interest Group sessions. Despite the long series of presentations, a goodly number of people stayed beyond the 2:00 PM quitting time to learn even more specialized ways to use their Macs.
Original Meeting Announcement
October 25, 2008 General Meeting:
Retired with a Mac?
Luther Jackson Middle School, Falls Church, VA
9:30 a.m. to 12:30 p.m., in the Auditorium
What are your retirement plans? Do you want to travel, stay on top of health concerns, have more fun, or keep close to family and friends?
With many of our Pi members at the upper end of the age demographic, we think their Macs can help with travel, health, entertainment, and staying in touch. This month's meeting program might just open your eyes to how your Mac can make those dreams an enjoyable and productive reality!
We will continue a thirty-year tradition by starting the meeting with Questions and Answers. Next will be Pi business -- should there be any, with a coffee break to follow. The main event will feature four twenty-minute presentations on your Mac and retirement.
Pizza Pi and sweets will be offered for lunch, after which we will break into the three usual SIG meetings. Come hungry for knowledge and eats; leave educated and sated!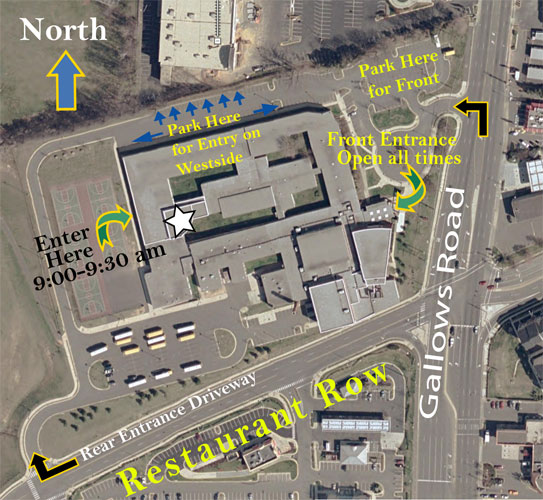 Notes:
Questions: Contact the WAP office at (301) 984-0300.
The meeting, open to the public, starts at 9:30 a.m.
---