Wikipedia Secrets with John Broughton
October 24, 9:30 a.m., George Mason University
Wikipedia Secrets: Slides (PDF format, 111K)
Wikipedia is the most comprehensive encyclopedia ever constructed. The earliest known encyclopedia was that of Pliny the Elder, and was 37 chapters long. The English version of Wikipedia, as of August 2009, had reached three million articles. It is the largest user-generated knowledge base in world history.
This month's meeting will be packed with information starting with the traditional Question & Answer session. Advanced questions are encouraged and can be sent to feedback@wap.org. Following the Q & A session, any important club announcements will be presented followed by a short coffee break.
The main event will begin at 10:45 with a presentation on Wikipedia by John Broughton, a registered Wikipedia author since 2005. John will address the following subjects first, and then entertain questions from the audience.
His involvement with Wikipedia
Accuracy and Reliability of Wikipedia
Future of Wikipedia
How Wikipedia relates to today's social networking environment
Best and alternate uses of Wikipedia
Some background
John Broughton has more than 15,000 edits in Wikipedea, and his biggest Wikipedia endeavor was to build the Editor's index to Wikipedia which lists every important reference page on Wikipedia, as well as hundreds of off-Wikipedia Web pages with useful information and tools for Wikipedia editors. John has years of programming experience and has held various computer-related management positions. A Certified Management Accountant, John has B.S. in Mathematical Sciences from Johns Hopkins University; an M.B.A. from Golden Gate University; an M.S. in Education from the University of Southern California; and a Masters in Public Policy from the University of California at Berkeley.
Meeting outline:
9:30-10:15 Question and Answer Session
10:15-10:30 Pi Stuff - Pi President
Fifteen Minute Coffee Break
10:45 Main Presentation - Wikipedia Secrets as presented by John Broughton
Pizza lunch
After lunch - iLife SIG and members helping members (MHM) session
The Pi will be hosting the George Mason University Mac User Group at this meeting. Come meet more Mac enthusiasts!
Check back here to see any updates or changes to the meeting.
George Mason University Essential Information
The meeting will be held in Science and Technology I, Room 131.
Address: 4400 University Dr., Fairfax, VA (near Rte 123 and Braddock Road)
Directions and Map: http://www.gmu.edu/welcome/Directions-to-GMU.html
Interactive map of campus: http://eagle.gmu.edu/map/fairfax.php
Important Parking Information:
Free parking is available in Lot A, while the parking in Sandy Creek Parking Garage is a pay-for-parking facility. Sandy Creek parking is more convenient and closer, and the Pi will continue to subsidizing that facility's parking fee by providing vouchers for $3.00.
Directions to the meeting location from Lot A
Park as close to Mattaponi River Lane as possible, then walk north along that road toward the main campus buildings. The sidewalk route takes you directly to the side of Enterprise Hall (our prior meeting location). Pass through the Enterprise Hall walkthrough. You will have to go up one set of stairs or you can use the elevator just inside the building. Continue beyond Enterprise Hall to the Science and Technology I building, ahead and to the right. Our meeting takes place in Sci & Tech I building at the entrance level, just inside the front door. There will also be signs posted to help guide you to the right location.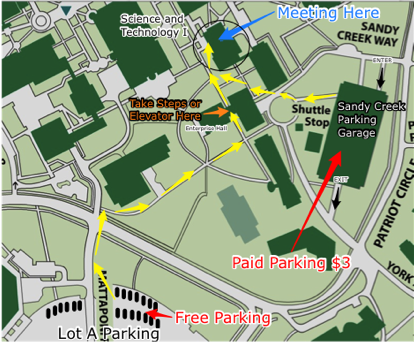 It is at least a five-minute walk from Lot A and up a slight incline. We will be using a golf cart along the route, to offer rides to those who want or need a lift. See map below.
Handicapped Parking: There are three handicap parking spaces next to Enterprise Hall that can be used by members, on a first come first served basis. They should have their Handicap Stickers showing on the dashboard or on the rear-view mirror.
---