October 2022
What's New in macOS Ventura, with Gary Rosenzweig
October 22, 2022, 10:00 a.m. to 12:30 pm.
Note: this will be a virtual meeting via Zoom.
Learn about the new features in macOS Ventura like Stage Manager, Lift Subject From Photo, Mail Unsend and Send Later, the Clock and Weather apps, Continuity Camera and much more.
Gary Rosenzweig is the founder, producer and host of MacMost. He has written more than 40 mass-market books on computers, including the best-selling My iPad series. In addition, he develops mobile and web-based games. He has dual background of computer science and journalism with degrees in both. You can read more about him at https://macmost.com/about.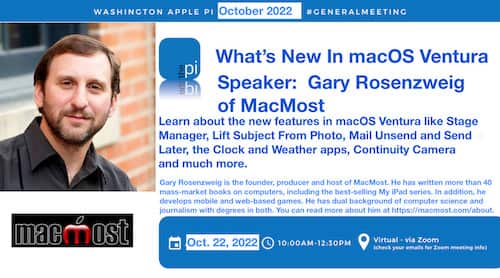 Click on image for (much) larger view.
The Zoom meeting invitation will be posted on the Pi's conferencing system, the TCS, and sent out to members via Email. Please check your Zoom profile online to be sure it contains your full name, because for security reasons, we can't let anyone in without their full name.
Important! if you use the Zoom app (instead of a web browser), check in advance that you have version 5.11.11 or better. There are significant security issues with older versions.

We'll start with a Q&A, so please send us any questions for us to queue up for the panel.


Please remember to use the Attendance Check-in link, https://wap.org/attend
---