Listen Up!
Your Mac and Your Music
Everybody has music lying around the house, on CDs, vinyl record and tapes. Getting this music into your Mac, and into an iPod, opens up entire new worlds of creativity. Find out some of the tips and tricks involved.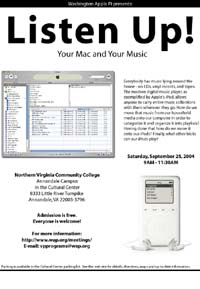 The meeting will be held September 25, 2004; check out the flyer for details. The flyer is available in a Web-friendly JPG (78K) as well as a printer-friendly PDF (45K).
---