General Meeting:
Chatting with iChat and...
Washington Apple Pi Photo Contest III Results
September 25, 2010, 9:30 a.m., George Mason University
This month's meeting has two acts. In Act One, the winners of this summer's Photo Contest will be honored. Act Two will feature a full tutorial on setting up and using iChat. This should be a fun and enlightening ride.
Now that Pi Photo Contest images have been captured, submitted and judged, it is time to announce the winners. All the top images will be shown on the big screen, and the Best of Show trophy will be handed out for the photo judged overall best image. Even if you didn't enter, come and enjoy the winning photos and support those who participated in the contest.
The second portion of the meeting will feature a full tutorial of the Apple iChat application. If you haven't yet investigated all the communication options of this program, come and learn from the experts. Watch first hand how to set up an account, connect with your family and friends, and even get personal help via iChat's screen sharing option. If you have a portable Mac, bring it with you, and follow along to set up your account right there! After this session, the sky's the limit!
The meeting will be held on the GMU campus in the Enterprise building, Room 178. The Pi Web site has the full agenda and a map on how to get there. Check back closer to the meeting date for any updates or changes.
Pi General Meetings are planned and executed by Pi volunteers. Please, consider helping at these events, as well as with other Pi activities. Volunteers, welcome!
George Mason University Essential Information
Address: 4400 University Dr., Fairfax, VA (near Rte 123 and Braddock Road)
Directions and Map: http://www.gmu.edu/welcome/Directions-to-GMU.html
Interactive map of campus: http://eagle.gmu.edu/map/fairfax.php
Important Parking Information:
Free parking is available in Lot A, while the parking in Sandy Creek Parking Garage is a pay-for-parking facility. Sandy Creek parking is more convenient and closer, and the Pi will continue to subsidizing that facility's parking fee by providing validation tickets for $3.00.
Directions to the meeting location from Lot A
Park as close to Mattaponi River Lane as possible, then walk north along that road toward the main campus buildings. The sidewalk route takes you directly to the side of Enterprise Hall.
It is a good five to seven minute walk from Lot A and up a slight incline. We will be using a golf cart along the route, to offer rides to those who want or need a lift.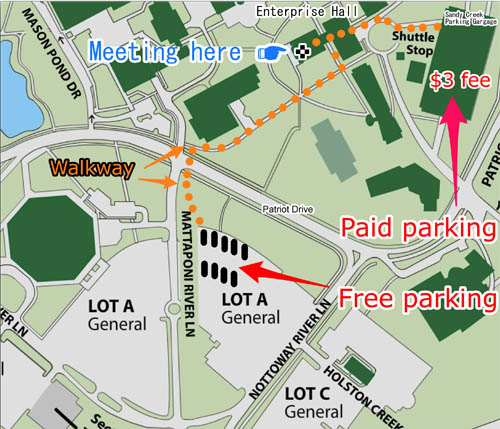 ---