November 2006 Graphic Arts SIG:
Exposure and Lighting for Digital Cameras, Part I
By Hal Cauthen
PDF of presentation, 744K
A photograph is usually looked at - seldom looked into. -- Ansel Adams
The Graphic Arts Special Interest Group met Saturday, November 11, at Mac Business Solutions in Gaithersburg, Maryland.
Michael Giagola was back, continuing his series on Digital Photography. The topic for this meeting was: "Exposure and Lighting for Digital Cameras."
One of Michael's key points dealt with Auto Exposure and digital cameras. He stated that Auto Exposure can produce good results under many circumstances, but it can also be fooled. To illustrate this, Michael set up a well-lighted scene, populated with a three miniature stuffed animals – one each of white, brown, and black -- against a standard 12 percent grayscale background.  By changing only the exposure he demonstrated that he could change the grayscale background from white to black, with equally dramatic effects on the subjects.  Too much light, and the whites are "blown;" too little and the blacks are "lost."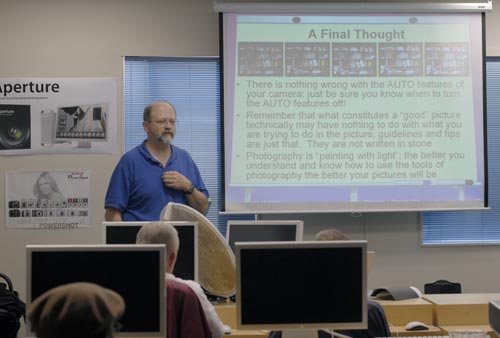 Michael Glagola talks about Exposure and Lighting to the GASIG. (Photo by Richard Sanderson, taken with a Nikon D-200 digital camera.)
Because this presentation was so feature rich, it was decided to break it into two parts.  Part 2, which will focus on the importance of exposure and lighting on color, will be presented at our next meeting, December 9.
---