California Slice holds organizing meeting
The California Slice of Washington Apple Pi held their first organizing meeting and lunch on November 5 at Anthony's Grotto, in La Mesa, California. For those of you not familiar with California geography, La Mesa is almost due east of San Diego, California. (Trivia: San Diego is itself east of Reno, Nevada.) Topics on the agenda include using the TCS and picking a delicious fish meal from Anthony's famous menu. Participants include Dan Wages (right), from the Berkeley, CA, satellite of the California slice, and Albert Lubarsky, from the San Diego satellite. Future Slice topics might include "Earthquake Proofing Your Macintosh Without Reinforced Concrete," "Is there Mac life east of I-5," and "Xeriscape Landscaping With Your Mac."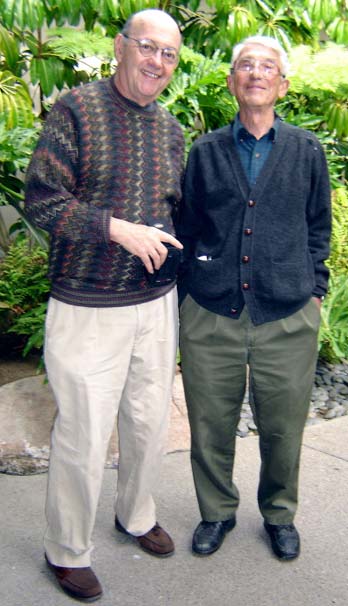 Photo taken with a Sony DSC P-73 camera by someone other than Dan or Albert.
---