electric pi
---
When Your Zip Disk Takes a Hike ... ARGHHH!!
by Dale Smith
Washington Apple Pi Journal, September/October 1999, p. 41-42, reprint information
Do you use Zip disks? Have you had one go bad on you…Finder would no longer recognize it and asked if you wanted to reformat it? But you had important stuff on it…What to do?
I recently had this happen to a couple Zip disks that I have been using quite regularly. I use them to gather programs and files that may be useful for future editions of Pi Fillings - The CD. My scrambling, described briefly in the next several paragraphs, led me to discover DiskWarrior.
A week or so ago, I put one of my Zip disks into a Zip drive at the Pi office. Up pops a dialog telling me it was not a known format and asking if I wanted to reformat or eject the disk. Eeeek ... arghhhh!! I ejected the disk and tried inserting it again several times even switching between several different Zip drives. Always the same message "Reformat or Eject?" Naturally it was about two-thirds full of collected files that had not copied elsewhere -- and very likely I would not recall all that I had gathered if I had to go retrieve them again.
Then I tried another Zip disk. It too failed to mount and gave the ominous error message, "Reformat or Eject?" This was a less important disk, but it also had a lot of stuff that I'd need to retrieve again if I couldn't recover the disk.
I waited till I went home and tried the disks in my own Zip drive on my 6400. I got the same error message from both disks. But then, trying the less important disk one more time, suddenly it mounted. Ah ha…now I can back it up! I successfully copied the entire disk off onto one of my hard drives as a folder and breathed a sigh of relief.
Then I used Zip Tools to reformat the disk. Unfortunately the reformat failed partway through. I tried several more times and finally I was lucky enough for a reformat to complete. I repeated the reformat using Zip Tools long reformat option -- I wanted the media check that is part of the long format process. That disk is now working just fine, though I treat it with some caution, in part because I never did determine why the reformats were failing.
I still was unable to mount the other more important disk and had held off doing anything destructive in hopes of being able to recover the files. Then several friends who own DiskWarrior suggested that I might try that to rebuild the directory on the disk. One of these friends happened to have his copy of DiskWarrior with him at the Pi office one Saturday. I decided to give it a try -- there was nothing to lose and I might regain access to the files.
He had just recently purchased DiskWarrior and had received version 1.0.3, which is as of June 1999, the current version. It comes on a CD. We popped the CD into one of the 7200's in the Pi's Tutorial room and booted from it. A Zip drive was also connected to that machine. I launched DiskWarrior from the CD and then inserted my bad Zip Disk. There is a popup menu in DiskWarror's main window (see the figure "DiskWarrior Main Window") that allows you to select which volume DiskWarrior should examine.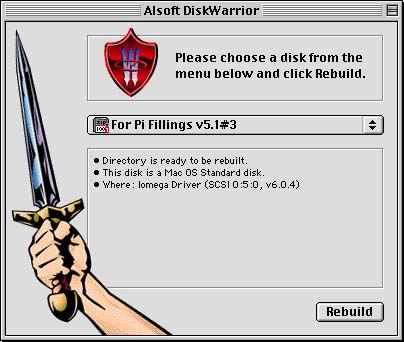 DiskWarrior Main Window
When I inserted the Zip disk, it did not appear in the popup menu. I was puzzled and decided to try again by running the program from the hard disk in the 7200. I rebooted from the hard disk, copied DiskWarrior onto it, and then launched DiskWarrior from the hard disk. This time DiskWarrior did show the Zip disk in the popup menu when I inserted the Zip disk. I clicked the Rebuild button in DiskWarrior's main window. It went through a ten-step process of rebuilding the directory for the Zip disk.
When the rebuild process was done, DiskWarrior opened its Report window, which indicated that DiskWarrior had found and fixed a number of errors. The DiskWarrior Report window contains several buttons including the Preview and Replace buttons. When I clicked the Preview button, a second image of the Zip disk appeared on the desktop based on the rebuilt directory DiskWarrior had constructed in the computer memory. This is DiskWarrior's Preview Mode.
In Preview Mode both the original image and the rebuilt image on the desktop are displayed as locked disks to prevent you from making any changes. You can walk through all the folders, launch programs, etc. as long as what you are doing doesn't attempt to make any changes on the disk. This mode allows you to compare the original and rebuilt directories to make sure that everything looks OK. I didn't launch anything, but I did open and check various folders.
I then clicked the Replace button. DiskWarrior copied the rebuilt directory from the computer's memory to the Zip disk replacing the original directory structure. The Zip disk appeared on the desktop. My files were recovered!! Yay!!!
Not to tempt fate too much, I immediately set up and burned a copy of the Zip disk into a CD session on a rewritable CD-ROM. Once that was done, I reformatted the Zip disk. It is now back in service, but like the other one, with a certain measure of skepticism about its reliability -- meaning I back up its contents much more consistently than I did.
DiskWarrior offers another option for rebuilding disks. If you hold down the Option key at the main window, the Rebuild button switches to a Scavenge button. This function works to recover lost files and folders. I did not test out this function, this time. But I do think it's nice to know it is available in case of need.
Since the rescue, I discovered why the Zip disk failed to appear when I started up the machine from the DiskWarrior CD. The DiskWarrior CD lacks a Zip driver. I have also realized it would have been possible to boot the machine from its hard disk, insert the DiskWarrior CD, and launch DiskWarrior from its CD instead of copying the program onto the hard disk. But often in the middle of a recovery operation, you don't think of everything you "should" have.
Needless to say, I am quite pleased with DiskWarrior's performance in this task. Don't be confused, DiskWarrior basically does one "trick" very well. If you don't need that trick, it won't help; but that trick can be a very useful hard disk maintenance operation.
DiskWarrior will find problems which Apple's (free) Disk First Aid will not. But use it with caution, because it is a much more drastic operation than lighter utilities like Disk First Aid. It's always good to have a backup of your data to fall back on when you use such powerful utilities -- something that I did not have.
Don't forget that running Disk First Aid on a regular basis can be helpful and is a highly recommended routine practice for keeping problems away.
At a price point in the $70 range, is DiskWarrior worth it? You will have to be the judge of how valuable your data is and what risk you are willing to take or not take. For me, this is one program that has been added to my Want-List.
DiskWarrior's publisher is:
Alsoft, Inc.
P.O. Box 927
Spring, TX 77383
(281) 353-4090 (Sales)
http://www.Alsoft.com/
---
About the author: Dale Smith has been a member of the Pi since 1983. He is active on the TCS crew and has written occasional articles for the Journal. He does beta testing of various programs, some mentionable and others unmentionables :) He also tries to help members work through communication and OS problems via the Hotline or calls taken at times in the Pi Office.
---
Return to electric pi

Revised June 30, 1999 Lawrence I. Charters
Washington Apple Pi
URL: http://www.wap.org/journal/

---