Acrobat 4.0
New Tricks are in Short Supply
By Dennis Dimick
Washington Apple Pi Journal, July/August 1999, pp. 44-46, reprint information
Adobe's latest Acrobat offering arrived this spring. Version 4.0 distinguishes itself mostly by what it doesn't offer, at least for Macintosh users. Touted new features such as website capture and digital signature verification aren't in the Mac version. Already available for Windows users, these features are said by Adobe to be coming soon for the Macintosh. We'll see.
Despite shortcomings, Acrobat 4.0 offers a few slick new editing and presentation creation features. If you prepare and distribute Acrobat documents you may find the upgrade useful solely for improved workflow options in the Acrobat program itself.
If you plan to use the "capture" abilities of Acrobat and have a Mac with any OS later than 8.1, you must upgrade to Acrobat 4.0. Acrobat Capture allows you to use a flatbed scanner to convert existing paper documents to Acrobat documents that offer searchable and catalogable text.
Acrobat's Basic Trick
Unlike most of Adobe's graphics and multimedia programs, Acrobat has been positioned as a tool for transforming existing documents of any type into electronic documents with a universal cross-platform file format.
Acrobat files use an Adobe Postscript derived file type called Portable Document Format (PDF), and they retain typographic, image, color and layout characteristics of the original documents. Acrobat has become a popular way to create cross-platform electronic documents for distribution via the web or CD-ROM. It's also useful for producing documents meant for collaborative team review and annotation via email, or as a way to deliver finished projects to printing houses.
Acrobat files have also become quite popular as a way to deliver books, magazine articles, research reports, government documents, tax forms, and computer manuals via the Web. One beauty of PDF is that type in properly prepared Acrobat documents is searchable, catalogable Postscript-based text. You can copy text out of PDF files into any other document you are creating.
Via Acrobat's PDF format you can send, for example, Quark Xpress layouts, Word documents, or Photoshop or Illustrator files to co-workers or clients with Windows or UNIX-based PCs. They don't need any of the originating programs. They can read, review, and print PDF files that maintain typography, layout and graphics as it originally looked.
A free Acrobat Reader program for viewing PDF files can be found at Adobe's website, (http://www.adobe.com) and on nearly any recent Apple system software CD-ROM. Acrobat Reader is also available on the Washington Apple Pi's excellent "Pi Fillings-The CD," available for $10 from the Pi office.
Additionally, via a supplied PDF browser Plug-in, Netscape and Internet Explorer support direct reading of PDF. Recent versions of Photoshop and Illustrator also support import of PDF directly. Since Quark sells a competing page layout program to Adobe's PageMaker, Quark Xpress has been slow to adopt support of PDF.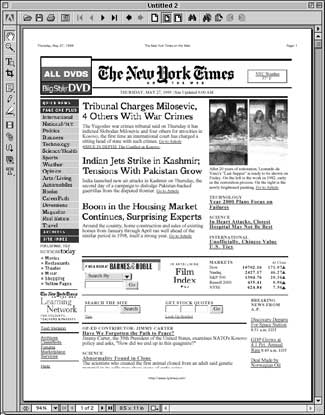 Capture the Web: Acrobat 4.0 offers a printer driver called "PDF Writer" that lets you capture to disk virtually any web page you want. The text on this newspaper page can be indexed and searched as part of a database. PDF Writer also allows you to create Acrobat files from any program that allows printing.
Seeking New Routines
I've been a fan of Acrobat and its PDF Writer "printer driver" as a tool for capturing web pages and creating searchable databases from them. One feature I'd hoped to see in Acrobat 4.0 is ability to automatically capture websites to a single Acrobat file. As it stands on the Windows side, the website capture feature in Acrobat 4 also maintains live URL links in the resulting Acrobat files. I guess I'll have it take it on faith Adobe plans a website capture update for Mac Acrobat 4.0.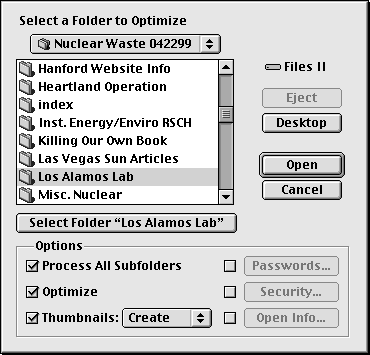 Optimal Files: Acrobat 4.0 offers a new file optimization feature. This batch process will automatically reduce PDF files to smallest or preferred size, and it will compress graphics according to standards you set. You can compress PDF files so they are optimized for on-screen viewing or prepress use.
Despite this shortcoming, the new Acrobat program (renamed from Exchange in 3.0) offers several editing options to modify and optimize PDF files, and a more elegant and configurable interface.
In 4.0 you can use Photoshop or Illustrator to automatically launch and edit embedded images and objects, or to edit page content in PDF files. You can also make limited type changes, as a text tool allows text substitution and format changes. A new pencil tool allows mark up of areas in a document for emphasis, a new highlighting tool lets you use color to emphasize text or graphics. You can also strike-though and underline text.
The new batch image import is a most useful new feature. You can import and convert in one step a folder full of images (PICT, TIF, JPEG) and Acrobat will create a sequential slide show in PDF format. With Acrobat's full-screen mode and a presentation monitor, you can quickly create an on-screen presentation.
If you have created a folder of PDF files from various sources, a new Batch Process feature lets you select the folder and Acrobat will optimize all the files to minimum size.
In addition to Capture, meant for converting paper documents to PDF, there's Acrobat Catalog, a component designed to create the indexed searchable databases of Acrobat files. Distiller is used to compress to minimum size files with lots of graphics in them, such as files from layout or illustration programs. And there's also PDF Writer, a Chooser-level "printer driver" designed to create PDF files from any Mac application that allows printing, such as web browsers.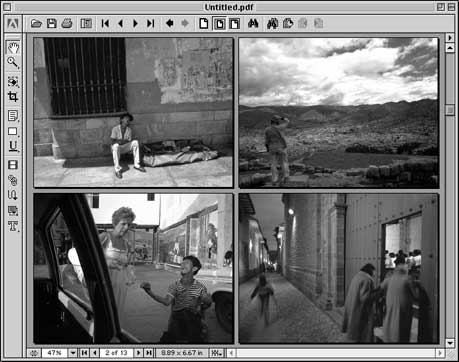 Present Show: A new feature in Acrobat 4.0 is "Import Image." You can convert a folder of photos or graphics into to an Acrobat file for onscreen presentation in the same way "PowerPoint" files might be shown. Acrobat 4.0 also offers a full-screen option to allow clean-looking presentations that hide computer interface windows. The pictures in this screen shot are being shown in "facing-page" mode.
If you plan to create searchable indexes of Acrobat files, beware the search function is not yet released for Acrobat Reader 4.0, you'll have to use Reader 3.0 instead.
Acrobat 4.0 is not a must have upgrade if you already have 3.0. I'm glad to have the new features, what few there are, and can only hope Adobe fulfills its promise to provide Mac feature parity with the Windows version. More information about Acrobat 4.0's complete feature set can be found at Adobe Systems' website.
Adobe Acrobat 4.0
Street Price $279
Upgrades $99
Power Macintosh Required
60 MB Hard disk space and CD-ROM required
32 MB RAM recommended for Acrobat
http://www.adobe.com
---
Return to electric pi

Revised June 30, 1999 Lawrence I. Charters
Washington Apple Pi
URL: http://www.wap.org/journal/

---