Inkjet Photo Impressions
Printing With Epson's Stylus Color 800
© 1998, Dennis R. Dimick
Washington Apple Pi Journal, reprint information
It's taken several years to add the final piece to my "digital darkroom." The last component, a color printer, has been the most difficult part to choose. This mostly because marketer's views on what makes "photo quality" have been visibly less than my own, or prices for "photo quality" printers I like have been out of reach.
This all changed in the past year or so with Epson America's introduction of its latest series of "Stylus Color" printers. Designed mostly for individual and small home office setups, the Epson Stylus Color series comes in a variety of models, including the Stylus Photo, specifically designed for printing photos.
The Stylus Color 800 that I bought more than acquits itself for general use and has been very impressive at printing color photos. It can output up to eight pages of black text a minute. At current street price between $330 and $350, the Stylus Color 800 is quite reasonable, especially when considering the cost of installing and maintaining a real darkroom.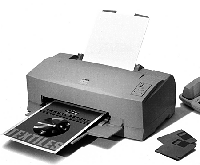 Epson Stylus Color 800: This color inkjet printer connects directly to your Mac's printer port using a serial cable, and supports resolution up to 1440 dpi. The paper tray will hold about 100 sheets. A model with Ethernet option is also available.
The Stylus Color 800 has its connection and setup quirks. But once you figure out how to connect it to your Mac, set up the printer driver, and find a paper you like, printing is easy. Keeping it fed with ink and paper is another matter. It can take up to 15 minutes to print a high-resolution color photo, but this is nothing compared to time and effort invested working in a real photo darkroom.
Setup: Cable and Ink
The Epson Stylus Color 800 is a serial printer, meaning you must use a cable to connect it directly to the printer port on your Mac. You will need to buy a serial cable, as one does not come with the printer. If you already use the Mac's printer port to connect to a LocalTalk network, you will need to get a serial switch box with appropriate "straight-through" cables so you can switch between LocalTalk networking and the serial Stylus printer. You must turn AppleTalk off to use the serial printer.
A LocalTalk card is available for the Stylus 800 and other Epson printers, but even Epson dealers have been advised to not try and sell this to you. Performance is absolutely glacial with the LocalTalk card. Another option, if you want to pay an extra $200 or so, is the Stylus Color 800N, an Ethernet-equipped version of the printer, that sells for $600, and performs almost as well speed-wise as the cheaper serial-connect model.
The Epson Stylus Color 800 has two ink cartridges. The color ink CMY (Cyan/Magenta/Yellow) tank also works in other models including the Stylus Color 600, like the 800 but slower. The 800's black ink tank works only in the 800. Office supply stores such as Staples and Office Depot sell each cartridge for about $30. If you look carefully, lower prices are available. I've found the CMY color ink cartridge for $20.99 at COSTCO.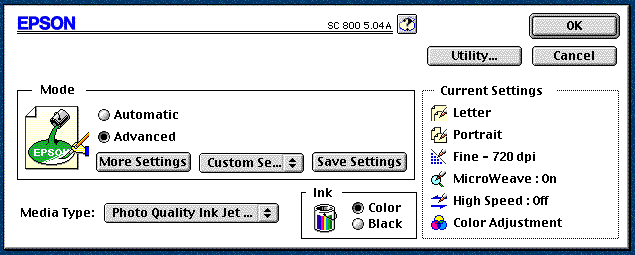 Page Setup: This Page Setup dialog is the gateway to using the Epson Stylus Color 800, and shows presets in place from the previous print job. You can create several presets for different paper types, resolution and the like and save them for easy one-button access.
The printer will warn you if either ink cartridge is empty, and you cannot start printing if one tank needs replacing. However, if an ink tank runs out in the middle of a print job, the printer will keep going. I've been able to get about 50 color prints of image size 8 by 10 1/2 inches from each CMY ink cartridge, and I've been using three CMY cartridges for each black cartridge used.
Configure: Mostly Automatic
The printer drivers I got on CD-ROM with the Stylus Color 800 were already outdated by the time I was ready to set up. So, I visited Epson's Web site (http://www.epson.com) and downloaded the latest versions, currently at v.5.04A, which work fine with Mac OS 8.1.
The drivers come with automatic and custom setups. You can print at resolutions anywhere from 180 to 1440 dpi. You can choose flat or glossy paper, automatic or custom color correction. If you use Apple's ColorSync calibration technology, profiles come for that too. Paper sizes supported include letter and legal, British A3 and A4, and banner up to 44 inches long. You can also create up to 10 custom paper sizes.
Suffice to say I've found the Epson driver's "automatic" color correction scheme the easiest and most successful. When I tried ColorSync, I wasted a lot of ink and paper and was never able to get balanced color. Also, I found that printing photographs as RGB images works best. One might think that converting pictures to CMYK before printing to a CMYK output device is the way to go. Not so, at least in my experience.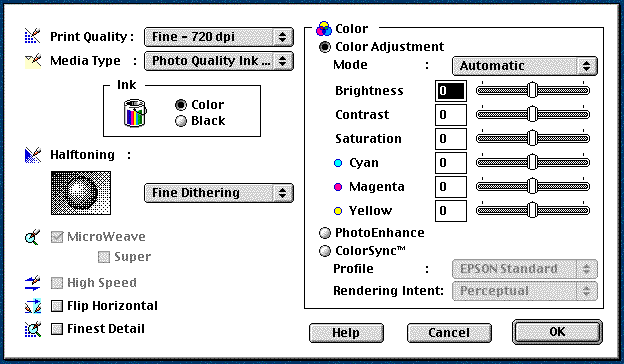 Custom Setup: This dialog faces you if you choose to override the standard printer settings. You can select resolution, color balance, paper type, dithering, and other features such as ColorSync color matching.
The inkjet nozzles are finicky; they plug easily. If you're interested in clean output, especially pictures, it's very important to run a complete configuration and nozzle-cleaning test before each print session. Likely you will need to clean the nozzles before printing. All the tools to accomplish this come as part of the Epson printer drivers. Also, utilities are built in to check remaining ink levels, and to align the inkjets.
Paper: A Matter of What You Like
Paper choices are many. Epson says if you want best output to stick only with the "EPSON™" papers. While Epson offers fine-quality matte, glossy, and film-like papers, I've found papers from Hewlett-Packard and Kodak also work well. If you stick to plain black text, any good laser paper works fine, though the more glossy inkjet papers offer crisper text. Printing photos requires careful paper selection. Epson's photo paper costs about 14 cents a sheet.
My favorite paper for printing photos that actually look and feel like they came from a photo darkroom comes from Eastman Kodak. At $30 for 50 sheets of 8 1/2 by 11 inch, it's a heavy stock, glossy paper designed for inkjet printers. My only regret is that this paper comes only in letter size, as a legal size 8 1/2 by 14 inch option would allow 8 by 13 inch printed pictures about 30 percent larger when printing full-frame from a 35mm slide scan.
One caveat: The photo-grade inkjet papers are coated on one side. I once mistakenly placed the Epson (matte) photo paper in with coating down, and the results were, well, terrible.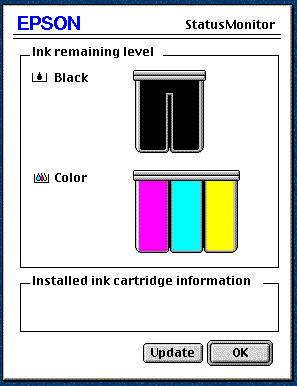 Ink Status: The Stylus Color's printer driver also comes with a utility that advises how much remains in the printer's two ink cartridges. Cost of each cartridge ranges from $21 to $30.
The Rest of the Darkroom
The printer doesn't work alone to produce clean photo output. Realistically you'll need a PowerMac with as much RAM as you can afford, I'd say 40 MB is a minimum. You really need a hard drive with a minimum of one gigabyte capacity for storage of picture files and also to provide "scratch" and "spooling" space during image processing and printing. My own experience with PhotoCD scans from slides shows that "BASE4" scans of file size 4.5 megabytes in RAM and on disk work fine on letter size paper, and give attractive prints. If you try to print pictures to legal size paper, you'll need to move to the "BASE16" Photo CD scans that take 18 MB on disk and in RAM during processing.
As to imaging software, the obvious choice for power and flexibility is Adobe's PhotoShop. Other programs like Adobe's PhotoDeluxe, Frontier's Color It! and Lemke's GraphicConverter all will do the job of taking your image scans and preparing them for the printer.
Finally, getting your pictures into digital form is really the first step in this whole process. If you have slides and color negatives, I've been quite happy with Kodak's PhotoCD. Scan prices range from about $1.25 to $3.00 per image scanned, prices vary widely. If you have a lot of old photos you want to fix up, repair, and reprint, flatbed scanners are now cheaper than ever. Models such as the UMAX 610 and 1200S are not pro-quality but do a respectable job at prices ranging from $150 to $250.
Once you're set up, remember that digital image files can take a lot of disk space. Assemble a collection of ZIP cartridges to off load and archive your files, or find a friend with a CD-ROM writer.
It's A Digital World
The "Gillette Razor" price principal applies with inkjet printers: buy the razor cheaply, spend most of the money on blades. Same idea with the inkjet printers, as in time the printer's real cost will be paper and inks.
That said, costs are all relative. If you are interested in making color prints of your photos, the printer prices are as good as they've ever been. The Epson Stylus Color 800 I bought has dropped nearly 20 percent in price in just the three months I've had it. The Stylus Color 800 is an all-purpose printer that does a fine job with text and photos. If all you really want to do is print photos, I'd recommend the Epson Stylus Photo printer. At about the same price as the 800, this six-color printer offers a bit smoother tone in photo areas where subtle color gradations occur in large areas, such as sunset skies.
Getting a color lab to make just one 8 by 10 print can cost $10 or more, especially if you ask for custom corrections or cropping. Costs add up fast, and with color labs it's hard to have a real say over precise color correction and exposure. With a color inkjet printer you can control the color, cropping, sharpness, and contrast yourself, and it's easy to order up another copy.
Epson Stylus Color 800 Printer
Street Price (3/98) $330 to $350
Web: http://www.epson.com
EPSON US Sales Information: Phone 1-800-463-7766
Dennis Dimick has written on graphics and multimedia subjects for The Journal since 1992. He is a great fan of Apple's QuickTime. During the day he works as a photo editor for National Geographic Magazine in Washington, DC. He can be reached by email: ddimick@aol.com.

---
Return to electric pi

Revised Saturday, August 12, 1998 Lawrence I. Charters
Washington Apple Pi
URL: http://www.wap.org/journal/
---