Software Review: Font Reserve
by Paul Chernoff
© 1999, Paul J. Chernoff
Washington Apple Pi Journal, pp. 23-29, May/June 1999, reprint information
Font Reserve by DiamondSoft. $99, discounts for multiple licenses. http://www.diamondsoft.com/
System Requirements: 68040 or PowerPC processor, Mac OS 7.5 or later including Mac OS 8, 8.1 and 8.5. Six megabytes of RAM recommended.
Hundreds of fonts. Thousands of fonts. Millions and billions and trillions of fonts. Font Reserve provides the ability to easily activate and deactivate fonts as they are needed, but it goes beyond Suitcase and Adobe Type Manager Deluxe by providing more font management tools. It is based on a sophisticated database with individual typefaces rather than font suitcases, which makes it a powerful tool for graphic artists and service bureaus. While those who do not need Font Reserve's sophistication might be better off with other, simpler interfaces, Font Reserve offers features unavailable from its competitors.
While evaluating font management software for the production department at The Washingtonian, I established the following criteria; I wanted the ability to
activate and deactivate fonts whenever I want;
search for fonts based on a variety of criteria including name, family, and foundry;
automatically activate fonts in QuarkXPress documents, even if they are used in embedded EPS graphics;
easily duplicate font setups on multiple computers;
easily add fonts at any time and be able to track newly added fonts;
help identify problems including corrupted fonts and orphaned outlines.
It's the Database Stupid
Most sophisticated database
Font Reserve gains its power and flexibility from its font oriented database. While it can manage font suitcases like its competitors, it is designed to work with individual typefaces. It provides font information, such as family and foundry.
A single Macintosh can have multiple font databases, though only one can be open at a time. Most users should find a single database to be adequate, but the option handling multiple databases is useful for managers preparing font sets for different machines, e.g., a giant database for production staff and a more limited database for editors.
Access through Font Reserve Browser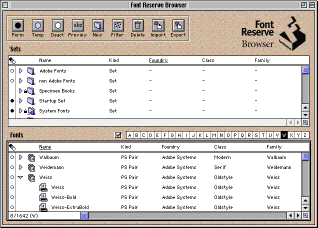 Font Reserve browser.
The Font Reserve Browser, referred to hereafter as the Browser, is a window to the font database. Its lower pane displays font information, including name, kind, foundry, class, and location. You can sort on any column and select which columns to display. You can also decide if you wish to view fonts by their PostScript or menu names.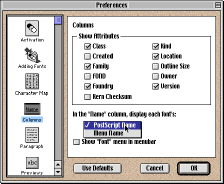 Font Reserve Preferences column settings.
Three Views of Fonts
You can view the fonts in three different ways: by font, by family, and by suitcase. I often view by family since it is a logical unit; font families often have easy-to-read names -- Adobe Caslon makes more sense to me than ACaslon. A family might be split across multiple suitcases, and since I allow Font Reserve to set up my suitcase structure -- read about the Vault below -- its suitcases do not always make sense to me. If a font is inactive, a white dot will appear to its left; if temporarily active, a blue dot; if permanently open, a black circle. If a family or suitcase holds both active and inactive fonts, a combination of appropriate dots will appear to its left.

Different Browser views of fonts: font, family, and suitcase
Macintosh users migrating from Suitcase to Font Reserve will appreciate that Font Reserve does allow you to create your own font suitcases (see below) and to view by suitcase. Font Reserve allows you to take advantage of its abilities while working in a manner similar to that of Suitcase.
Sets
You can organization your fonts into sets. Sets make it convenient to organize your fonts by to project, client, or any other criteria. A font can be a member of none, one, or more sets. You can activate or deactivate entire sets at a time. In Suitcase and Adobe Type Manager Deluxe, suitcases go into sets. In Font Reserve, individual fonts go into sets, which is a more flexible method.
All fonts in a set can be activated or deactivated in one action, and sets can be placed within other sets. The Browser's upper window pane displays sets and fonts (see Figure 1). As with the fonts pane, you can see if a set's fonts are active or inactive or a combination of the two. Figure 4 shows that the Startup Set has both active and inactive fonts and holds a number of other sets. The Benguiat Gothic set is open to display its fonts.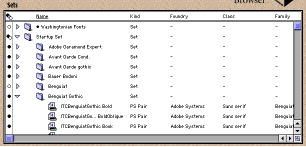 Sets of fonts
Storing Fonts
Font Reserve offers two ways to physically store your fonts. You can use both methods in a single database.
Alias method
The alias method works similar to the way Suitcase and Adobe Type Manager Deluxe work. You set up your font suitcases any way you want before adding them to the database. You must use this method if you share fonts on a file server connected to multiple Macs. Fonts stored on file servers, CD-ROMs, and removable media should be stored in this manner.
The alias method gets its name from using the Macintosh's alias technology to add fonts to the database. If you activate a font entered through the alias method and the font is not on the local hard disk, you will be prompted to log onto the appropriate file server or insert the proper disk or CD-ROM. Anyone wishing to control suitcase name and composition should use this method.
The Vault
The other method is to allow Font Reserve to store fonts in its Vault. The Vault is a series of folders and suitcases organized by type (PostScript, Bitmap, TrueType), type foundry (e.g., Adobe, Bitstream), font family (e.g., Bernhard Modern), and version number. The lowest level folder houses the font suitcase and any related outline files. You will probably never have to open the Vault through the Finder.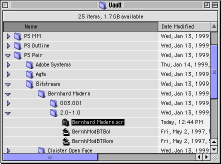 The Vault as viewed through the Finder
Because all fonts in a suitcase must be turned on and off as a group unless you choose to activate copies of fonts (see below), the Vault's disadvantage is that you might not want to activate all nine variations of Adobe's Copperplate font. Fortunately, Font Reserve's alias method allows you to create your own suitcases (see above).
The Vault provides specific advantages. Duplicate fonts are never added to the Vault. If you have suitcases that hold a hodge-podge of typefaces, these are separated from each other. Sometimes applications come with a variety of fonts in a single suitcase, or you might have previously crammed many fonts into a single suitcase. The Vault segregates these fonts in a logical manner.
I find that I prefer using the Vault method for the fonts owned by my employer and the alias method for fonts supplied by our advertisers. The Vault method makes it easier to replicate font databases from one computer to another without resorting to putting fonts on a file server. The alias method is perfect for any fonts supplied to us by advertisers since these sit on our file server and are removed from the database at the end of the month.
Using Font Reserve
Despite its sophistication Font Reserve is easy to use. It can do the basics of turning fonts on and off, but its advanced features are easy to access. Font Reserve takes advantage of Apple technologies such as drag and drop, alias, and AppleScript.
Activating fonts
Fonts can be activated by clicking on the dot to the left of the font, its suitcase, its family, or a font set (see Figure 1). You can assign whether a click permanently or temporarily activates fonts -- temporarily activated fonts will be inactive after you restart your Mac. You can also activate fonts by selecting the fonts, suitcases, families, or sets and clicking their permanent or temporary activation buttons. Once activated the fonts are instantly available in every application. The only caveat is that most applications do not update their font menus after they are launched. However, many applications important to graphic artists, such as QuarkXPress and Adobe Illustrator, do update their font menus while they are running.
If you do not read the manual, you might not realize that when you activate a font, all of the fonts belonging to that font's suitcase are also activated. This restriction is caused by to the MacOS. This works no differently from Suitcase and Adobe Type Manager Deluxe except that Font Reserve's interface allows you to select an individual font as opposed to forcing you to select an entire suitcase.
There is one exception to the suitcase rule: if Font Reserve is set to open copies of fonts, it can open up an individual font without opening other members of its suitcase. The drawback is that it takes longer to open copies of fonts. But using font copies rather than the actual fonts yields other advantages. The original font files are protected against corruption, fonts shared on a file server will be accessed more efficiently, and fonts on a CD-ROM will be temporarily copied to the hard disk, allowing you to remove the CD-ROM from your computer.
Auto-activation
Font Reserve offers font auto-activation. If you open a document using a font that is not active, Font Reserve can turn it on in many cases. Since applications use different methods of accessing fonts, auto-activation will not work with every application. In addition, since most applications cannot update their font menu if fonts are activated while the application is open, the font will display properly in the opened document, but the font will not show up in the font menu.
The Browser will create a special set of auto-activated fonts. This is useful in identifying fonts that you might frequently use but do not have set to be permanently active.
A problem I encountered with auto-activation is that it slowed down my computer too much. My computer would seem to freeze whenever I changed applications and auto-activation was on. I suspect that this is because I normally have 452 fonts open.
QuarkXPress XTension
While I don't use Font Reserve's normal auto-activate feature, I do use its QuarkXPress XTension. This XTension will automatically activate any font used in a QuarkXPress 3.32 or 4.x document when the document is opened, including fonts required by embedded EPS files. I find that the XTension activates the required fonts over 95% of the time. I have not been able to establish a reason why the XTension sometimes fails to automatically activate a document's font.
All fonts being used in QuarkXPress documents will show up as a special set, even if some of the fonts are already open. This can be very handy in assembly fonts to send with your document to a typesetter. If you drag the QuarkXPress set to the Macintosh desktop, a copy of all suitcases and PostScript outlines will be created.

Set of fonts being used by QuarkXPress
Two additional features are of note. The XTension allows you to create a new set based on the fonts used in a document from within QuarkXPress. If you are designing a new publication and want to easily activate the fonts you use in the future, the Font Reserve XTension makes it easy. The XTension also adds the capability of collecting the fonts for a service bureau.
One disadvantage of the Font Reserve XTension is that it does not check for font usage when you print a document. This is a problem if you import EPS files into a QuarkXPress document, and they require different fonts. The only work-around solution for version 2.02 is to close and reopen the document. DiamondSoft is working on a new version of the XTension that will activate required fonts whenever EPS graphics are placed in a QuarkXPress document.
Ownership
One font characteristic you can apply is font ownership. This adds an optional additional layer of organization. If you need to make it clear that you or a client owns a font, you can designate its owner. Or you might want to indicate if a particular department or your entire company has the rights to use a font. For example, The Washingtonian, Inc. has a site license to many fonts, but the production department has purchased additional fonts for constructing ads. It is important that the editorial part of the office never uses these fonts. Ownership can be used to track who is allowed to use particular fonts.
Finding fonts
When your fonts number in the hundreds or thousands, it can be difficult to find what you want. Font Reserve makes it easy to search for fonts, even if you are unsure of their names. The Browser offers a number of ways of finding fonts.
The first way is by name. You can start typing in the Browser, and a dialog box will appear that offers to take you to the first font that matches what you type. But if you don't know the beginning of the font's name, there are other options.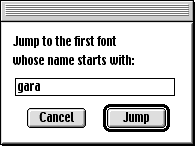 Jump to the first font dialog box
The Browser's filter ability makes it easy to find fonts. A number of standard filters are provided, such as active fonts, orphan bitmaps, and PostScript fonts. The filters reduce the size of the font list. The Browser also provides ways to create your own filters.

Filter menu
You can create new filters to use once or add to the Filter menu. Select Edit Filters… or Edit Quick Filter. The former allows you to edit the filter menu, while the latter instantly applies the filter criteria. The filter editor is similar to the Macintosh's Find utility. You can create multiple search criteria, and all columns can be the basis of a Filter. If you know that you want a Garamond font but don't know its exact name, you can create a Filter for all fonts that have Garamond in their name. Or you might want to look through all Grotesque Sans fonts and look for the one that best meets your needs. Or you might want to look for a font owned by a specific client. All are possible in Font Reserve.

Filter dialog box
Adding fonts to the Font Reserve database
Adding fonts to the Font Reserve database is as simple as dragging and dropping. Just take the folder holding your fonts and drag it either onto one of the supplied applets and on the Browser's set or fonts window panes. Unless you change the preferences, you will be asked if you want to move the fonts to the Vault, copy the fonts, or leave the fonts in place and add their alias' to the database. Other options include assigning font ownership and activation. You can even temporarily add a font to the database so that it will be removed when you shut down your Macintosh.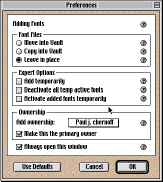 Import Preferences
The difference between dragging the folder to the Browser's set or fonts window panes is that the former will create sets that match the suitcase organization and the latter will just import the fonts without creating any sets.
I like the flexibility the import options provided. I find that when I import fonts. I tend to change the options based on use. Sometimes I put fonts in the Vault; other times it makes sense to leave them in place.
Perhaps the most important feature of the import process is error checking. Font Reserve creates a log of every problem encountered. This includes corrupted fonts, duplicate fonts, and orphaned bitmaps. When I imported my office's fonts, I was surprised by the number of problems encountered. The manual provides good guidance on what to do about identified font problems.
Viewing fonts
A designer often wants to look at fonts before activating them. Font Reserve provides three different customizable on screen views of fonts and has the ability to print a variety of specimen pages. You can preview a font as a single sentence, as a paragraph, or as a waterfall showing the font at various sizes. You can change the text for single and paragraph views and adjust the font sizes for all previews.

Preview
Font Reserve provides 10 different specimen templates, and you can modify them or create your own.
Font collection
Font Reserve makes it easy to collect fonts to send with a file to a service bureau. You can drag a set, family, suitcase, or individual font from the Browser to the desktop. Font Reserve will copy the selected fonts as a single suitcase, with any accompanying PostScript fonts.
AppleScript
Font Reserve is AppleScriptable but not recordable. This is because you script the Font Reserve application, which is a faceless database program, and not the Font Reserve Browser. Unfortunately, AppleScript documentation is minimal, consisting of two sample scripts. While it appears to be highly scriptable I did not have time to learn how to do it. More documentation would be appreciated.
Replication
When dealing with 50 Macintoshes, I need a font solution that minimizes my labor in keeping all font setups identical. Font Reserve provides three ways to help. The first is the ability to copy the font database from one computer to another. This not only transfers fonts but also the sets and ones designated as permanently active.
AppleScript, while it has a steep learning curve, provides a way to update the Font Reserve database. You can use write AppleScripts to change its configuration and add and remove fonts.
The last tool to discuss is the ability to export and import sets. While an exported set does not hold the actual fonts, if you import a set and have the required fonts, you can easily duplicate the way in which Font Reserve organizes fonts on different computers. If Font Reserve is set up using the alias method, font sets can be easily moved to other font databases, ensuring that fonts are organized in a consistent manner.
All is Not Rosy
Turning automatic activation on can corrupt the Database Prefs file. If this file is corrupted, the Macintosh will crash on bootup. This happened to me twice in two weeks. It took me an hour when this happened the first time to determine the problem. Font Reserve needs to better handle corrupted prefs. This problem does not occur with the Font Reserve XTension.
Font Reserve demands megabytes of RAM. Graphics professionals probably have adequate RAM on their computers, but PowerMac 6100s with only 16MB RAM will definitely have problems. DiamondSoft recommends reserving 6MB of RAM for Font Reserve. The Font Reserve application, which is constantly running, wants 4-6MB of RAM by default on a PowerMac, depending on whether if virtual memory is on or off. But additional RAM is required by the MacOS if you activate many fonts, and the Browser prefers to use 2-4MB when it is open.
Font Reserve has a solid design, but it still needs some work on implementation. It takes longer for Font Reserve to activate fonts than a beta of Suitcase 8. Adding fonts to its database also requires you to wait but this is partly due to its error checking procedures.
Auto font activation still needs work. The XTension works the vast majority of the time but not always. Regular font activation does not work in all applications, but this is partly due to the variety of ways that different applications work with fonts.
Finally, Font Reserve uses a serial number-based copy protection scheme. If you do not enter its serial number, it will work in demo mode. As a Macintosh manager, my biggest complaint about serial numbers is the need to find them every time I set up a computer. Fortunately, DiamondSoft sells multipacks that allow multiple copies to share the same serial number.
Support
DiamondSoft provides support through phone, e-mail, and its web site. I sent e-mail to their technical support staff and they responded within a few hours. When I had problems with the Font Reserve XTension 2.01 they e-mailed me a beta of version 2.02, which solved the problem. While they could not solve my problem of activating fonts in EPS files as they are imported into QuarkXPress documents, they were quick to give me an estimate on when a new version should be available.
Their web site support is not so good. They have some tech support discussion groups on their site but most questions appear to remain unanswered. Maybe their response rate was better than it looked, but some discussion threads were broken, and the slow speed of their web site discouraged me from exploring the discussion groups.
Pricing and Availability
Font Reserve 2.02 is listed at $99 per copy, but discounts of up to 35% are available for multiple licenses. Font Reserve can be purchased from major mail order and Internet Mac software web sites or directly from DiamondSoft. Upgrades from Font Reserve 1.x, including copies bundled with CoralDraw, are $65. If you purchase directly from DiamondSoft, you can download the software from their web site and still receive the CD-ROM and manuals, which include Bitstream fonts.
Try Before You Buy
DiamondSoft allows you to download the entire copy of Font Reserve from their web site, including the XTension and the manuals. Until you enter the serial number the database will be limited to tracking 100 fonts. All other features are available. This is a great way to test Font Reserve for suitability and any possible software conflicts.
Conclusions
Font Reserve's ability to find corrupted fonts and its database make it a true font management program. While it has a few problems, it is a stable product that does what it states it does. While its interface is more complicated than those of Adobe Type Manager Deluxe or Suitcase 3, it also does more. It provides more than one way to deal with fonts that meets the needs of different users.
The font management software market is once again heating up. By the time you read this Adobe Type Manger 3.5 and Suitcase 8 should be available. Both products promise to provide stiff competition to Font Reserve and Suitcase 8 is will have some nice new features. But Font Reserve's database distinguishes from its competitors for those Macintosh users who need to constantly activate and deactivate fonts on a frequent basis.
Paul Chernoff spends his days writing databases at The Washingtonian when not busy helping people with QuarkXPress, fixing network problems, working on the Internet, or taking care of the servers. He is lucky to be doing most of his work on a Mac. At home, he balances time between Mac and family. He can be reached at paul.chernoff@tcs.wap.org.
---
Return to electric pi

Revised April 11, 1999 Lawrence I. Charters
Washington Apple Pi
URL: http://www.wap.org/journal/

---