The Biggest Thing on the Web: Google Earth for Mac
© 2006 Lawrence I. Charters
Still debating the need to upgrade your Power Mac 6100? Google Earth for Mac may be the application you find you can't live without. After entering a private beta test in December 2005, Google Earth for Mac made a more public appearance in January 2006 at:
http://earth.google.com/download-earth.html
Google Earth is a wildly popular application designed to bring geographical information systems (GIS) to the masses by mixing together "layers" of information. With Google Earth, you can type in an address and add roads, buildings, and photos from space; schools, businesses, and even terrain. Tilt controls allow you to "tilt" the image of the terrain, with the space photos contour-mapped over the "ground" so that volcanoes project into the air, hills look hilly, and valleys look like valleys. In this example, Google Earth is zeroed in on 12022 Parklawn Drive, Rockville, MD – home of Washington Apple Pi. Photos from space, seamlessly "tiled" together, allow you to view the area around the Pi building and see, for example, that the U-Haul lot directly east from the Pi looks unusually empty.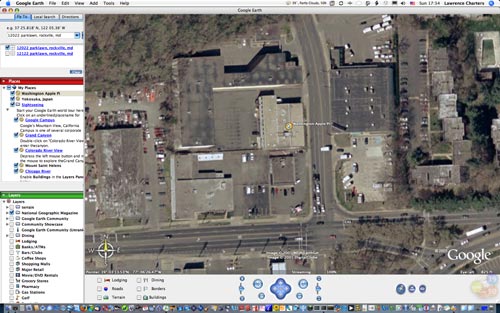 Washington Apple Pi World Headquarters in Rockville, MD. Click on the image for a full-size view.
Google Earth for Windows exists in several fee and paid versions; right now the only version for the Mac is a free version that takes advantage of a great number of online databases. It requires all the horsepower you have available, with best results also requiring video cards with massive amounts of RAM. As a minimum, you need:
Mac OS X 10.4;
a 500 MHz processor;
256 MB of RAM (this is Google's claim; 768 MB is a more realistic minimum);
2 GB of free disk space;
a video card with at least 16 MB of RAM;
a 1024x768, 32-bit color monitor;
and an active broadband Internet connection.
Tour Paris, Moscow, and the house you lived in when you were born, but don't be too shocked to find your old house is now a parking lot, or a condo. Google has links to a special NOAA collection of aerial photos of post-Katrina damage, a wonderful tour of Mt. St. Helens, a tour of the Grand Canyon, a look at Hoover Dam – in short, a world of things to see and explore except, sadly, the North and South Poles.
Take the world for a spin.
---