Hexa Media Drive: Funky Name for a Digital Essential
© 2003 Lawrence I. Charters
Washington Apple Pi Journal,
reprint information
Steve Jobs has been pushing the idea that a Macintosh running Mac OS X should be the center of the "digital hub." Have a cell phone? A personal digital assistant? An MP3 music player? A digital still camera? A digital video camera? A robotic squirrel? All of these except maybe the squirrel can be connected to a Mac. At least that's the theory.
In reality, many of these devices require cables, and the cables are often non-standard "standard" cables. While this is annoying, it can reach the point of despair when you find yourself dealing with multiple types of memory cards for these wonderful digital helpers. Your PDA might need a Secure Digital Card. Your digital video camera might use Sony Memory Sick. Your digital still camera might use CompactFlash. You might need an aspirin or four.
LaCie's Hexa Media Drive is an inexpensive peripheral designed to make life much easier, and it does. This small, unobtrusive peripheral is powered by the USB port, and the drive uses a standard USB cable that is permanently attached to the drive. Setup is easy: plug it in. No power cord or power brick is required. There is no funky USB cable to forget or misplace. No extra software is required. Mac OS X 10.2 recognizes it without any added help.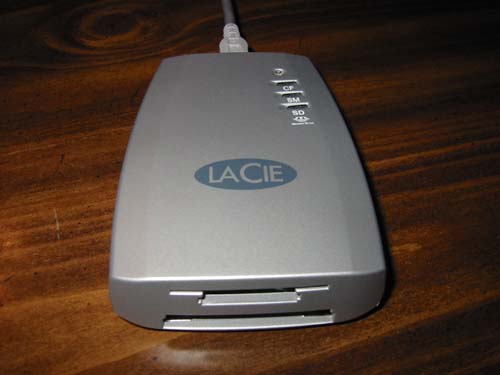 About the size of a mouse, the Hexa Media Drive is a lifesaver for those with digital cameras and other "Digital Hub" peripherals, for it requires no funky cables and no special software, yet can read six different kinds of media storage devices. (Photo by Lawrence I. Charters)
What can you put into the Hexa Media Drive? Almost anything:
CompactFlash
Memory Stick
SmartMedia
Microdrive
Secure Digital (SD) Card
MultiMediaCard
Using the Hexa Media Drive is simple: take a CompactFlash card, say, slip it into the appropriate slot, and an LED lights up on the top. A few seconds later, a drive image mounts on the desktop. You can either double-click on the image file and drag your photos and files to your Mac, or you can use something like iPhoto or Mac OS X's Image Capture to pull images off the media. Dismounting the media is just as simple: drag it to the trash.
I could pad this review with additional detail, but that's really everything you need to know: the Hexa Media Drive is inexpensive, small, flexible and virtually foolproof.
LaCie Hexa Media Drive, $49.99
LaCie Limited
22985 NW Evergreen Parkway
Hillsboro, OR 97124