Willow Design: iMac Carry Case
© 2001 Lawrence I. Charters
Washington Apple Pi Journal, March/April 2001, reprint information
Once upon a time, Washington Apple Pi Labs had three computer cases to review. Two of these, a briefcase and a backpack, were reviewed in the November/December 2000 Journal, but the third review, of an iMac carrying case, suffered an equipment failure. No, it wasn't the iMac or the case. Instead, Washington Apple Pi Labs broke the camera used to document the reviews, causing a lengthy period of profound depression. Willow Design, unfortunately, doesn't make carrying cases for digital cameras. (Hint-hint.)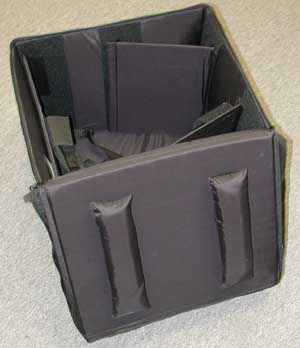 Empty, you can see the thickness of the sides of the iMac Carry Case, plus the cushioned "bars" across the opened top. The top is secured using a heavy-duty zipper. Note the partition against the left edge, designed as additional protection for the front of the screen. (Photo by Lawrence I. Charters)
But if you've got an iMac, their iMac Carry Case is a winner. You might ask, why would you need a carrying case for an iMac? After all, it has a built-in carrying handle, which strongly suggests that an iMac is portable. Except that it weighs quite a bit, and the handle doesn't help you carry the cord, mouse, keyboard and any other essentials you might need.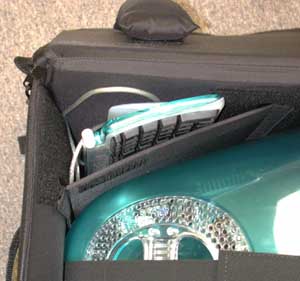 The iMac Carry Case has movable partitions attached with Velcro, allowing you to tailor the fit of the case to your iMac and needs. When angled inward, the partitions form corner pockets deep enough to hold the keyboard, mouse, power cables and other trivia. We didn't have an opportunity to try this with one of the new Apple Pro keyboards. (Photo by Lawrence I. Charters)
And so: the iMac Carry Case. Like other Willow Design cases, it is strongly constructed of dense foam padding covered with heavy fabric. The case is so strongly made, in fact, that it might even be possible (not that anyone would do such a thing) to stack a mound of cables, hubs, and odd pieces of network equipment on an empty case. Washington Apple Pi Labs does not recommend such activity, of course, but we needed a small table in a hurry.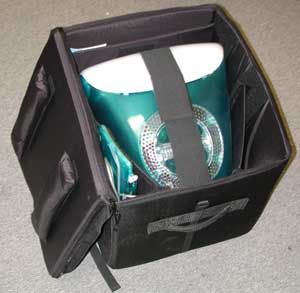 An iMac, safely tucked in the iMac Carry Case. Willow Design recommends threading the "seat belt" through the carrying handle on the iMac but, sadly, our photographer is a Mac person and never follows directions. (Photo by Lawrence I. Charters)
When not serving as an emergency table, it does an even better job as an iMac carrying case. There is ample space to put all the essentials, yet at the same time everything is snug and can be transported without any unnecessary vibration. We did notice that the case is a bit bulky to be easily strapped in a car seatbelt and shoulder belt, but you can do it with a bit of effort.
Carrying the case is something of a chore: an iMac is not very light, and is fairly bulky. Willow Design put straps on the sides of the case, has another set of straps that Velcro together at the top to form a carrying handle, and even includes a shoulder strap, in case you want to carry it that way. In Lab tests, very large men could carry the case, with computer, draped over a shoulder &emdash; but they didn't like it. The side straps and carry handles proved more popular.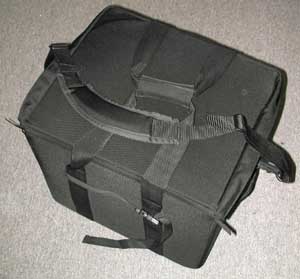 Heavy straps can be Velcroed together at the top to form a handle, or you can use the handles located on the sides of the case. Or, if you are a pro football player, you might find the detachable shoulder strap just the ticket. (Photo by Lawrence I. Charters)
Unlike notebook cases, there isn't much competition for iMac cases. We've seen a few, but they are little more than bags for carrying the iMac, with next to no padding or protection.
Unless you own a private plane, it is doubtful you'd be allowed to carry an iMac, in this case or any other, as carry-on airline luggage. And while we have the utmost respect for the strength and durability of Willow Design cases, we wouldn't trust the case into the tender mercies of airline checked baggage handlers. Instead, the case is best used for storage of an iMac and for iMac trips by car or truck (or maybe even a pleasant cruise).
When we first looked at the iMac case, it came in any color you wanted as long as it was black. Since then, Willow Design has also added charcoal (gray), navy, teal, and Baltimore's favorite color, purple. They've also redesigned the case so that it tapers more to fit the shape of an iMac; our review unit is a classic cube shape.
We highly recommend the Willow Design iMac Carry Case, if your iMac has the urge to travel.
iMac Carry Case, $168
Colours (they're Canadians): Black, charcoal (light gray), navy, teal, purple
Willow Design Ltd.
6943 Antrim Avenue
Burnaby, British Columbia
Canada V5J 4M5
Willow Design Ltd.
800 Grant Avenue
Blaine, WA 98230
800-668-1109