In the Beginning: Installing Mac OS 8 (Page 5)
After clicking the Start button, the installer begins by checking the destination volume (doing a Disk First Aide check) as shown in Figure 12.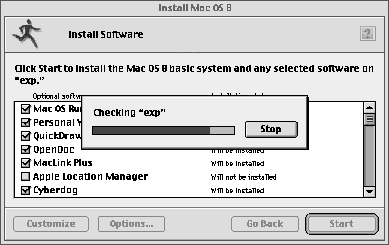 Figure 12. Checking drive.
Then it proceeds to update the hard disk drivers for Apple drives as shown finishing in Figure 13. Apple drives have a ROM on them that identifies them as Apple drives. They may be either IDE or SCSI drives. If you have drives that are not Apple drives (such as my Zip drive and my Quantum drive, you will receive an alert shown in Figure 14 telling you that the drivers for these drives couldn't be updated and why. You can click Cancel to stop the installation or click on Ignore Warning button. You should continue the installation by ignoring the warning unless you're certain that the drive is an Apple-formatted drive.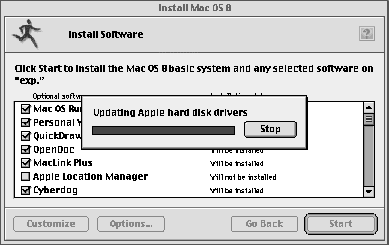 Figure 13. Updating drivers.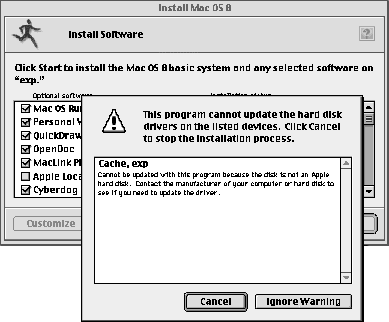 Figure 14. Unsupported drive alert.
After you have finished updating the hard disk drivers (and clicked Ignore Waring, if the alert appears), the installer will continue into the process of installing each of your selected components (Figure 15). This process will proceed without further interaction if you've selected Easy Install, but (as described above) you will have to confirm individual license agreements if you're doing a Custom Install.
Figure 15. Installing Mac OS 8..
And that is the process of installing Mac OS 8. All that remains is to boot off the installation. The first time you do, it will rebuild the desktop files on all your mounted volumes. Then you're ready to explore the new features of this new Mac OS. Enjoy the discoveries ... I'm sure you will be pleased ... especially by the improved stability.
---
Return to electric pi
Revised Friday, January 9, 1998 lic
Washington Apple Pi
URL: http://www.wap.org/journal/

---