Preview in Review
Creating Acrobat Files in Mac OS X
by Dennis Dimick
Washington Apple Pi Journal,
reprint information
For several years I've used Adobe Acrobat to convert web pages to text-searchable files that have graphics intact. Acrobat also has let me create sharable files for colleagues who don't use my programs, or who may have computers other than a Mac. These "What-You-See-Is-What-You-Get" kinds of files from Acrobat are called Portable Document Format (PDF), which explains their ".pdf" filename extension.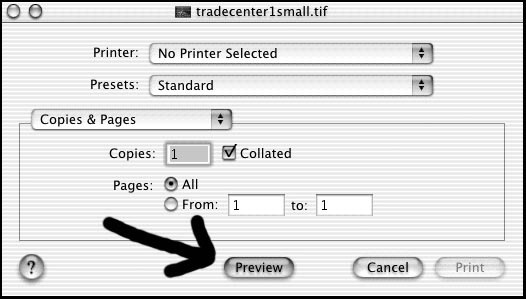 Print Preview: The "Preview" button on Mac OS X Print Dialog box opens up new possibilities not available to Mac users running older operating systems. Mac OS X will create a "Preview' of your file that can be saved in the Adobe Acrobat "PDF" format.
If you are using Apple's new Mac OS X or plan to upgrade, no longer must you buy Acrobat to create basic PDF files from any program that allows printing. Mac OS X now offers this ability via a built-in tool called "Preview," a small utility and a new option available when you print.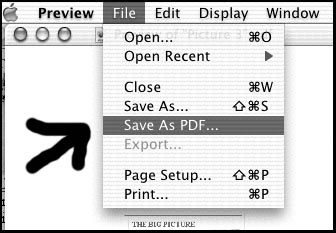 Save As PDF: Once a previewed file opens in "Preview," the utility, you can use the "File Menu> Save As PDF" command to preserve your file in Adobe Acrobat format.
Designed as a way to help you see how any document looks when printed, Preview's printing option becomes much more useful when combined with the utility program's PDF file-saving ability. As a standalone program, Preview also lets you convert and save image files into a number of other graphics file formats like Photoshop, TIFF, JPEG and QuickTime. By combining Preview the utility program and the "Preview" function of printing, you can also convert existing graphics files to the PDF file format.
Preview's File Saving: Beside letting you save print preview files as Adobe Acrobat PDF, the Preview utility also lets you convert graphics files to other file types such as SGI, Photoshop, JPEG, TIFF, and QuickTime. If you want to convert any graphics file to PDF just print to Preview using Preview's print command, and save the file as PDF.
Preview in OS X Only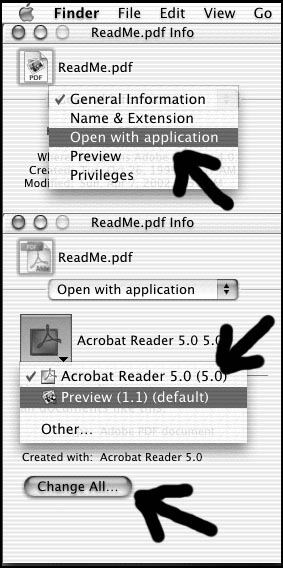 Change Default Application: You can link files created in Preview to Acrobat Reader that also comes with Mac OS X. (Follow arrows in this composite image.) First, select a (PDF) file already saved to disk by Preview. Use the "Show Info" command to reveal a box with a pop-up menu that includes "Open With Application." (Top Arrow.) Then pop up a list of available applications on your Mac that can open PDF files. (Center arrow.) Once you select which program you want to open PDF files, click the "Change All..." button. (Bottom arrow.) If you have Illustrator or the full Acrobat program on your Mac, you can use this same technique to select one as default to open PDF files created by Preview.
Preview works only with native OS X applications and is not available for older programs running in Classic mode. If you need to create finely-tuned PDF files with fonts, color profiles, and precisely compressed graphics, you still must use Adobe's Acrobat Distiller program, which comes as part of the Acrobat program suite.
Late last year Adobe released an Acrobat 5.05 updater that makes most of the Acrobat 5 suite Mac OS X native, yet the integral Distiller program still runs only under Mac OS 9 or Classic mode. That said, Adobe already has released Mac OS X native versions of Illustrator and its new page layout program InDesign; both programs have robust PDF creation tools under OS X.
Preview and Acrobat Reader
Even without the full version of Acrobat 5, you can still take advantage of a neat feature on Mac OS X that automatically hands off files created by (Print) Preview to the free Acrobat Reader that comes as part of the Mac OS X installation.
You can configure your Mac so Reader (or Preview) opens all PDF files when a file's icon is double-clicked. (See accompanying graphics.) Access this configuration feature via the OS X "Show Info" command on a PDF (or any) file. Here you will find a pop-up menu that offers an option "Open With Application," and another button "Change All" that you must select if you want to change default applications for opening files.
(This feature is not limited to Preview and Reader. You can configure any type of file to open with a specific "default" application under OS X. For example, I have set up my Mac so all my text-format mail files are opened by Tex-Edit Plus.)
Like Preview's 'Save As PDF" feature, Acrobat Reader 5 lets you "Save a Copy" (as PDF) of any file handed it by Preview. The two programs can work in concert to create, view, and save PDF files. Though Reader cannot create PDF files, it offers a "full-screen presentation" mode that provides a black surround for viewing. This handy tool is useful if you need to show your PDF files on a large screen.
Beyond Preview's Means
If you are familiar with the full Adobe Acrobat program suite, the integral "PDF Writer" Chooser extension that lets you "print" PDF files under Mac OS 9 and earlier provides the same functions as Preview now does under OS X. The main difference: PDF Writer cost money and Preview is free. Adobe has discontinued PDF Writer (you won't find it in Acrobat 5) mostly because too many people tried using PDF Writer instead of Distiller to create PDF files for print production.
That said, don't expect Preview to produce high-quality PDF files that meet the needs of graphic arts production. Preview offers no way to customize image resolution or compression in a PDF file, or how or whether fonts are included.
If serious PDF creation is your goal, get the full Acrobat program suite. It will let you edit PDF files: you can insert and delete pages, rearrange page order, crop pages, delete pages, combine files and add security. In addition, the full Acrobat package will let you save original PDF files in a variety of other formats such as EPS, JPEG, PNG, Postscript, RTF and TIFF. The full Acrobat 5 package also allows export of graphics and text elements from a PDF file for reuse elsewhere.
Despite limitations, Mac OS X's Preview utility provides Mac users a new, simple, and quite powerful way to create Adobe Acrobat files for archiving and sharing.
---
Pi Member Dennis Dimick can be reached via email: ddimick@aol.com.