MacWasher:
It blows away the "dustbunnies" on your hard drive Title
© 2001 Dale Smith
Washington Apple Pi Journal, January/February 2001, pp. 42-44, reprint information
Has your hard drive become "smaller" than you think it should be? Are you running out of space ... and wondering where it all went?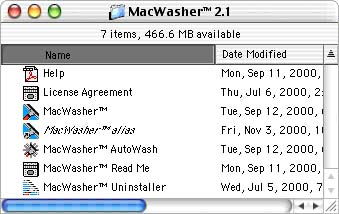 Fig. 1
Well, there are utilities that will help you recover some of that vanished space, much of which could be simply wasted on files that are no longer useful. And to top that, some of those files are buried in hidden folders, where they are "out of sight, out of mind" except when you've noticed the hard disk free space shrinking more than seems right.
One utility that will help with this problem is MacWasher from Webroot Software, Inc. My copy came packaged in a folder that included instructions, press release, and company information as well as the CD with a 6-Meg folder [Fig. 1] containing the program.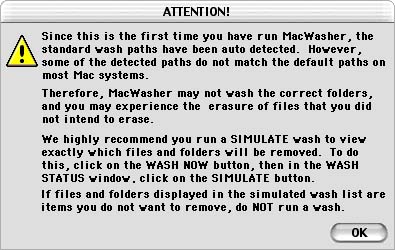 Fig. 2
Installation is simply a matter of dragging the folder from the CD to the location where you want it on your hard disk and dropping it there.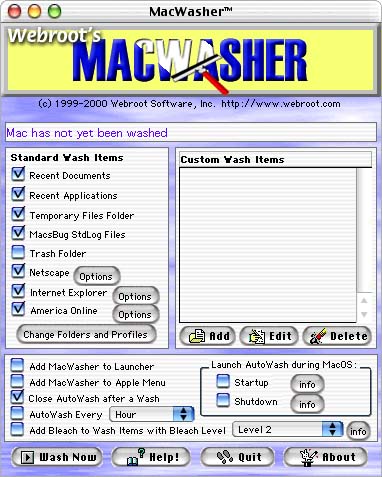 Fig. 3
When you launch the program for the first time, there may be (as there was for my system) a warning dialog [Fig. 2} alerting you to the fact that certain detected paths on your system do not conform to the paths for the usual Mac OS. The dialog gives directions for running the program in simulation mode so you can see what files will be deleted if you did a real wash run. I have found this feature quite useful for doing this review while not yet trashing stuff that should be trashed, just in case I wanted to get an overlooked screen shot. But it also will come in handy when you are running on a non-standard installation or you're trying to customize the wash items ... it gives you a chance to second-guess your choices, just in case. I would recommend using the simulation mode any time you decide to add costom wash items to the program.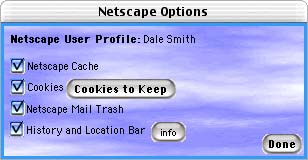 Fig. 4
In the default configuration (shown in the Main Window [Fig. 3] of the program), Recent Documents, Recent Applications, Temporary Files Folder, MacsBug StdLog Files, Netscape, Internet Explorer, and America OnLine files such as Cache, Cookies, email trash, and history and location bar files are all targeted for washing. If you click the Options button next to Netscape, the Netscape Options window [Fig. 4] will appear. In that dialog you can determine which of the kinds of temporary files stored by Netscape will be washed away. Similar dialogs will appear if you click on the Options button for Internet Explorer and America Online. In the case of cookies, clicking on the Cookies to Keep button in the Options dialog window allows you to select any cookies you want to keep to be exempted from washing.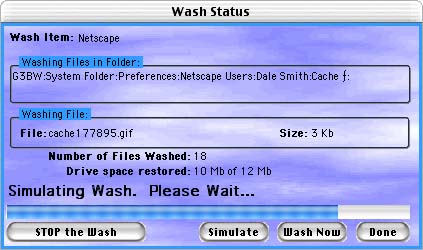 Fig. 5
For my testing of the program, I left the default configuration as it was and ran the program in simulation mode. When run on my Performa 6400 in simulation mode, it found about 12 Megs of wasted space, mostly in browser files. The figure "Wash Status - during wash" [Fig. 5] shows the progress window of the application; the figure "Wash Status - done" [Fig. 6] shows the conclusion of my wash run and shows that 12 Megs would be recovered if I did a real wash. At the conclusion of the wash simulation, a Simulation Results window [Fig. 7] appears listing the files identified for washing away. This list lets you check to be sure the files found are ones you want to discard.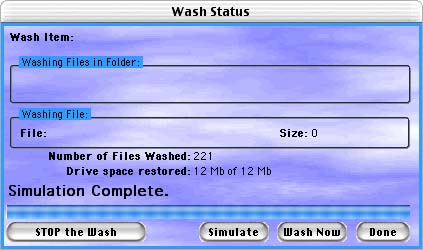 Fig. 6
I have found that the program will work in Mac OS X Classic environment of the Mac OS X Public Beta release too, but it's not as effective there in its default configuration because the paths to certain folders where likely extraneous, useless files accumulate are different in the Classic setup of Mac OS X and the normal Mac OS 7/8/9 setups. Thanks to the customizing capability this can be corrected when you want to. I did not attempt to do that for now.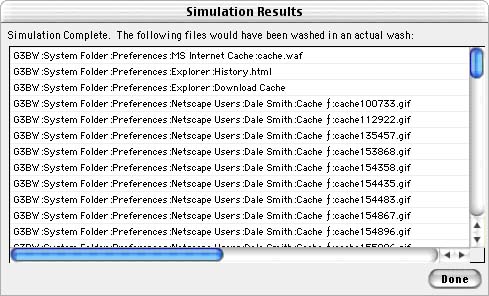 Fig. 7
I found the program very straight forward and easy to use. It would be one of those hard disk maintenance utilities that would be run on a periodic (perhaps monthly) to keep the wasted space on your hard disk low.
At the beginning I mentioned that there are other shareware utilities that do similar sweeps, but these are often targeted at a smaller range of files and folders to sweep through ... sometimes the files for just one particular browser. This program covers the broadest range of files I have seen. I don't know whether there are other commercial programs that do similar cleanups, so I can't how this program might stand in comparison.
The software, $29.95, is published by:
Webroot Software, Inc.
P.O. Box 3531
Boulder, CO 80307
Phone: 303-554-6528
FAX: 303-554-6529
email: webroot@webroot.com
http://www.webroot.com/macwasher.htm
About Dale Smith: Dale has been a member of Washington Apple Pi since 1983 and has been a beta tester for a number of programs. He has written several articles for the Journal. He's also active in the committee that runs the TCS.