A New Player and Spherical Movies
First Peek at QuickTime 5
©By Dennis R. Dimick
Washington Apple Pi Journal, November/December 2000, pp. 30-33, reprint information
In early October Apple released a public preview of the next version of QuickTime. With major revisions every couple of years, each update of Apple's multimedia enabling technology adds versatility and utility. The most recent release version, QuickTime 4, has been remembered mostly for an ugly, shiny, and generally overbearing interface and controls for its QuickTime Player program.
As I write, the pre-release QuickTime 5.0 was posted on Apple's website hours earlier on October 10, and minutes earlier on the same day was installed on my PowerMac 9600 running Mac OS 8.6. This is an experiment in testing system stability.
My impressions of QuickTime 5 are superficial, yet I've used and variously abused QuickTime since version 1.0. First indication on this new "public preview" is that Apple has taken to heart user complaints about QuickTime Player 4's appearance.
A New Player
The QuickTime Player 5 offers a less-obtrusive look and presents easily configured audio controls such as a slider instead of a wheel for volume control. Also, QuickTime Player 5 presents neat on-screen controls for changing tint, color, brightness and contrast of movies. Whenever possible I avoid using QuickTime 4's Player application; the new version is attractive and comparatively inviting.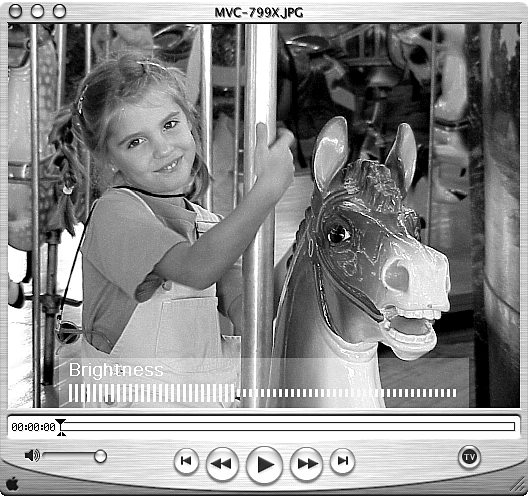 Brightness: QuickTime 5's Player program now offers several on-screen image correction options. Here a semi-transparent layer pops to allow changing of visual attributes of a movie or image. In color, the word "Brightness" appears in a day-glo green.
Other changes under the hood are apparent. As Internet connections become more varied in type and speed, Apple has created a Connections panel that can be more specifically set to accommodate increased variations in how you might access the Internet. These include 28.8 through 56 Kbps modems, ISDN, DSL and cable modem in speeds from 112 Kbps to 1 Mbps, 1.5 Mbps T1/Intranet/LAN, and faster connections via Intranet/LAN. The new QuickTime 5 offers the ability to receive multiple simultaneous steaming data incoming.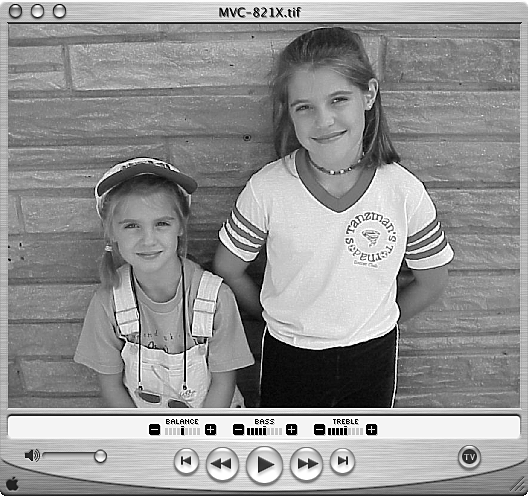 Crisp Sounds: The screen presence of QuickTime 5's new Player is much subdued from the previous version. You now control audio volume with a slider. Other attributes like bass, treble, and balance also are modified by small sliders below the image in this screenshot. The small buttons at top left are used to resize and close the movie window.
Apple says that system requirements for QuickTime 5 are a Power PC Macintosh with Mac OS 7.5.5 and Open Transport 1.2 or higher. You will need 32 MB of installed RAM. Apple says this new QuickTime 5 does not work with Mac OSX beta, except when running in Classic mode. If you now use OSX you should use the version of QuickTime that came with that operating system.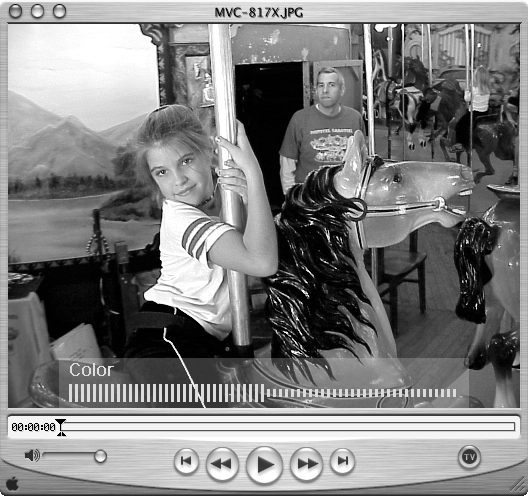 It's in Color: Previous versions of Apple's QuickTime player programs required you to dig around inside the "Get Info" box to change visual qualities of movies. Here an easily accessible visual popup allows you to modify color, brightness, tint and contrast in much the same way newer televisions present onscreen controls.
More User Options
The QT5 Browser Plug-In panel allows you to select whether movies will begin playing automatically as they download to your web browser. You can also choose to "cache" all movies in your browser's disk cache if the movie's author allows this. It's also possible to open movies in your browser in "kiosk" mode, which hides the options to save movies and change QuickTime settings from within a browser window. Via the "MIME Types" control you can set up QuickTime to recognize and open more than 40 different media types it might encounter whether as an incoming file from the Internet or as a file on your computer's drive.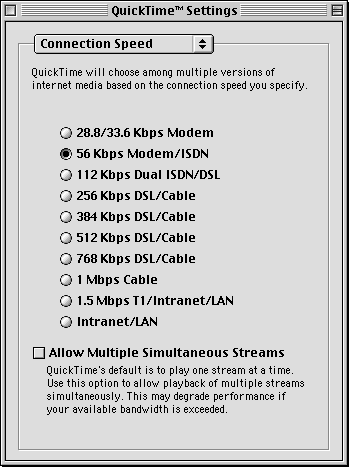 Bandwidth Adjustments: Web users now have an array of connection choices, and Apple has increased the selection of options for optimal performance when you connect your Mac to the Web. This is the Connections Panel inside the QuickTime 5 Settings Control Panel.
This new QuickTime 5 comes as a complete file archive for downloading. Unlike QuickTime 4, which initially downloaded an installer file to your drive and then forced you to get the rest of the needed pieces from Apple's website, you get all 10 MB from day one. Plan accordingly if you have a modem connection to the net as I do at home.
It appears you're going to pay more for QuickTime 5.0 even if you already own the Pro versions of QuickTime 3 or 4. A page on Apple's website says, "QuickTime 3 and 4 Pro users can try out the QuickTime 5 Public Preview at no additional cost during the preview period." The current price for QuickTime Pro is $30. There is no indication yet what the upgrade cost for current Pro users will be; apparently the release version will come some time early in 2001.
Apple's "Read Me" file with QuickTime 5 says the new version now supports playback of resident and streaming MPEG 1 files. From what I know, existing QuickTime 4 already supports playback of resident MPEG 1, maybe the new version adds support for playback streaming MPEG. Further, the new QuickTime adds support for playback of Flash 4 files. Alas, Macromedia has since released Flash 5; I am not sure if Flash 5 and 4 share the same file format.
Total View: Spherical VR Movies
QuickTime 5 also supports creation and viewing of VR spherical panorama files, which Apple calls "Cubic VR." I noticed in the QuickTime 5 Extensions folder (a folder inside the System folder Extensions folder) that there exists a file called "iPIX Support." Whether "Cubic VR" and "iPIX" are the same format, related, derivative or similar is not indicated.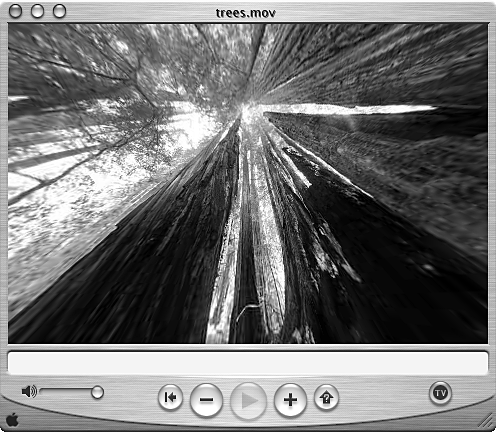 The World Around: A spiffy addition to QuickTime 5 comes in the form of spherical virtual reality (VR) movies. Also called "Cubic VR," this revised VR scheme allows users to look at the sky above and at their feet. This image showing an upward look at huge tress, came from Apple's website. Previous VR movies allowed you only to rotate around inside a cylinder view or to rotate an object on the same pivot.
"iPix" is a litigious company that in the past has sued anyone trying to create spherical panorama VR movies via what it claims are its patents on the idea of making spherical panorama digital movies from fisheye camera lenses. Apple's added support for "Cubic VR" is an interesting and not clearly explained development for QuickTime 5. Did Apple license from iPIX the technology to create spherical VR movies or is this a move by Apple to circumvent iPix's legal claims?
Other improvements Apple claims for QuickTime 5 include these: support for "DDD" format allowing conversion of movies into 3D format viewable with special glasses; a new sound synthesizer that includes a complete general instrument set licensed from Roland; an improved DV format codec for higher-quality images in DV format movies.
Get Into the Stream
Since QuickTime 4.0 Apple has placed a heavy emphasis on "streaming" media playback from the web, and with QuickTime 5 that emphasis has only increased.
Streaming media has never impressed me. Most anytime I've tried streaming media I've suffered video or audio breakups, especially via dialup connection. It's fine that Apple is moving in this direction, but they also have done so at the expense of also encouraging the creation of downloadable QuickTime movies. (Unlike downloadable movies, streaming QuickTime movies do not save to your computer so you can play them later when you are no longer connected to the web.)
Streaming media for real-time events is fine if you like low-quality, grainy images with awful sound, but I have never understood why Apple has also opted for pushing the idea of streaming QuickTime from non-live or taped content.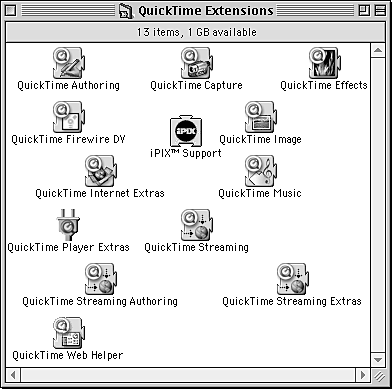 Many Pieces to QuickTime: Besides several plug-ins resident in the Mac OS system folder, QuickTime now comes with its own folder of 13 plug-ins specific to QuickTime. Note the inclusion of an "iPix" plug-in, which allows viewing of these proprietary VR movies without downloading an additional plug-in as was previously required.
High quality downloadable and "fast-start" files have always been QuickTime's great virtue over other formats like RealVideo, and it would be a shame if Apple totally abandoned encouraging downloadable files to compete against RealMedia formats and the latest garbage video format from Microsoft. As long as people still access the Internet via dialup phone, live streaming media will not be ready for prime time.
First signs for QuickTime 5 are encouraging, especially the new QuickTime Player interface and "Cubic VR."
My computer with its prerelease QuickTime 5 still has not crashed. We will see how long this lasts.
Pi member Dennis Dimick believes that QuickTime is one of Apple's crown jewels. He's been trying to find the time to make QuickTime movies since about 1993. He can be reached via email: ddimick@aol.com.