Studio Artist and Video Gogh
Turning Photos and Movies into Paintings
By Dennis R. Dimick
Washington Apple Pi Journal, January/February 2000, reprint information
Graphics programs that create the effect of "painting" from photographs have always intrigued me. Perhaps this interest stems from my abysmal skills with brush and canvas, and these computer painting tools help me realize a vision I could never accomplish with my own hands.
Long-time tools in this category include programs such as Fractal Design (now MetaCreations) Painter, and before that, Sketcher. An Adobe Photoshop plug-in called "Paint Alchemy" from XAOS Tools still is available. These tools can convert photographs into "paintings" of a sort, but none can paint frame-by-frame on QuickTime movies to create motion studies with a brushed look.
Late 1999 saw two powerful new entries arrive, both from small San Francisco-based companies. They are "Studio Artist" from Synthetik Software and "Video Gogh" from Re Vision Effects. The programs vary dramatically in their setup and ease of use, but both create interesting and varied visual effects using still images and QuickTime movies. Studio Artist is the more expensive and complex offering.
Unlike programs such as Painter, or Adobe Photoshop, Video Gogh and Studio Artist don't begin with a blank canvas. They require an existing source image or movie for conversion into painted art using varied brushstroke styles and effects. Both programs need a Macintosh with fast G3 processor if you hope to get any work done.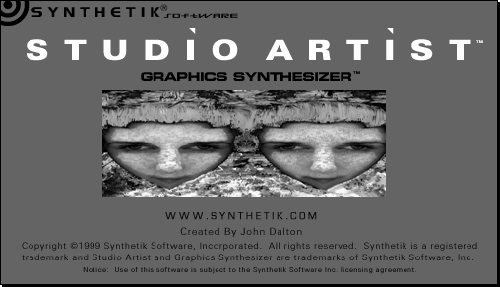 Greetings: Synthetik Studio Artist shows off this "splash screen." John Dalton, who wrote the audio editing program DECK has applied principles of digital audio synthesizers to this program, calling Studio Artist the world's first graphics synthesizer.
Studio Artist's Graphics Synthesizer
Billed as the world's first "graphics synthesizer," Synthetik's Studio Artist was released last summer at MacWorld Expo in New York. It received rave reviews and was awarded a "Best of Show" award. The plaudits are deserved.
Studio Artist is deep and complex, and the artwork I've seen it create is quite appealing. Studio Artist's claimed skills include "unlimited out-of-this-world paints" using "auto-painting, auto-rotoscoping, image processing, morphing, interactive warping, and animation." All the hype aside, "easy to use" is not a description I would give to Studio Artist.
Written by a musician, Studio Artist is derived from the same idea as digital audio synthesizers. Just as audio synthesizers allow musicians to create complex sounds and arrangements, Studio Artist's "graphics synthesizer" is meant to allow users extensive control over many aspects of paint's visual appearance and behavior.
What makes Studio Artist so special? Other "picture to paint" programs like Painter or Paint Alchemy create single layers of brushstrokes based on preset sampling patterns of underlying colors. What makes Studio Artist different is its ability to identify edges and contours in the original images. The resulting brushstrokes conform to colors, features, and shapes of the original image, and this creates brushed renditions with greater subtlety and fidelity to the source.
Studio Artist comes with 600 preset brush techniques or "patches," as the author calls them. The intent is to combine patches in layered "brushing" combinations to produce complex paint styles. The resulting images are not just pixel-based like a Photoshop image, but can have at their core a vector-based architecture that allows resizing. You can, for example, use a 4x5 inch photo to create a 16x20 inch painting with Studio Artist and the resulting art will be free of pixels.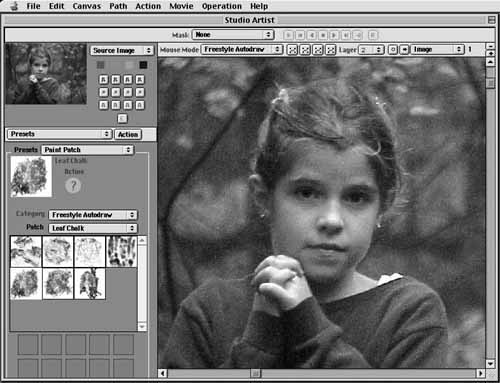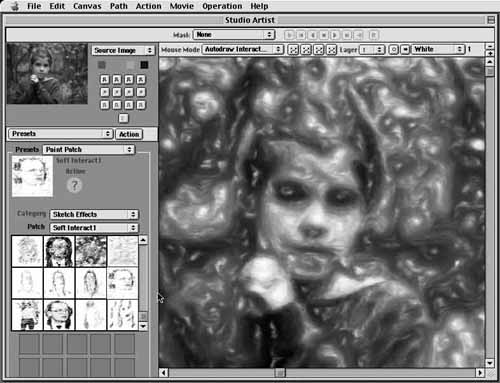 Hundreds of Options: Studio Artist's screen interface shows off what happens before and after painting. The source image was from a Sony digital camera, and the brushing selection was one of more than 600 available options. Studio Artist's real strength is in painting of QuickTime movies. The unmodified source image always shows at top left.
Studio Artist comes from a tiny company, and what Synthetik Software lacks in size is more than made up for in creativity. Software engineer and graphics guru John Dalton has won several Mac-industry "Eddy" awards for his powerful multi-track audio-editing program called DECK. (Macromedia bought DECK from Dalton's previous firm, OSC Software a few years ago. DECK II now resides at BIAS, Inc.)
Despite its heritage, Studio Artist's user interface is hard to master. A repeated reading and referral to the manual is required, and still you'll scratch your head trying to figure out how to use program options. It took me about an hour to figure out how to create a painted QuickTime movie, but what finally resulted was awesome. Beware, the manual comes only as an Adobe Acrobat PDF file, so you'll need to print it.
At a price of $295, Studio Artist is meant for someone serious about creating digital artwork. You can unlock some of the program's power by playing around. But only by devoting time, study, and patience to its odd interface will you begin to realize some of Studio Artist's strengths. (If you have ever tried to use DECK II you will know what I mean.)
One can only hope that future versions are more accessible. Obscure menu commands and less than intuitive methods of setting up paint sequences mar the attractiveness of this unique and powerful program. Regardless, Studio Artist 1.0 is an impressive debut.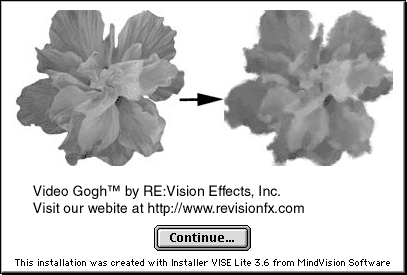 Gogh Online: As indicator of the rising role of web-based commerce, ReVision Effects' Video Gogh can be purchased only at the company's web site. The basic program, spash screen shown here, sells for $20, and two plug-ins for QuickTime and Adobe After Effects sell for more.
Video Gogh's Simple Strokes
Available only via electronic purchase and download from the Re Vision Effects website (www.revisionfx.com) Video Gogh takes a "suite" approach to its image processing tools. You can buy a standalone program for $20, a QuickTime effects plug-in for an additional $10, or you can pay $70 more and get a plug-in for Adobe After Effects 4.0.
Besides being inexpensive and easy to use, Video Gogh's premise is simplicity. Once you open an image or movie for processing, choose among three media types: oil, chalk, or watercolor. Then you choose between small, medium, or large brush strokes. That's it.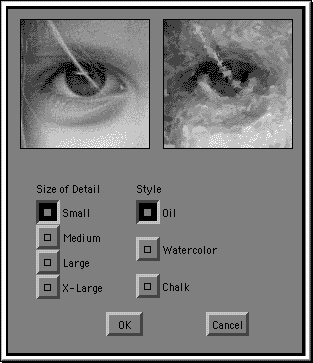 Simple Gogh: Video Gogh's setup box is about as easy as it gets. Choose whether you want oil, watercolor or chalk. Then select a brush size from small to large. Like Studio Artist from Synthetik, Video Gogh's strength comes in automatic painting frame-by-frame on QuickTime movies.
With simplicity comes limitation in Video Gogh's flexibility, but the variant QuickTime and After Effects plug-ins both offer increasing ability to customize aspects of the "look" when painting.
Video Gogh's QuickTime plug-in works with programs such as Adobe Premiere 5.1a and Terran Interactive's Media Cleaner Pro. Video Gogh's After Effects plug-in also works within Apple's Final Cut Pro and offers advantages of customizable masking and layering, and variable brush size, distance, and opacity. The After Effects plug-in also lets you vary these aspects over time in video sequences and animations.
Like Studio Artist, Video Gogh uses an "intelligent" image sampling and animation technique to create its brushed images. Video Gogh's prowess comes from a technology called "Motion Paint," which received an Academy Award "Oscar" in 1999 for Best Visual Effects used in the movie "What Dreams May Come."
How well does it work? If you're looking to turn pictures into brushed paintings, you couldn't ask for a simpler solution at a better price. The lack of choices limits the program's options, but what do you expect for $20? The Video Gogh program doesn't handle movies with still images well, as each picture bleeds into the next to create a mass of layered images. You can get around this by using the QuickTime Effects plug-in and a program that allows forced key frames at each picture change, such as Terran's Media Cleaner.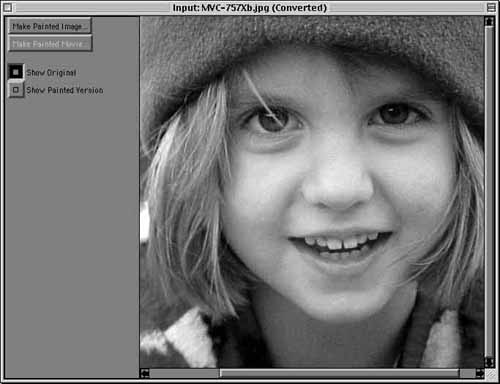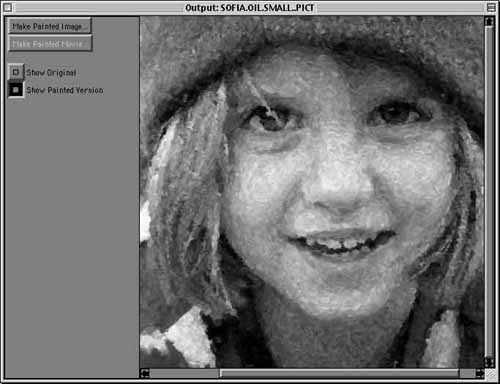 Video Gogh's Effects: This before and after comparison shows the brushing effects of ReVision Effects' $20 Video Gogh program. You can apply oil, watercolor, or chalk effects to existing images and QuickTime movies using brushes of varying sizes. Video Gogh also comes as a QuickTime Effects plug-in for programs like Apple Movie Player and Adobe Premiere, and as a plug-in for Adobe After Effects, a video compositing program.
Despite the Video Gogh program's economical price, you will need lots of RAM installed. For example, I kept getting crashes or out of memory errors when trying to open and process 18 MB Photoshop TIFF files even when Video Gogh had 100 MB of RAM given to it.
Video Gogh's ultimate custom paint look comes when using the plug-in for Adobe After Effects. Since this plug-in depends on the host program's versatile ability to set key frames, create masks and layers, and to combine multiple filter effects, a vast range of visual effects can result.
Like Studio Artist, Video Gogh's real strength comes when converting QuickTime video sequences into painted movies. Both programs require patience while waiting for paintings to complete. For best results, plan on the fastest G3 or G4 processor you can get, and plenty of free RAM and disk space. Specifically I'm talking hundreds of megabytes of RAM and multiple gigabytes of disk space. You will need it.
Painting's a Pleasure
Video Gogh's After Effects plug-in and Synthetik's Studio Artist both can produce still and video art of subtlety and complexity. If you don't own After Effects ($680) the less expensive choice obviously is Studio Artist, but you will pay for Studio Artist's steep learning curve. Even so, Studio Artist gives you a nearly infinite selection of brushing and drawing options to create painted-looking graphics from photographs and QuickTime movies.
If you're interested in trying this type of painted imaging, start with the inexpensive and impressive $20 Video Gogh application or QuickTime effects plug-in. Controls are simple, easy to set up and use, and the results are eye-opening.
---
Pi member Dennis Dimick last wrote for The Journal on the new web-capture plug-ins for Adobe Acrobat. He can be reached via email at ddimick@aol.com.
---
Studio Artist
$295
Information at www.synthetik.com
Synthetik Software, Inc.
30 Sheridan Street
San Francisco, CA 94103
Phone 415-864-6582 (ext. 72)
Email: candice@synthetik.com
Video Gogh
Application $20; QuickTime Plug-In $30, After Effects Plug-In $90. Discounts apply if you buy more than one.
Available only online at www.revisionfx.com
ReVison Effects, Inc.
San Francisco, CA
Email: info@revisionfx.com