electric pi
---
TechTools Pro 2: The Best Cure for Your Sick Mac
by Paul Gerstenbluth (ArieFound@aol.com)
Washington Apple Pi Journal, July/August 1999, p. 63-64, reprint information
Insanity. One writer said, "It's insane to do the same thing repeatedly and expect different results." I was locked into this craziness when I was accessing TechTools Pro 2 from the TechTools Pro CD-ROM.
Solution
I disabled Conflict Catcher from my Macintosh System 7.5.5's Control Panel. Next, I changed the Startup disk from the Startup Control Panel to TechTools Pro CD-ROM. Then, I restarted my Macintosh Performa 6200 CD computer. On startup, I reinserted TechTools Pro CD-ROM. Finally, in unison, I held down the Command-Option-Shift and Delete keys to access TechTools Pro CD.
With TechTools Pro, I was able to:
Repair faulty aspects of my hard drives and data.
Recover lost data.
Test critical computer components and subsystems.
Reveal the culprits which cause my Macintosh to crash.
Verify system configurations.
Check critical software like the system and enablers.
Test new equipment, and
Make sure that my computer was running as fast as it should be.
---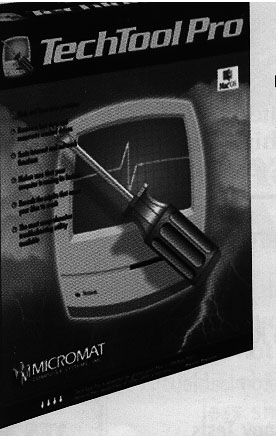 Specs
Normal Installation of TechTools Pro
TechTools Pro uses an automated installer to correctly install TechTools Pro 2 application and all it's files in their proper locations. The installer offers several installation options and these are explained in detail on the TechTools Pro installation screen.
Control Buttons in both Standard and Expert Mode
There are Four Buttons which Control Testing:
RUN -- Begins execution of the test suite.
PAUSE -- Pauses testing and allows testing to resume.
SKIP -- Skips the current test and proceeds to the next.
STOP -- Stops all tests.
Technical
How to Repair Bad Blocks on Your Drive(s)
1) Go to Volume Structures panel in expert interface.
2) From the devices window, place a check next to the drives for which you want to verify.
3) Be sure that Validate and Repair is selected as the repair option.
4) Select and run all the test selects.
Removable Zip and SyQuest cartridges must be mounted on the desktop for TechTools Pro to recognize that drive. If not mounted, insert cartridges into the drive and select Rescan Drives.
NOTE: Major problems found on the drive with the active system folder can only be repaired when you boot from a secondary device or TechTools Pro CD. This is the best reason for owning TechTools Pro CD to repair your hard drive.
For checking drives:
1) Go to Volume Structures in expert interface.
2) Select the appropriate fixed and removable drives in the device's window and run the following test: Volume Header, Allocation File, Extents File, Catalog File, Attributes File and Startup File. Be sure that you select Validate and Repair boxes.
3) Go to File Structures panel in Expert interface, and
4) Run tests.
---
Pro Reaction
What TechTools Pro Does Well
TechTools Pro allows you to test your computer like a professional. TechTools Pro 2 allows you to check intricate components of your Macintosh with a simple click of your mouse.
Consider TechTools Pro your personal 24 hour Macintosh technician. When TechTools Pro finds a problem with your computer it will fix the problem for you or it will suggest steps you can take to correct the problem. It's always ready to help you and TechTools Pro is only a mouse click away.
Hard Copy Paper Manual.
Well written hard copy paper manual with an excellent table of contents.
Owning TechTools Pro CD-ROM.
Major problems found on your active system folder can be repaired when you boot from the TechTools Pro CD. This is the best reason for owning TechTools Pro 2 CD-ROM.
---
Con Reaction
What they left out of the TechTools Pro Manual.
The TechTools Pro electronic Help file (Acrobat pdf file) is missing an index for easily accessing help information.
Solving my Hard Disk Problem. A Good Solution that Worked for me.
One of the problems I had was accessing TechTools Pro 2 from the TechTools Pro CD-ROM. This is how I solved this problem.
I started by holding down the Command-Option-Shift and Delete keys in unison. This allowed me to access TechTools Pro CD-ROM when installing TechTools Pro program and the best way to avoid conflicts with my Mac System extensions.
I find that the Command-Option-Shift and Delete key procedure worked for activating TechTools Pro CD-ROM for major repairs for my Macintosh internal hard drive.
Bottom Line: Having Your Own Mac Repair Technician Available 24 Hours a Day
TechTools Pro finds problem, recovers lost data, prevents and fixes Mac OS hard drive problems. TechTools Pro makes sure that your computer is running at its fastest speed and reveals the culprits that cause your Mac to crash. TechTools Pro 2 tests my computer's components and subsystems.
TechTools Pro retails at $99.00. The program is available from TIKSOFT for $49.95 by calling toll free 1-888-877-2317.
System Requirements for using the TechTools Pro program:
Macintosh Plus or above
System software version 7.0 or above
Minimum 4 megabytes of RAM
Hard disk drive
Questions on TechTools Pro program?
By e-mail: techsupport@micromat.com
Web (for news and downloading updates): http://www.micromat.com
By phone: 707-837-0444, 9 AM to 5 PM Pacific time, Monday through Friday.
By mail:
Micromat Computer Systems Inc.
Technical Support Group
8868 Lakewood Drive
Windsor, CA 95492
---
Paul Gerstenbluth is President of the ARIE Foundation which provides VA hospitalized patients with hobby materials and computers.
---
Return to electric pi

Revised September 6, 1999 Lawrence I. Charters
Washington Apple Pi
URL: http://www.wap.org/journal/

---