Willow Design: Cross Country Protection
© 2000 Lawrence I. Charters
Washington Apple Pi Journal, November/December 2000, pp. 43-44, reprint information
First, the good news: everyone who tried the Willow Design Cross Country Traveller Briefcase thought it was the best laptop carrying case they had ever used. All of them wanted to keep it. The bad news: none of them wrote a review. In fact, none of them wrote so much as a word.
So Washington Apple Pi Labs stepped into the breach, lugging the Cross Country Briefcase cross-country. And we thought it was &emdash;
Let's first mention the competition. Probably the most popular selling laptop cases are the Kensington and Targa cases. Kensington cases are, for the most part, made of nylon, and are prized for their snug fit. Targa cases are made of black leather-like plastic, taken from a close cousin of the noble Naga.
Kensington cases, while nice and snug, don't provide much protection. They have pockets for storing cables and maybe a battery or two, but the cases are not padded, so while they make the laptop easier to carry, they provide almost no protection. Washington Apple Pi Labs has seen many a laptop, both PC and Mac, that required repair after the Kensington-clad machine had a close encounter with a doorway, or a short fall from a chair.
Targa cases are padded, but the low-density foam used in the cases is only marginally better than Kensington's heavy nylon. While Targa-encased laptops seem to suffer fewer mishaps, they don't exactly inspire great confidence. Additionally, Washington Apple Pi Labs had difficulty in finding a case that could hold an iBook. Because of the palm rest and unusual shape, the iBook deforms most Targa cases in almost every direction.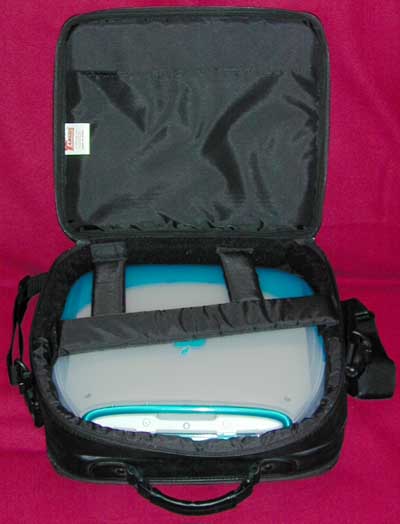 Targa cases, made from the apparently plentiful Naga, are padded, but the padding is low-density, providing protection against casual bumps but little help for stronger jars. And they are too small for an iBook: here you see the laptop deforming the case in almost every direction.
One of the best laptop cases, by far, is the Travelpro Platinum. While this is technically a soft-sided case, the Travelpro Platinum has a rigid metal frame (cloth covered) that offers outstanding protection. Anything likely to damage a laptop in one of these cases would probably cause you, personally, far more damage.
The Travelpro Platinum has two significant drawbacks, however. First, it is priced at over $200, which, while probably worth it, makes you appreciate the value of inexpensively priced, immobile desktop computers. Second, it won't hold an iBook; the rigid metal frame lacks any kind of "give," and an iBook simply won't fit. Just the same, the Travelpro Platinum is an excellent case, and it would hold a PowerBook G3, if someone would loan us one to test.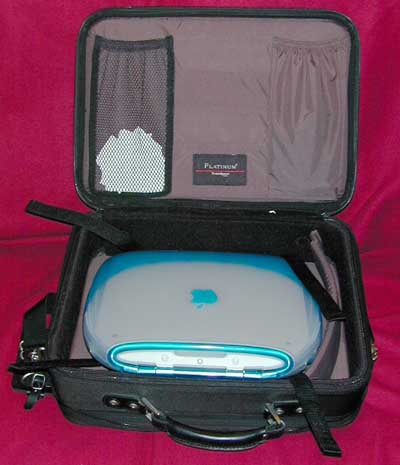 In terms of quality, the Travelpro Platinum case is on a par with the Willow Design Cross Country. It has a rigid, metal-reinforced rim and excellent padding, providing superb protection for the laptop. Unfortunately, it isn't deep enough to hold an iBook. Here you see the iBook, inserted at an angle, still sticking out over the front edge.
Which brings us back to the Willow Design Cross Country. An iBook will fit in one of these carefully designed cases. The high-density foam padding not only protects the laptop, but also allows the case to hold its shape far better than most soft-sided cases. Various internal and external pockets allow you to carry CD-ROMs, books, spare batteries, telephone cables and adapters, a cellphone and pager, and even small tools. An external flap allows you to attach a camera tripod (or, as Willow Design suggests, an umbrella) to the outside of the case.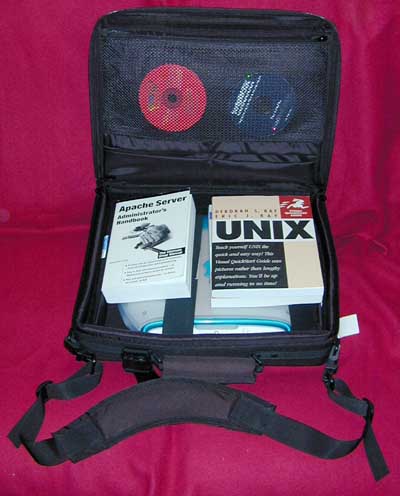 Inside, the Cross Country has a roomy compartment, capable of handing the iBook (which is deeper than most laptops), along with some UNIX and Apache manuals (for Mac OS X), CD-ROMs, cables and whatnot.
Fully stocked, the case can carry a laptop and far, far too much other junk to be very comfortable. Fortunately, Willow Design equipped the case with both a traditional briefcase-style handgrip and a detachable shoulder strap. After carting around roughly two tons of equipment for several weeks, we think there should be a deluxe, self-powered model with its own motor and wheels, too. This is not so much a criticism of the case as a comment on the dangers of being prepared: good preparation weighs a lot.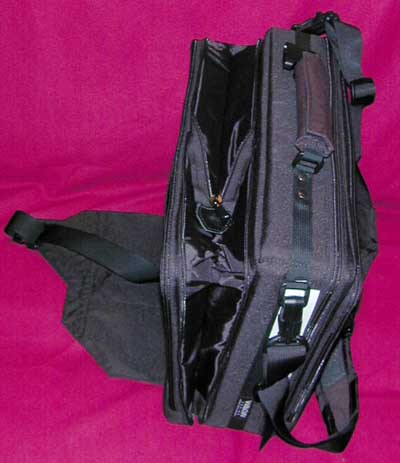 The side of the Cross Country has a pocket that can expand an extra three inches, allowing you carry way, way too much. The strap on the left is used for attaching something externally to the case. Willow Design mentions an umbrella, but we found it useful for carrying a camera tripod.
Our experience with Willow Design Cross Country Traveller cases &emdash; mostly other people's cases -- goes back several years, and in that time the Cross Country case has expanded from the original "any color you want as long as it is black" to the current &emdash; well, actually, they haven't changed the color at all. But for those who do want something even larger, they've added the International Traveller case, which can even store a small printer. The new Inflight Roller briefcase is still larger and, while it lacks a motor, it does come with wheels.
Is the case sturdy enough to allow you to check your laptop as luggage for an airline flight? Of course not! Washington Apple Pi Labs would be reluctant to check an anvil, much less a laptop computer. But we've carried laptops literally tens of thousands of miles in various Cross Country Traveller bags, in cars, planes and trains, with no mishaps.
We can highly recommend the Willow Design Cross Country Traveller. It is more expensive than some of the competition (and less than others), but it offers a superb blend of workmanship, materials, size and, most important, protection.
Cross Country Traveler
$145.00 (price fluctuates with exchange rate)
Willow Design, Ltd.
6943 Antrim Ave.
Burnaby, British Columbia
Canada V5J 4M5
or
Willow Design Ltd.
800 Grant Avenue
Blaine, WA 98230
800-668-1109
604-433-4232
http://www.willowdesign.com