Multimedia CD-ROM via Acrobat and QuickTime
Conserving Earth's Biodiversity: Bringing Science to Life
© By Dennis Dimick
Washington Apple Pi Journal, May/June 2000, pp. 31-33,
reprint information
These are not easy days for science. Scientists frequently stand accused of failing to communicate their purpose and work to the public, and the effects in public opinion are showing.
Last summer the Kansas School Board deleted most references to "evolution" and "big bang" from required public school teachings there, and in March a nationwide survey showed nearly 80 percent of adult Americans believe creationism should be taught alongside Darwin's theory of evolution in public school classes.
One scientist valiantly trying to remedy this failing of science awareness is Edward O. Wilson, who in concert with fellow Harvard University educator Dan Perlman has produced a fascinating and accessible CD-ROM called "Conserving Earth's Biodiversity."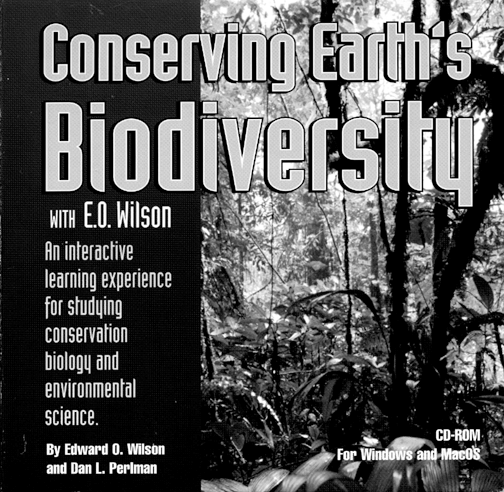 For the Environment: A new CD-ROM by Edward O. Wilson and Dan Perlman of Harvard University uses Adobe Acrobat and Apple's QuickTime to present ideas about global conservation. Washington DC publisher Island Press sells this informative and attractive educational disk for $40.
Available for $40 as a cross-platform Macintosh/Windows offering, the disk uses Adobe Acrobat and Apple QuickTime to organize and animate complex scientific ideas about the structure and diversity of life on earth, how we humans are affecting it, and why conservation is important.
From a technical viewpoint, this is the first CD-ROM I've seen that attempts full use of Adobe Acrobat's multimedia authoring capabilities. One might think a disk like this would use something such as Macromedia Director for the authoring environment, yet the authors have sought maximum flexibility from Acrobat here.
What project director Perlman and staff have done is leverage linking, interactive, movie playing and web-capture abilities of Acrobat to produce a well-organized and accessible tool meant primarily for classrooms. With a target audience at advanced high school and college, the disk is also usable by anyone interested in learning the latest issues and ideas in biological sciences.
What Is This Thing?
The disk focuses on conservation biology, a new field of science that integrates biological, social, political and economic elements of environmental study. The authors also describe what we need to know and understand to help protect the diversity of life on earth.
Voice narration, movies, and interactive maps and models are used to provide an overview and detailed discussion of biological diversity, the history and variety of life, and habitat and species losses. This brings to electronic form Professor Wilson's wide-ranging ideas: as a biologist Wilson has spent a career trying to increase public awareness of science and the environment through his teachings and via books such as The Diversity of Life, Sociobiology, and Consilience.
Besides discussions on how to become conservation-oriented citizens, the disk also offers a list of conservation organizations, library research options, and web-based resources. The disk works in concert with a website created by the disk's publisher, Island Press (www.islandpress.org), a Washington D.C. publisher of environmental books.
Eight major subject areas make up this disk, and but for its disk-based form it could be considered a textbook given its organization. These sections include: global biodiversity, diversity of life, changes over time, threats to biodiversity, conservation practice, social issues, and learning more.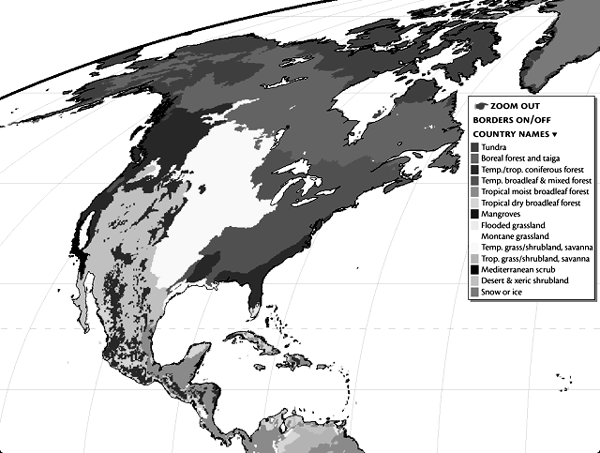 Mapping the Planet: Fifteen different maps illustrating aspects of global environmental conditions are on this disk. This close-up of a world map shows climate regions of North America. All maps and pages on the disk can be printed.
Organization of each section is similar. Besides an introduction, for example, the section on threats to biodiversity sets up like this: habitat loss, deforestation rates world map, measuring deforestation, forest loss in the U.S., mangrove loss, coral reef loss, prairie loss in North America, etc. Further discussion deals with habitat fragmentation and exotic species.
Dr. Wilson speaks on the first screen of each section via a QuickTime movie that draws on his career as a biologist and conservationist. Other movies, slide shows and animations throughout also illustrate changes in the distribution of species and ecosystems over time.
Interactive models let you explore concepts and theories in conservation biology by letting you change critical aspects such as population densities and habitat size for each species. Fifteen maps show off ideas such as deforestation patterns, ecosystem distribution, location of critical conservation regions, human population density, current land cover, and plant diversity.
How Well Does it Work?
This project appears a labor of love. Had Drs. Wilson and Perlman wanted the latest in whiz-bang multimedia options they might have chosen an authoring tool other than Adobe Acrobat. Acrobat offers basic options such as audio tracks, movie-playing, and interactive links, but that's about it. No Macromedia Flash or animated GIFs are found here.
That said, their subject seems well suited to Acrobat. If the adage "content is king" ever were applicable, it is here. The authors have placed a college-level textbook into electronic form. Any page, some pages, or all pages can be printed, and high-quality printed output is a strength of Acrobat.
Acrobat offers the ability to search for any word in the file, a great advantage for research. Acrobat's recently added web capture abilities allow you to update project information by downloading web pages to an Acrobat file. Further, the publisher's creation of a companion web site enriches the learning experience and offers a way to "keep alive" a CD-ROM that otherwise would age over time.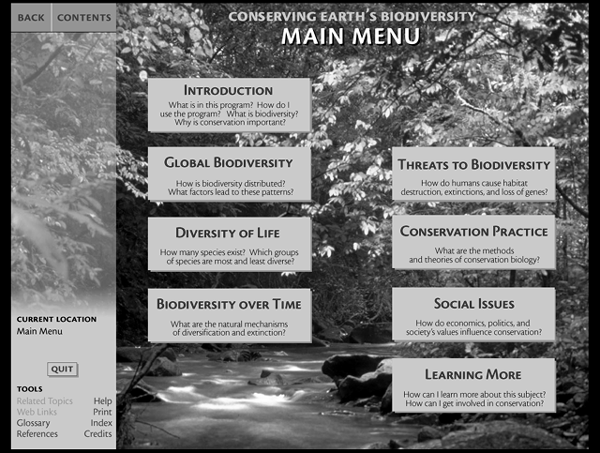 Main Topics: Conserving Earth's Biodiversity offers eight main sections for learning about the challenges we face in protecting earth's environment. Not only does the disk address challenges we face, it offers solutions to protect life on earth.
That said, response time of this disk is not fast. I tested this on a PowerMac G3/333 and often it took several seconds for screens to change. This slowness comes because an array of linked Acrobat and QuickTime movie files make up the project. When you change pages on screen sometimes you're also opening a different, linked Acrobat file.
These actions are quite stable and it all happens seamlessly. The authors recognize shortcomings of this linked architecture, and to optimize speed they say it's best to copy relevant project files to your hard drive. This will take about 400MB.
What Does This All Mean?
Wilson writes that we stand to lose about one-fifth of all known species of plants and animals to extinction in the next 20 years unless we work to conserve the natural world. These losses are due to dramatic appropriation human kind is making of earth's natural environment and resources.
If ever there is an important idea to pursue in our new century and millennium, "Conserving Earth's Biodiversity" could be it. This disk can help people understand why it's important to save what natural environment we have remaining. What E. O. Wilson and partner Dan Perlman have created is an accessible, easy to use and inexpensive introduction to a subject that will become only more important.
In addition, the model they have created here -- an electronic interactive textbook linked to the resources of the web -- is bound only to become more popular in education, especially as technology continues becoming cheaper and more powerful. Further, other than a small accompanying booklet, Wilson and Perlman have created a college-level textbook that uses no paper or trees and offers reduced production costs.
If you're interested in getting a more detailed idea of what this admirable disk offers, an extensive preview with discussion of its contents can be found at the Island Press web site.
Recent Journal articles by Pi member Dennis Dimick have dealt with image cataloging, QuickTime, and Adobe Acrobat. In his work life he edits stories on environmental subjects for National Geographic Magazine in Washington DC. He can be reached via email: ddimick@aol.com.
Conserving Earth's Biodiversity, With E. O. Wilson
By Edward O. Wilson and Dan L. Perlman
Island Press
1718 Connecticut Avenue NW, Suite 300
Washington DC 20009-1148
Toll Free: 1-800-828-1302
ISBN 1-55963-773-0 (with User's Guide)
ISBN 1-55963-774-9 (with User's Guide and Instructor's Manual)
Price for either: $39.95
 Macintosh System Requirements
Power PC; 32MB RAM (more is better)
Mac OS 7.5 or higher, 14 MB free hard drive space
Color monitor, speakers, CD-ROM drive
Required Acrobat Reader 4.0 included