City Sights: NASA Headquarters
The U.S. space agency, NASA*, has been heavily criticized over the past several years for continued use of obsolete technology, particularly Russia's Mir space station. Part of this is due to necessity (many politicians push hard for cuts in NASA's budget), and part of this is due to tradition: NASA seems to never throw anything away.
NASA's headquarters is a prime example: once used as an equipment shed at the end of a runway, it now serves as one of the more colorful tourist attractions in downtown Washington. There are many stories about the bright orange color (the most popular one: it was painted International Distress Orange to make it more visible, so pilots would stop running into it with their planes) but the truth is more mundane: the building janitor got a real, real good deal on orange paint.
Another example of NASA's "pack rat" mentality: across the street, in an immense warehouse, NASA stores obsolete planes and missiles, some dating back nearly a hundred years. As a joke, someone removed the warehouse sign one day and put up a sign declaring it the "National Air and Space Museum;" for unknown reasons, people took it seriously, and the old warehouse is now a tourist attraction in its own right.
* There is broad agreement that NASA is an acronym or abbreviation, but no one remembers what it means anymore.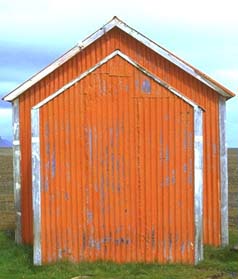 Wasn't it Aristotle who said that much of history is due merely to what the janitor had available? Maybe not, but it is still true.

Washington Apple Pi Virtual Tours, October 15, 1997
---