City Sights: Urban Pollution
Washington, DC, suffers from many of the same urban maladies as other cities, but sometimes the causes are different. For example, visibility in the city is often restricted, and out-of-towners mistakenly think this is smog. In reality, it is steam, caused by overheated political rhetoric.
Note in this picture of the Penny Monument that the monument looks a bit fuzzy, yet the reflection in the flood pond is nice and clear. This is a common phenomenon in the city, and has even entered the American political language as a phrase used to explain a change in policy after reconsideration: politicians will signal a change of heart by saying that "on reflection" everything seems clearer.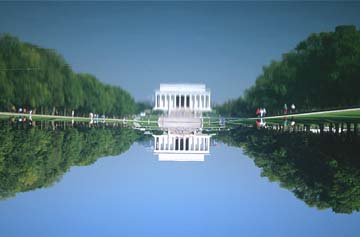 Unkind critics have long held the hazy weather is responsible for the "myopic view" of national politicians.

Washington Apple Pi Virtual Tours, October 15, 1997 lic
---