iMac: Is That Bondi Blue? Banzai Blue?
Since Steve Jobs first revealed the iMac to an unsuspecting public, a debate has raged about the color. Looking at Apple's advertising (online as well as print), most agree it is sea green or, possibly, teal, and white. But in his visit to Washington Apple Pi, iMac product manager Mike Shebanek said this is incorrect. The "white" or "clear" color is properly termed "ice." And as for the sea green or teal color, it is actually called...
Various people heard various things. Since Mike neglected to spell it, some swear he said "Bondi Blue." Others swear he said "Bondo Blue," but this is clearly in error: as everyone below the Mason-Dixon line knows, bondo is red. I prefer to think he said "Banzai Blue," the blue of Ten Thousand Years.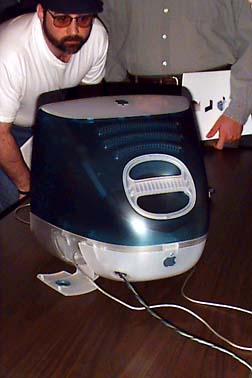 Note the open cable cover on the side of the iMac. Mike Shebanek, an iMac product manager, said the cable ports were placed on the side to prevent the notorious "crushed cable" syndrome, caused when you push a monitor back as far as it will go against the wall. If you don't want the cables to come out the side, he said they can also be routed out the bottom of the case.
Photo by Lawrence I. Charters
*bondi, as it turns out, is a recognized noun of Australian origin: a heavy club with a wicked knob on the end, used by Aborigines as a weapon.
Revised May 25, 1998 Lawrence I. Charters
Washington Apple Pi
URL: http://www.wap.org/tours/

---