Mac Love Stories
by Sheri German
Love Story One: The Pi Reclamation Project
One winter night, not long after Christmas, I brought my PowerBook FireWire 400 to the Washington Apple Pi Tuesday Night Clinic to get new RAM installed. I can't remember now why my 10-year-old son was with me, but he was, and he had resigned himself to a very boring evening. I signed in with "traffic control," and sat to wait my turn in the queue. There was a great bustle of activity, and I noticed a gentleman I later learned was Lorin Evans, working on his Mac Reclamation Project. Old Macs, no longer of use to their original owners, get revitalized and matched up with new owners. Kind of like an SPCA for computers.
My son shuffled his feet, and wandered aimlessly around the room. I opened my PowerBook to get a little work done while I waited. It wasn't long before the evening took a very exciting turn for my son, and indeed, it turned into a fun time for a lot of the Tuesday Night Clinic crew who were there that evening. Lorin had taken notice of Scotty, my son.
" So you like your mother's PowerBook? What would you pay me for this one?" Lorin asked Scotty as he held up an old PowerBook 145. Scotty looked at me as if to say, this guy's pulling my leg, isn't he? To tell the truth, I thought he was kidding too, and was a little annoyed that he was teasing a 10 year old. Lorin was still waiting for an answer, however, so Scotty offered,"25 cents?" Lorin said simply, "A deal."
By now a crowd was gathering around, and Lorin opened up the PowerBook 145. We assumed this was an empty shell with no working CPU, but Scotty was getting excited anyway. At 10, pretend is almost as good as the real thing. He handed over various coins that added up to 25 cents.
And then the miracle happened. Lorin booted the computer. It worked! I recognized a look of incredulous amazement on Scotty's face. The guy wasn't actually going to give him this computer for 25 cents. Impossible! But it was true, and Lorin sat with him to check out software and specifications on the computer. He checked out batteries in other donated PowerBooks till he found one that would work. Soon the PowerBook was perfect, and ready to go home with its new owner.
We live out in Howard County, so we had a good 45-minute trip home. Scotty marveled all the way there, pinching himself and still not quite able to believe it. Over and over he said to me, "Did I really buy a PowerBook for twenty five cents?" It was hard for him to get to sleep that night. When I got him up in the morning, he immediately looked for his new PowerBook 145. Spying it next to his bed, he was relieved that the magical evening had not been just a dream.
Every day for the next year or so, Scotty did his homework, played games, and happily learned all about the Mac. One day I got an email from Lorin asking if Scotty would like to upgrade to a PowerBook 5300c. The condition was that he should give his current PowerBook to another child. Lorin prepared the 5300c with lots of education software and a few games too.
On yet another Tuesday night, Scotty and I got into our car to pick up the new computer from the Pi office. There was great excitement of course—we had already promised Scotty an Ethernet card for Christmas so that he could go on the Internet with his own PowerBook—but there was sadness too. He was getting a more capable computer, but the 145 was his first Mac love.
Recently our teenaged daughter, a PC person, got a new laptop. She offered her brother her old one, a fairly modern machine. Scotty turned her down. He's holding out for my PowerBook FireWire 400 when I upgrade to a new PowerBook. He is a Mac man all the way. And the Mac Reclamation Project got him started in his love of the Mac.
Love story two: a woman renews her Mac vows
Macromedia recently came out with a new version of MX Studio, its Web authoring system that includes Dreamweaver, Fireworks, Flash, and Freehand. MX Studio 2004 adds lots of new features, and of course I wanted to buy it immediately. Not long after its release, however, the word came out that a lot of Mac users were experiencing loss of productivity because of sluggishness in the Mac version of the program. The weird part about it was that those experiencing the most sluggishness were not necessarily those with the oldest, slowest Macs. Someone with an old Power Mac G3 might fare better than someone like myself with a dual processor Power Mac G4. Macromedia denied, denied, then finally didn't deny. Mac users were encouraged to take a survey so that Macromedia could figure out why.
In the meantime, the Dreamweaver list to which I belong erupted into another of its platform wars as snide remarks from the PC users proliferated. "Solve the problem easily: switch to a PC." Though I never for an instant considered such a drastic measure, I did consider buying just this particular piece of software for the Compaq with Windows XP Pro we have on our home network. I couldn't bring myself to do this, and ended up with the sluggish Mac version. I had my doubts though. Maybe I should have given in.
In this state of waning of my absolute fidelity to the Mac, I worked for a week or two in Dreamweaver MX 2004. One night, my husband was sitting next to me rummaging around the eBay site. The Compaq with XP Pro had been gradually getting slower and slower in the last week. Now it refused to do anything at all. My husband called for help. I switched him to another user, and the computer worked—kind of. Endless popup ads kept appearing, however. Further, the page we set as the home page of Internet Explorer had been hijacked!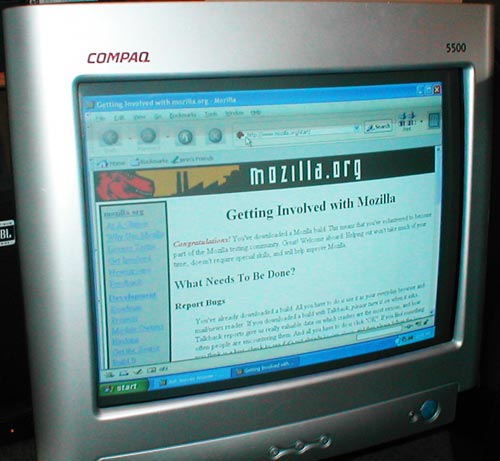 It may be a PC, but it isn't running Internet Explorer any more...
Yes, hijacked. Every time we launched Internet Explorer, we saw the brief flashing of a cgi (Common Gateway Interface) script in the address field of the browser. Immediately following that, a new default home page materialized. Next, a series of offensive popup ads assaulted our eyes. No matter how many times I went to "Internet Options" and changed the home page back to one of our own choosing, the insidious cgi script again hijacked the browser.
What was this? A virus? Was it a "Spyware" infection? (These are often contracted unknowingly when a user downloads something else or goes to certain Web sites and accepts cookies.) I tried the usual remedies: I ran a newly updated virus checker. It checked the computer out as clean. I ran various Spyware eradicating programs like Adaware and Spybot. These removed the cgi script, but the minute I launched Internet Explorer again, the hijacking was bacccckkk.
I turned to my Dreamweaver Talklist listserv. The PC people on the list were eager to help. Everyone had a fix: run MSCONFIG and disable startup items. Run regedit and alter browser options. Run another virus check because it just had to be a backdoor Trojan virus. Just when I had tried all suggestions, and now considered my only option the reinstallation of the XP Pro system, a final list member came in with the winning entry: do a Google search on "Browser Hijacking."
What did I have to lose? I did the search, and followed numerous links to see what information I could ferret out. I tried the suggestions. Nothing worked till I came across a post in a newsgroup by someone who had "been there, and done that." His suggestion: use a little freeware program called HijackThis to get rid of the infestation forever.
It worked. It worked! About four hours later, my family regained control of its own computer. I shot off an email to my husband at work and let him know he could check his email at home once again. I downloaded Mozilla and informed the family that they should only use this browser from now on. I also downloaded the new iTunes for Windows and deleted the Windows music program. I downloaded QuickTime and threw out Windows Media Player. My next task is to decide on an alternative email program to Outlook Express, the biggest virus villain of them all.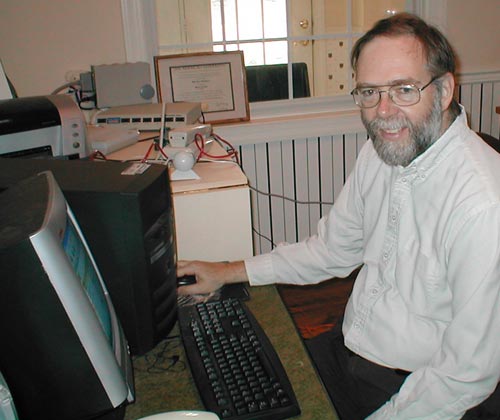 A happy PC user again, thanks to a Mac rescue effort.
This exercise took its toll. How could anyone possibly extol the virtues of Windows over a Mac? How did Best Buy, CompUSA, Circuit City and any other retailer sell even one of these pernicious boxes? Who could want to go through this nonsense or live in fear of this nonsense every time the computer booted?
During the last new virus, my husband's office lost the use of its computers for a day. We all heard about how the Maryland Motor Vehicle Administration was brought down by another virus. These stories happen all the time, at a loss of billions of dollars in money and worse, time. When will the Windows users get it? And when will they stop ridiculing me for never letting anyone pry the Mac away except from my cold, dead body? Doubt is gone forever, and I have renewed my vows to the Mac.
---