The Marvels of Cyberspace
by Joseph German
When Babbage made the first computer, it was a great stride for technology when he received the first error message. So Babbage picked up his phone (a loaner from Bell) and called Tech Support. They, in the polite and helpful manner they often exhibit, told him he was an idiot.
But this is only one of the wonders of the modern computer. You can also get viruses via the Internet. What I'm thinking of is this new virus that's going around, which is actually what is called Spyware, or browser hijacking. It bombards you with pop-ups as soon as you turn on your browser. (It's not all that different than normal, really.)
But something must be done about it. Don't ask me what to do; I have no idea. But then again, I don't have to know anything about it, because I use a Mac, the preferred computer all over the galaxy, as illustrated in Independence Day. The humans used PCs, probably, so it's no wonder that they thought flying up an alien exhaust pipe would save the world.
But the reason I don't have to worry about this virus is that Macs are very secure. I would not be surprised if there are security lasers and silent attack cyber dogs in there. It is as well guarded as the Mona Lisa, only you're allowed to take flash photographs of a Mac.
So we can see that computers are wonderful things, equipped with the Internet and spell-checker, which is important. I'm going to use it right now, to make sure there are no errors in this artikul.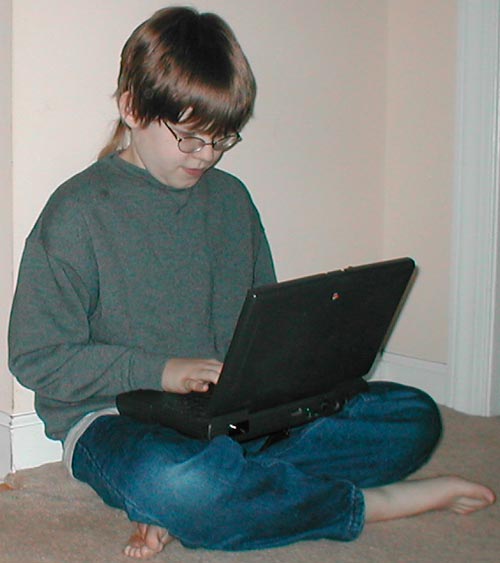 By Joseph (Scotty) German, as typed on his PowerBook 5300cs.
Joseph is 12 years old and a 7th grader at Elkridge Landing Middle School in Elkridge, MD.
---