wap.org E-mail Services
New Features, Better Value
by Jon Thomason
Washington Apple Pi's e-mail services got a major boost in September 2002 thanks to a gift from Stalker Software, Inc. Their award-winning CommuniGate Pro server provides Pi members with a wealth of new features for easier, faster, and more complete control of their wap.org e-mail.
We've only begun scratching the surface of this software, but here are a few of the new features that are available right now. Note that these are in addition to the e-mail services we've provided for years, which still work essentially unchanged.
WebMail
Topping the list of features, and to great applause, is a feature known as webmail. This gives you access to your wap.org e-mail from anywhere in the world, using only a web browser.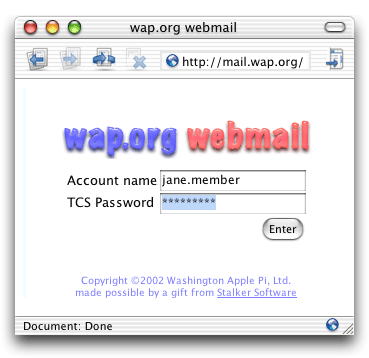 A web browser is now all you need to access your wap.org e-mail from anywhere in the world.
WebMail can be used alone, or in conjunction with your established e-mail habits. For example, you can use webmail to examine the contents of your online mailbox and delete unwanted messages before your e-mail software downloads them. Or if your e-mail software is set up on a desktop iMac at home, you can use webmail at work throughout the day to check up on new urgent mail.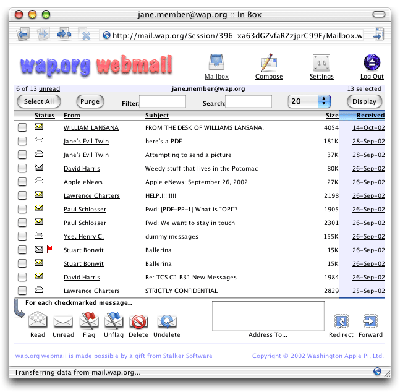 Use webmail to view all your pending mail, including images and attachments. Send mail, reply, forward or redirect to someone else. Even flag messages for further attention at a later time.
More features are still being added to the webmail interface, but already many people now depend on webmail for some part of their day-to-day routine. To try it, visit the following URL and enter your e-mail account and password.
IMAP
The Internet Message Access Protocol (IMAP) is rapidly catching up in popularity to the decades-old Post Office Protocol (POP) for both Internet and intra-office e-mail systems.
Whereas the POP protocol facilitates retrieving e-mail from the server and processing it on a home computer, the IMAP protocol provides a means to deal with e-mail directly on the server.
Leaving e-mail on the server has advantages and disadvantages. One advantage is that you can use properly-configured IMAP client software from multiple locations, and not worry that your mail has been moved off of the server and onto a machine across town. That mail is always on the server. One disadvantage is that your space on any mail server isn't unlimited or guaranteed, so you'll want to archive important messages frequently and store them someplace safe and private.
Apple's Mail application is probably the most popular IMAP client in use by Pi members today. Other alternatives include Netscape Communicator, Eudora 5, Microsoft Entourage, Mulberry and some others.
Member Pages
Member Web pages are not really an e-mail service, per se, but still a welcome benefit of the new software. Every Pi member has space to host a personal web site. TCS Explorer subscribers have plenty of space to work with, suitable for hosting many photo albums online. Everyone else has a token amount suitable for resumes, stories, calendars, and such.
There are several ways to manage your web site. The first is to enter the webmail system as described above, visit the Settings page, and follow the link to Manage your web site.
For those familiar with using FTP to upload web pages, that works nicely too. Enter "members.wap.org" as the server, and use your e-mail account name and password.
Lastly, if anyone uses Netscape Composer to design pages, that software is reportedly able to load and store pages directly, without using additional software.
ACAP and Roaming
Advanced users may note that the server supports the Application Configuration Access Protocol (ACAP) and Netscape Roaming. Using the right applications, once properly configured, this allows you to store certain common preferences on the server such as address books and bookmarks. As with IMAP for mail, if you store these preferences on the server then they're available from any location.
This feature hasn't been fully explored here yet, so for now that's left as an exercise to the reader. If you know how to do it, please drop everyone a note on the TCS discussion boards.
Speed and Reliability
The new server runs as a Unix process under Mac OS X. It's proven to be much faster in nearly every respect than its predecessor. So far it remains clear of the rare but occasional crashes we saw with the old server software, which ran under Mac OS 8.6.
Other benefits of the upgrade are more subtle, or occur behind the scenes. It maintains a closer relationship with the Pi's other services, greatly reducing the lead-time involved in creating or expiring member accounts, or in changing passwords. It also provides mail administrators with more comprehensive status and diagnostic information, making ongoing maintenance easier for the Pi's all-volunteer staff.
All of these factors add up to one big umbrella benefit: increased reliability. Which is ever so much more important to everyone's lives these days.
Looking Ahead
As mentioned above, we've only just scratched the surface of what this amazing software can do. At the time of this writing, there are many more features being configured and rolled out in stages. Some of these might even be available by the time you read this.
A few of the CommuniGate Pro software's other features under current investigation include hooks for virus scanning and more intelligent anti-spam filtering. Encrypted communications are supported for all of these protocols, including webmail, POP, SMTP, and IMAP.
Another high priority is to use the server's auto-forwarding capability to allow members to configure their wap.org accounts to deliver all incoming mail to a separate ISP account. This way, whether you get your Internet connection through the Pi or AOL, cable or DSL, you can configure your @wap.org e-mail address to point to the right place. This is another of many features embraced by the Pi's growing community of .Mac (nee iTools) refugees.
The software allows comprehensive mailing list management, giving the Pi simpler tools with which to assign web space and mailing lists to different SIGs, projects and initiatives within the organization.
Spinning Heads
This new CommuniGate Pro software has enormous potential to revitalize how the Pi realizes its mission of "members helping members." It's also a joy to use, both inside and out. Washington Apple Pi gratefully acknowledges this gift from Stalker Software, Inc. and the Pi's TCS Committee promises to put it to excellent use.
Chances are, at least one item mentioned in this article caught your eye. Any one of these features might be considered to be a solid step forward, depending on whom you ask. Getting all of them together is almost a bit overwhelming for some of us. It's a bold and welcome reminder that the Pi has a lot of life left—it just keeps getting better and better!
---